2022 start
September
Mathematical and Theoretical Physics
School of Mathematics and Statistics, Faculty of Science

The theories of general relativity and quantum mechanics can explain some of biggest scientific discoveries of the century, from gravitational waves to the Higgs boson, and have brought us ever closer to a theory of everything.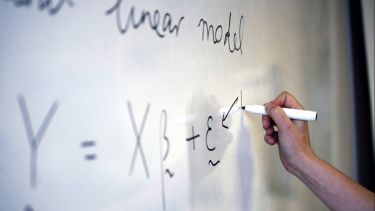 Course description
This course has been created to equip graduates with advanced mathematical tools that can be applied in major areas of scientific intrigue, from black holes to dark matter. There is a wide range of optional modules for you to choose from, so you can focus on the topics that excite you most: general relativity, field theory, quantum mechanics, geometry, electrodynamics, solar physics, particle physics and more.
You'll spend around one-third of your time working on your own research project, under the supervision of an expert from our School of Mathematics and Statistics or Department of Physics and Astronomy. This in-depth research experience is great preparation for a PhD. There are also modules on machine learning, finance and statistics, so you can develop skills to help you stand out in job markets where maths and physics graduates thrive, such as data science and banking.
You'll spend around one-third of your time working on your own research project, under the supervision of an expert from the University of Sheffield's School of Mathematics and Statistics or Department of Physics and Astronomy. Possible topics include:
Cosmology, dark matter and dark energy
Magneto-hydrodynamics in the stellar atmosphere
Gravitational wave astronomy, black holes and neutron stars
Fluid mechanics and the Kolmogorov theory of turbulence
Chaos and fractal boundaries in dynamical systems
The search for dark matter at underground laboratories
The advanced topics covered and the extensive research training make this degree programme great preparation for a PhD. You'll develop numerical, problem solving and data analysis skills that are useful in many careers, such as computing, finance and data science.
Modules
Core modules:
Physics Research Skills

This 30-credit module is to enhance and support the Physics MRes course. It is designed to allow students to explicitly reflect on various aspects of the research process and its communication.Students will be required to keep a diary of their project and reflect on their progress; write a literature review of the project area reflecting on how and why they chose their sources; reflect on the process of learning a new skill for their project; communicate what their research is about and why it is important to a general audience; consider how to teach what they are researching at UG level.

30 credits

Dissertation

The dissertation is piece of extensive work (10-20,000 words) which provides students' with the opportunity to synthesise theoretical knowledge on a subject that is of interest to them. Students will gain experience of the phases of a relatively large piece of work: planning to a deadline; researching background information; problem specification; the carrying through of relevant analyses; and reporting, both at length through the dissertation and in summary through an oral presentation.

60 credits
Optional modules - 90 credits from:
Advanced Electrodynamics

This module gives a detailed mathematical foundation for modern electrodynamics, starting from Maxwell's equations, charge conservation and the wave equation, to gauge invariance, waveguides, cavities and antennas. After a brief recap of vector calculus, we explore the role of the scalar and vector potential, the multi-pole expansion of the field, the Poisson and Laplace equations, energy and momentum conservation of the fields, and Green's functions. We conclude with a relativistic treatment of the fields.

10 credits

Advanced Particle Physics

The main aim of the unit is to give a formal overview of modern particle physics. The mathematical foundations of Quantum Field Theory and of the Standard Model will be introduced. The theoretical formulation will be complemented by examples of experimental results from the Large Hadron Collider and Neutrino experiments. The unit aims to introduce students to the following topics:
- A brief introduction to particle physics and a review of special relativity and quantum mechanics
- The Dirac Equation
- Quantum electrodynamics and quantum chromo-dynamics
- The Standard Model
- The Higgs boson
- Neutrino oscillations 
- Beyond the Standard Model physics

10 credits

Advanced Quantum Mechanics

This module presents modern quantum mechanics with applications in quantum information and particle physics. After introducing the basic postulates, the theory of mixed states is developed, and we discuss composite systems and entanglement. Quantum teleportation is used as an example to illustrate these concepts. Next, we develop the theory of angular momentum, examples of which include spin and isospin, and the method for calculating Clebsch-Gordan coefficients is presented. Next, we discuss the relativistic extension of quantum mechanics. The Klein-Gordon and Dirac equations are derived and solved, and we give the equation of motion of a relativistic electron in a classical electromagnetic field. Finally, we explore some topics in quantum field theory, such as the Lagrangian formalism, scattering and Feynman diagrams, and modern gauge field theory.

10 credits

Analytical Dynamics and Classical Field Theory

This module is lectured alongside the undergraduate module MAS412 of the same name. Mathematicians like Lagrange, Hamilton and Jacobi discovered that underlying Newton's mechanics are wonderful mathematical structures. In the first semester we discuss this work, its influence on the subsequent formulation of field theory, and Noether's theorem relating symmetries and conservation laws.In the second semester, Einstein's theory of gravity, General Relativity, will be introduced, preceded by mathematical tools such as covariant derivatives and curvature tensors. Einstein's field equations, and two famous solutions, will be derived. Two classic experimental tests of General Relativity will be discussed.

20 credits

Biological Physics

This module will introduce students to biological physics, that is, the application of principles and tools from physics to biological systems. Biological materials are often soft condensed matter with properties between those of simple liquids and solids. In addition biological matter is usually out of equilibrium due to internal biochemical sources of energy. Students will begin to explore the world of biological cells and biopolymer macromolecules, such as DNA. They will see how physics can help understand biological systems through mathematical models and experimental imaging techniques and how this can lead to new physics and applications in biology.

10 credits

Financial Mathematics

The discovery of the Capital Asset Pricing Model by William Sharpe in the 1960's and the Black-Scholes option pricing formula a decade later mark the beginning of a very fruitful interaction between mathematics and finance. The latter obtained new powerful analytical tools while the former saw its knowledge applied in new and surprising ways. (A key result used in the derivation of the Black-Scholes formula, Ito's Lemma, was first applied to guide missiles to their targets; hence the title 'rocket science' applied to financial mathematics). This course describes the mathematical ideas behind these developments together with their application in modern finance, and includes a computational project where students further explore some of the ideas of option pricing.

10 credits

Machine Learning

Machine learning lies at the interface between computer science and statistics. The aims of machine learning are to develop a set of tools for modelling and understanding complex data sets. It is an area developed recently in parallel between statistics and computer science. With the explosion of 'Big Data', statistical machine learning has become important in many fields, such as marketing, finance and business, as well as in science. The module focuses on the problem of training models to learn from training data to classify new examples of data.

10 credits

Mathematical methods and modelling of natural systems

This module will develop mathematical methods, including integral transforms, asymptotics and perturbation, applied to problems including differential equations and evaluation of integrals.Mathematical modelling enables insight in to a wide range of scientific problems. This module will provide a practical introduction to techniques for modelling natural systems. Students will learn how to construct, analyse and interpret mathematical models, using a combination of advanced mathematical and computational methods. Study systems will be drawn from throughout the environmental and life sciences.

20 credits

Measure and Probability

The module will give students an additional opportunity to develop skills in modern analysis as well as providing a rigorous foundation for probability theory. In particular it would form a companion course to MAS436 (Functional Analysis) and MAS452 (Stochastic Processes and Finance), the latter of which is fundamentally dependent on measure theoretic ideas.

10 credits

Statistical Physics

Statistical Physics is the derivation of the thermal properties of matter using the under-lying microscopic Hamiltonians. The aims of this course are to introduce the techniques of Statistical Mechanics, and to use them to describe a wide variety of phenomena from physics, chemistry and astronomy. Current research literature is explored through a directed reading exercise.

10 credits

Topics in Advanced Fluid Mechanics

This module is lectured with the undergraduate module MAS411 of the same name. This module aims to describe advanced mathematical handling of fluid equations in an easily accessible fashion. A number of topics are treated in connection with the mathematical modelling of formation of the (near-)singular structures with concentrated vorticity in inviscid flows. After discussing prototype problems in one and two dimensions, we describe the three-dimensional flows in terms of vortex dynamics. Minimally required mathematical tools are explained during the course in a self-contained manner. Candidates are directed to read key original papers on some topics to deepen their understanding.

20 credits

Waves and Magnetohydrodynamics

This module is lectured with the undergraduate modules MAS315 Waves and MAS422 Magnetohydrodynamics. Studying wave phenomena has had a great impact on Applied Mathematics. This module looks at some important wave motions with a view to understanding them by developing from first principles the key mathematical tools. In the second part it gives an introduction to classical magnetohydrodynamics. Magnetohydrodynamics has been successfully applied to a number of astrophysical problems (e.g., to problems in Solar and Magnetospheric Physics), as well as to problems related to laboratory physics, especially to fusion devices.

20 credits
The content of our courses is reviewed annually to make sure it's up-to-date and relevant. Individual modules are occasionally updated or withdrawn. This is in response to discoveries through our world-leading research; funding changes; professional accreditation requirements; student or employer feedback; outcomes of reviews; and variations in staff or student numbers. In the event of any change we'll consult and inform students in good time and take reasonable steps to minimise disruption. We are no longer offering unrestricted module choice. If your course included unrestricted modules, your department will provide a list of modules from their own and other subject areas that you can choose from.
An open day gives you the best opportunity to hear first-hand from our current students and staff about our courses. You'll find out what makes us special.
Duration
1 year full-time
Teaching
A series of lectures, tutorials and practicals, in addition to problem-solving classes and a research project.
Assessment
You'll be assessed by examinations, assignments and a dissertation.
Your career
The advanced topics covered and the extensive research training make this degree programme great preparation for a PhD.
Mathematics and physics graduates also develop numerical, problem solving and data analysis skills that are useful in many other careers. In particular, optional modules on machine learning, finance and statistics, mean you can develop skills to help you stand out in job markets where maths and physics graduates thrive, such as computing, banking and data science.
Entry requirements
We usually ask for a 2:1 honours degree, or equivalent, in mathematics or physics.
Overall IELTS score of 6.5 with a minimum of 6.0 in each component, or equivalent.
You can apply for postgraduate study using our Postgraduate Online Application Form. It's a quick and easy process.
Any supervisors and research areas listed are indicative and may change before the start of the course.
Recognition of professional qualifications: from 1 January 2021, in order to have any UK professional qualifications recognised for work in an EU country across a number of regulated and other professions you need to apply to the host country for recognition. Read information from the UK government and the EU Regulated Professions Database.