2022 start
September
Psychology and Education (Conversion)
School of Education, Faculty of Social Sciences

Our MSc offers an innovative, critical and interdisciplinary approach to the study of psychology and its application in an educational context.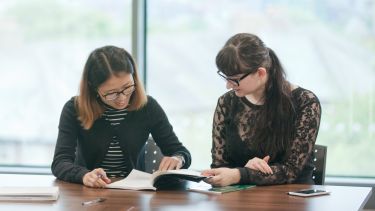 Course description
You will experience an innovative, critical, interdisciplinary, global approach to the study of psychology and learn the skills and techniques necessary to critically analyse psychological theory and research in real-life settings.
This MSc is a psychology conversion course which provides Graduate Basis for Chartered Membership (GBC) of the British Psychological Society (BPS) providing you pass the empirical project and gain the equivalent of at least a 2:2 overall.
Accreditation
This course is British Psychological Society (BPS) accredited
Modules
There are four compulsory modules in each semester plus a dissertation in the spring semester. Each module is worth 15 credits. The dissertation is worth 60 credits.
Core modules:
Social, Historical, Cultural and Institutional Contexts of Psychology

This module explores the scientific underpinnings of psychology as a discipline, its historical origins, development, socio-cultural & institutional contexts and limitations. The module introduces students to the multiple paradigms, theoretical perspectives and methods of analysis in psychology and explores the differences and/or complementarities between them as well as relevant ethical issues. Module content includes:
- Psychology as a science: Conceptual and historical paradigms & models.
- Social and cultural contexts of psychology & indigenous and cross-cultural approaches.
- Ethical issues in psychology and education.
- Institutional contexts, feminism & socio-political issues in psychology and education.

15 credits

Research Methods in Psychology and Education I

The module explores different paradigms of psychological and educational research, with a focus on qualitative methodologies and research designs, such as interviews, content and discourse analysis, case studies, observation and visual methods. It also considers research ethics.
Module content includes:
- Epistemological paradigms and general methodological principles: Positivism, empiricism, interpretivism.
- Classic approaches, recent trends, case studies, action research, longitudinal research, big data.
- Research proposals, research questions and research designs.
- Ethics.
- Collecting oral data: interviews and focus group discussions
- Coding & analysing interview data: grounded theory, content and discourse analysis
- Observation, visual methods and mixed-methodological designs.

15 credits

Research Methods in Psychology and Education II

The module explores different paradigms of psychological and educational research, with a focus on quantitative methodologies and research designs, such as statistical analysis; experimental and quasi-experimental designs, psychometric theories and scale construction, and surveys.
Module content includes:
- Quantitative research principles, research variables, survey, questionnaire design & quantitative data collection
- Experimental and quasi-experimental research designs
- General principles of psychometrics, test theory, item response theory, measurement techniques & scale development
- SPSS, inferential and descriptive statistics; parametric and non-parametric tests,
- Correlational design, ANOVA, Two-way ANOVA and factor analysis; Mixed-methodological designs

15 credits

Cognition, Psychology & Education

This module explores major theories and key debates concerning the study of human mind and cognition. It considers psychometric measures of cognitive performance as well as case studies requiring contextual analysis and ethical understanding.
Module content includes:
- Perception, attention, memory
- Thinking & language, problem solving and decision making- Cognitive styles, intelligence & cognitive psychological testing
- Consciousness, social cognition & emotion
- Metacognition, current debates & implications for learning & education

15 credits

Neuroscience, Psychology & Education

This module explores the fundamental biological mechanisms underlying human and animal behaviour. It also considers laboratory research methodologies and critically examines the relevance of bio-psychological and neuroscientific knowledge for education.
Module content includes:
- Introduction: Education & neuroscience
- Behavioural genetics, heredity, comparative and evolutionary psychology
- Psychobiology, biological bases of human & non-human behaviour, hormones and behaviour, socio-biology
- Neuroimaging, cognitive & evolutionary neuroscience

15 credits

Difference, Disability & Diversity in Psychology and Education

This module explores multiple perspectives to psychology and education relating to the study of human difference, personality, disability and gender, race and ethnicity. It also considers practical, theoretical and ethical issues associated with the use of personality tests.
Module content includes:
- Personality theory, measurements & applications
- Individual differences
- Motivation
- Mood disorders/ mental health: biological, cognitive & socio-cultural dimensions
- Disability, impairment and SEN
- Gender, sexuality, race and ethnicity
- Difference & ethics in educational settings


15 credits

Learning & Development in Global Contexts

This module explores major theories and key aspects of human development from infancy to adulthood in a variety of cultural settings. It also considers case studies & key developmental tests and the application of developmental psychological knowledge in contemporary multi-cultural and global educational, upbringing and institutional contexts.
Module content includes:
- Emotional development & parenting cultures
- Cognitive development, learning & language
- Moral development
- Typical and atypical development in multi-cultural societies


15 credits

Social Psychology & Practice

This module explores classic and recent social psychological theory and research. It examines social psychological processes in a variety of educational, psychological, multi-professional and digital contexts as well as the implications of psychological research for social policy and professional practice.
Module content includes:
- Attitudes, perception of the self, social perception, attribution
- Group processes and intergroup relations
- Identities, social cognition, social constructionism and professional services in on/offline spaces
- Leadership & multi-professional teamwork for integrated children's services & ethical issues


15 credits

Research Dissertation

In this module, students are supported in planning and carrying out a piece of original research and in writing a dissertation of 15,000 to 20,000 words in length. The research will be empirical, utilize either qualitative, quantitative or mixed methods and explore psychological topics in relation to education and upbringing. The dissertation offers a space for synthesising knowledge from the different modules, and pursuing in more detail an area of interest for the student.

60 credits
The content of our courses is reviewed annually to make sure it's up-to-date and relevant. Individual modules are occasionally updated or withdrawn. This is in response to discoveries through our world-leading research; funding changes; professional accreditation requirements; student or employer feedback; outcomes of reviews; and variations in staff or student numbers. In the event of any change we'll consult and inform students in good time and take reasonable steps to minimise disruption. We are no longer offering unrestricted module choice. If your course included unrestricted modules, your department will provide a list of modules from their own and other subject areas that you can choose from.
Duration
1 year full-time
Teaching
Teaching takes place through lectures, tutorials, seminars, workshops and laboratory work.
Assessment
We will use a variety of methods including essays and blog posts, portfolios and oral presentations, psychological lab reports and a research dissertation.
You can apply for postgraduate study using our Postgraduate Online Application Form. It's a quick and easy process.
Any supervisors and research areas listed are indicative and may change before the start of the course.
Recognition of professional qualifications: from 1 January 2021, in order to have any UK professional qualifications recognised for work in an EU country across a number of regulated and other professions you need to apply to the host country for recognition. Read information from the UK government and the EU Regulated Professions Database.