2023 start
Cognitive Studies
Department of Philosophy, Faculty of Arts and Humanities

Explore the cutting-edge field of cognitive science, in which philosophy, psychology, neuroscience, linguistics and anthropology come together to discover how the mind works.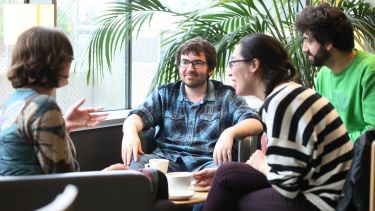 Course description
An opportunity to explore this cutting-edge field, where philosophy, psychology, neuroscience, linguistics and anthropology come together to discover how the mind works.
You'll be based in the Department of Philosophy but free to take relevant modules in the departments of psychology, linguistics, human communication sciences, archaeology and music.
With an extensive programme of events and research seminars, excellent facilities and more than 20 expert cognitive scientists working across the University, Sheffield is an exceptional place to study this exciting field. 
Intercalation
We accept medical students who wish to intercalate their studies. Find out more on the Medical School's website.
Modules
Core Modules:
Cognitive Studies Seminar

Cognitive science is a research field in which philosophy, psychology, neuroscience, linguistics, computer science, and anthropology come together to discover how the mind works. This module aims to:
1. Introduce students to major theoretical issues in cognitive science.
2. Help students to see how empirical evidence drawn from different disciplines is relevant to key issues in cognitive science.
3. Equip students with an understanding of the philosophical importance of cognitive science.

30 credits

Dissertation

Contact department for more information.

60 credits
Students are able to select modules from the Philosophy, Psychology, Linguistics, Human Communication, Archaeology and Music Departments. Below you can find descriptions of some modules frequently taken by Cognitive Studies MA students.
Optional Modules:
Current Issues in Second Language Acquisition

This is an optional module which builds on extension of the core module: Introduction to Second Language Acquisition. This course provides an introduction to current research on Second Language Acquisition (SLA) through the main theories and the most important research findings, especially focusing on the part of second language acquisition thought to be constrained by principles of Universal Grammar. It also provides the opportunity to critically evaluate theoretical models and hypotheses by applying them to the analysis of real data produced by second language learners; and to learn relevant methodological and practical aspects involved in the experiment design

15 credits

Fundamentals of Cognition

The module provides an overview of the fundamental issues in cognitive neuroscience and its contributory disciplines. The approach taken is in terms of its development over the past 50 years, providing an overview of the key concepts in the information processing approach and in cognitive science, followed by an analysis of the advances that have been made recently using cognitive neuroscience techniques. Topics include: fundamental issues in cognition (memory, attention, learning, language); theoretical approaches including cognitive neuropsychology, symbolic and sub-symbolic modelling; and methodological issues.

15 credits

Fundamentals of Neuroscience

The module provides an introduction to core aspects of contemporary neuroscience, and it will consider the current state of knowledge in the field, central theoretical issues and key practical approaches. Topics that are discussed include: neural signalling, sensation and sensory processing, movement and its central control, the 'changing brain' (development and plasticity in the nervous system) and complex brain functions.

15 credits

Introduction to Language and Linguistics

This module will familiarise students with the theory and practice of TESOL curriculum design, language teaching materials design, and test design. We will look at different scholarly approaches to the design of language teaching curricula, materials, and tests, evaluate the strengths and weaknesses of these approaches, and their usefulness in various TESOL situations in diverse secondary and tertiary education contexts. The module will include practice in designing curricula, teaching materials, and tests. The module therefore will provide students with an essential theoretical and practical foundation to design language curricula, teaching materials, and tests and to critically assess existing examples of each.
For their dissertations, students on the MAAL programme are required to either do a traditional empirical data-gathering dissertation; or a curriculum or test design dissertation. This module will also provide a foundation for those students wishing to do a curriculum or test design dissertation.

15 credits

Philosophy of Psychology

This course provides an in-depth look at a selection of issues in contemporary philosophy of psychology. Philosophy of psychology is concerned with such questions as : What is the structure and organisation of the human mind? Is the mind one big homogenous thing, or is it made up of smaller interacting components? If it has components, what sort are they and how are they interrelated? What aspects of our minds are uniquely, or distinctively human? What is the cognitive basis for such capacities as our capacity for language, rationality, science, mathematics, cultural artefacts, altruism, cooperation, war, morality and art? To what extent are the concepts, rules, biases, and cognitive processes that we possess universal features of all human beings and to what extent are they culturally (or otherwise) variable? Do infants (non-human) animals, and individuals with cognitive deficits have minds, and if so, what are they like? To what extent are these capacities learned as opposed to innately given? How important is evolutionary theory to the study of the mind? What is the Self? What are concepts? Is all thought conceptual? Is all thought conscious? What is consciousness? This course will discuss a selection of these and related issues by looking at the work of philosophers, psychologists, and others working within the cognitive sciences more generally.

20 credits

Qualitative Data Collection

This module provides a research training in qualitative research data collection relevant to the study of musical behaviour. The module consists of teaching and learning of qualitative research design techniques, including ethical consideration and evaluation of methods through pilot studies and critique of existing research. The module is assessed through a portfolio of qualitative data collection tools, including questionnaires and interview schedules, which the student has designed, piloted and evaluated.

15 credits

Topics in Music Psychology

This module provides an introduction to the core topics in the psychology of music, including psychoacoustics and perception, cognition of musical structure, emotion and meaning in music, development psychology of music, psychological approaches to performance, and social and applied music psychology, including music therapy and music education.

30 credits
The content of our courses is reviewed annually to make sure it's up-to-date and relevant. Individual modules are occasionally updated or withdrawn. This is in response to discoveries through our world-leading research; funding changes; professional accreditation requirements; student or employer feedback; outcomes of reviews; and variations in staff or student numbers. In the event of any change we'll consult and inform students in good time and take reasonable steps to minimise disruption. We are no longer offering unrestricted module choice. If your course included unrestricted modules, your department will provide a list of modules from their own and other subject areas that you can choose from.
An open day gives you the best opportunity to hear first-hand from our current students and staff about our courses. You'll find out what makes us special.
Duration
1 year full-time
2 years part-time
Teaching
You'll learn through lectures, seminars and tutorials.
Assessment
Assessment varies depending on modules. For philosophy modules, you'll write a long essay for each module. You will also write a final dissertation. If you're going on to a PhD, you may choose to write a PhD proposal.
Department
We pride ourselves on the diversity of our taught modules and the high quality of our teaching. Our staff are among the best in the world at what they do. They're active researchers so your lectures and seminars are informed, relevant and exciting.
We'll support you in thinking carefully, analytically and creatively about core and contemporary debates in a range of philosophical traditions, as well as key debates in cognitive studies and political theory.
We provide one-to-one supervision for your dissertation and your philosophy essays, to help you develop as an independent researcher.
We also offer support and advice for students who decide to apply for a PhD at Sheffield or elsewhere, and our postgraduate training seminars include sessions on PhD funding and on non-academic jobs for philosophers.
Our staff and students use philosophy to engage with real world issues. You will be able to use what you learn to make a difference in the community, through projects like Philosophy in the City, an innovative and award-winning programme that enables students to teach philosophy in schools, homeless shelters and centres for the elderly.
Our students run a thriving Philosophy Society and our Centre for Engaged Philosophy pursues research into questions of fundamental political and social importance, from criminal justice and social inclusion to climate ethics, all topics that are covered in our teaching.
Philosophy changes our perspective on the world, and equips and motivates us to make a difference.
Entry requirements
Minimum 2:1 undergraduate honours degree.

We also accept medical students who wish to intercalate their studies.
Overall IELTS score of 7.0 with a minimum of 6.5 in each component, or equivalent.
Fees and funding
If you qualify, you may be able to get financial support through the University's studentships and fee waivers, and the AHRC Block Grant Partnership.
You can apply for postgraduate study using our Postgraduate Online Application Form. It's a quick and easy process.
Any supervisors and research areas listed are indicative and may change before the start of the course.
Recognition of professional qualifications: from 1 January 2021, in order to have any UK professional qualifications recognised for work in an EU country across a number of regulated and other professions you need to apply to the host country for recognition. Read information from the UK government and the EU Regulated Professions Database.