2023 start
September
International Development
Department of Geography, Faculty of Social Sciences

Learn about social and environmental justice, rural and urban development, citizenship and sustainability and develop a global network of expertise through industry and sector specialists.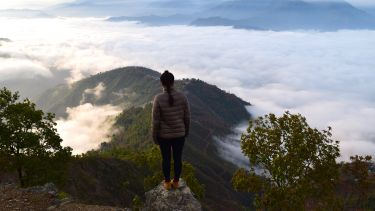 Course description
In the face of persistent global inequalities, a deepening climate crisis and polarised political debate on the role of overseas aid and investment, the challenges of international development have never been more pressing. Our MA International Development – taught collaboratively by the Departments of Geography, Politics and International Relations, Sociological Studies, and Urban Studies and Planning – provides you with the theoretical and practical knowledge to undertake careers in development research and practice in the public, private and third sectors.
The course is rooted in principles of interdisciplinary learning, decolonising knowledge, connecting theory with policy and practice. You'll also have the flexibility to tailor the course to you own interests.
Through this approach it offers a unique combination of academic excellence, tailored professional skills teaching, an optional field class, and a research-based dissertation (based on placements, research collaborations or independent research). 
Core modules will teach you about changing ideas of 'development' since the mid-twentieth century and how these have translated into very different policy approaches and outcomes. You'll will learn about poverty and how it has changed, about how development ideas and processes connect to questions of gender, culture and race, about how processes such as migration, urbanisation and technological evolution intersect with development, and about the global governance of international development.
You'll have the opportunity to build a range of professional skills, and will be trained in core research methods in order to undertake an individual piece of original research. Our placement-based dissertation option also enables you to gain valuable work experience. 
Optional modules from across the University are also available. These include subjects as diverse as food security, public health, urban development, and climate change.
An optional international field class in the Global South encourages you to engage with overseas development and community organisations through an intensive week of activities. We also offer a lower cost and more sustainable UK-based 'hybrid' field class as an alternative. International field class locations are subject to variation and subject to the number of students participating, but previous destinations have included Peru, Nepal and South Africa.
The costs of optional field classes modules and placements are not included in your tuition fees. A limited amount of funding, accessed through a competitive process, is available to students to help finance field classes.
Field class
Find out more about our past international field classes: 
Nepal

The Nepal field class gave students the chance to work in small groups with a dedicated Nepali team member, taking part in community initiatives in Kathmandu before staying in Sindhupalchok District. Students pursued research projects around themes of gender, health, migration, earthquake disaster recovery, community forestry and climate change. This research had a direct impact through a final dissemination event which in recent years involved national political and media attention as well as regional and local stakeholders.

The field class is an amazing part of the masters programme, which allows you to consolidate the theory and ideas learnt in lectures, in the field. As well as preparing you for the dissertation it is also a great chance to meet and learn from students of different cultures in a new and interesting environment.
Helena

Tanzania

The Tanzania field class gave students practical experience of field research. Working with our NGO partner KEDA, students were based in rural communities around Mt Kilimanjaro.

They researched a range of issues that affect local communities such as health, environmental change and poverty alleviation among smallholder farmers. Each year students fed back to district officials and previously had even been interviewed for National TV.

The field class in Tanzania provided the incredible opportunity to bring case studies we had always read about in books and lectures to life through hands-on fieldwork. I was able to learn about issues in water, health and sanitation through the voices of local people. Conducting research in the rich and vibrant culture of Tanzania was an unforgettable experience.
Shahreen

Ecuador

The Ecuador field class gave students the opportunity to work closely with our local partner Intercultural Outreach Initiative, which is based on the Island Isabela in the Galapagos Islands. Our students gained experience in field research by exploring a range of issues that affect the local communities such as food security, water, sanitation and hygiene (WASH) issues and ocean plastic pollution. Each year students feed back to district officials and local stakeholders.

You can read a blog from one of our students about a virtual field class.

The virtual field class provided an opportunity to experience the challenges of international fieldwork, and allowed us to develop skills in adapting research to changing circumstances and using video interviews for data collection, which will be useful skills for the future! It was a great way to gain an understanding and insight into the situation around plastics in the Galapagos, despite not being able to visit!
Elle
Placement
Recent topics for the dissertation with placement

Exploring the impact of land certification programmes on land tenure security and land conflicts for peasants in Indonesia
Inclusive education for students with visual, hearing and physical disabilities: Barriers and experiences in Gondar, Northern Ethiopia
Sustainable livelihoods and the urban poor: The importance of rural-urban connections for second generation rural-urban migrants in Kampala, Uganda
Shifting and negotiating identities: Shan refugees in Northern Thailand
Breaking dichotomies and the process of social reproduction: A case study of urban market women in El Alto
Life histories of giving: Individuals' changing relationships with charities over time
Governance and livelihoods: The future of aquaculture on Lake Bunot, San Pablo, Philippines
Exploration of how recognised factors affect public perceptions of climate change within the North of England
Learning from international emergency responses: a critical assessment of how the British Red Cross learns from its international emergency responses
Modules
Modules for this course are to be confirmed.
The content of our courses is reviewed annually to make sure it's up-to-date and relevant. Individual modules are occasionally updated or withdrawn. This is in response to discoveries through our world-leading research; funding changes; professional accreditation requirements; student or employer feedback; outcomes of reviews; and variations in staff or student numbers. In the event of any change we'll consult and inform students in good time and take reasonable steps to minimise disruption. We are no longer offering unrestricted module choice. If your course included unrestricted modules, your department will provide a list of modules from their own and other subject areas that you can choose from.
An open day gives you the best opportunity to hear first-hand from our current students and staff about our courses. You'll find out what makes us special.
Duration
1 year full-time
Assessment
You'll be assessed on coursework assignments, project work and a dissertation.
Department
The Department of Geography at the University of Sheffield is a world leader in teaching and research. We're ranked within the top 50 universities in the world for geography according to the QS Rankings 2022, top 10 in the world for geography by the ShanghaiRanking Global Ranking of Academic Subjects 2022 and top 10 in the  UK for geography by the Guardian University Guide 2023.
We are experts in the fields of social justice and environmental change. We explore our dynamic, diverse world to address humanity's greatest problems, from food waste to melting ice sheets and sustainable international development. Our innovative research and practice-based learning will equip you with distinct, relevant professional skills.
We have over 30 full-time academic staff in the department. Our high staff-to-student ratio ensures that you receive excellent quality teaching and a high level of pastoral support throughout your studies.
Student profiles
This particular course is exciting not just because I am studying the subject I am interested in, but also the opportunity to go on an international field trip and placement in order to experience the issues that I am learning about. Hopefully I can start to make a difference before I have even graduated. I did my undergraduate degree in Sheffield and loved it so much that I didn't even consider studying anywhere else!
MA International Development
Entry requirements
Minimum 2:1 undergraduate honours degree in a social sciences or medical subject.
Overall IELTS score of 6.5 with a minimum of 6.0 in each component, or equivalent.
Fees and funding
There are various scholarships and bursaries available to support the dissertation with placement. Low-cost local placements are also available.
You can apply for postgraduate study using our Postgraduate Online Application Form. It's a quick and easy process.
Any supervisors and research areas listed are indicative and may change before the start of the course.
Recognition of professional qualifications: from 1 January 2021, in order to have any UK professional qualifications recognised for work in an EU country across a number of regulated and other professions you need to apply to the host country for recognition. Read information from the UK government and the EU Regulated Professions Database.