2023 start
September
Journalism
Department of Journalism Studies, Faculty of Social Sciences

Learn how to find and publish your own stories and graduate with the essential skills and knowledge to become a top-class multimedia reporter.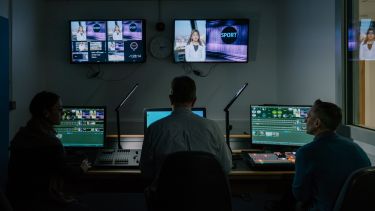 Course description
News reporting requires expertise in creating and publishing digital content, alongside a solid grasp of traditional skills and knowledge. Take this degree and you'll develop both. Learn in our online newsrooms and out in the city during our production newsdays. You'll also work with a team to publish your stories on the Sheffield Wire – a real, public-facing news website and social media channels.
You'll apply your learning in news writing, web publishing, shorthand, video, media law and ethics to hunt down and write up stories to meet real-time deadlines with your team.
As well as the core reporting skills required by employers, you'll also be exposed to innovative journalism techniques, which will put you a step ahead when it comes to landing your first job.
Our course is accredited by the National Council for the Training of Journalists and is renowned within the industry as one of the best in the UK. We'll give you access to international, national and regional news providers on a myriad of platforms during both teaching time and placements. 
Our alumni are intelligent and successful journalists who are excellent at both traditional newswriting and digital mobile journalism.
Accreditation
Accredited by the National Council for the Training of Journalists
Modules
Core modules:
Teeline shorthand
Journalism Portfolio

This module requires students to submit a portfolio of journalistic work accompanied by detailed explanations of the background work involved. The portfolio of journalistic work should demonstrate the student's ability to initiate ideas and undertake the necessary research to produce a finished and substantial piece of journalism in one area of the media. The subject/s must be approved by a course tutor beforehand via an assessed video pitch. The portfolio should be made up of a range of stories which together should total at least 8,000 words or 10 minutes of broadcasting and be accompanied by a description of the development and research involved in its production totalling at least 4,000 words.

60 credits

Researching News

Finding, researching, and developing news stories is a basic journalistic skill and one that is common to all media. This module is intended to equip students with the understanding, knowledge, insights and skills necessary for effective journalistic research and news gathering. It seeks to develop in students some of the basic practical skills involved - such as effective interviewing and researching - with the development of 'news sense' and an understanding of the potential sources of news in a variety of settings. It will demonstrate the generic nature of news gathering skills across all media.

15 credits

Writing News

This unit is designed to introduce students to the discipline of writing news and writing for publication and relate that to an understanding of the relationship between the practice of journalism, the production values of the media and the definitions of news. Students will learn to write clear succinct and accurate English, which both presents the reader with a logical and readable narrative and demonstrates a positive understanding of appropriate news values. They will learn to apply their skills through a number of exercises of varying complexity.

15 credits

Law for Journalists

This module aims to develop students' understanding of legal constraints on journalists working in the UK, including defamation and contempt law. Students will also study how matter can be published in the public interest, and how a journalist can challenge invalid restrictions. There will also be a study of the Editors' Code of Practice and the Ofcom Broadcasting Code.

15 credits

Ethics and Regulation

This module examines some of the major ethical controversies in journalism. Students will explore debates about the tension between freedom of expression and the exercise of responsibility, and about the need to balance privacy rights with publishing material in the public interest. There will also be study of regulation, truth-telling, media representation of vulnerable groups and journalists' relationship with their sources. Students will explore how ethical behaviour is encouraged in journalism, and consider how the industry codes seek to achieve this in the UK.

15 credits

Power and Society - The Institutions of Government

This unit explores the institutions and organisations which significantly affect the nature of our society and which effect change within it. It explores the nature of the relationships between local, national and international institutions of government and seeks to equip journalists to understand how those relationships reflect or effect the decision making processes in society. It will also examine the structures and processes of the institutions of government at local, national and European level.

15 credits

Advanced Journalism

Writing effectively for print means understanding the wide range of disciplines involved in the production of the finished product. This unit will introduce students to those disciplines. They will be introduced to the practice and principles of newspaper design and production through desk top publishing. They will develop their understanding of newsgathering and writing skills through experience of a range of events such as Crown Court trials and local authority meetings. They will be introduced to the disciplines of feature writing and gain an insight into the different approaches to sustained narrative.

30 credits
Option modules:
Dealing with data for journalists

News reporting relies increasingly on knowing how to understand and analyse data. "Now that information is abundant, processing is more important." (Philip Meyer). Data science is the scientific discipline that feeds into this new type of journalism. It provides methods for collecting and systematizing data, which is then analysed using a combination of statistical and machine learning techniques, and finally presented in an appealing and understandable format. This module will equip students with the confidence to appreciate and apply the most widely used statistical techniques, which constitute the very core of data science and, hence, facilitate responsible evidence-based journalism.

15 credits

Communicating with the Media

This module will provide students with knowledge and skills necessary to communicate messages through the media. Case studies and practical workshops will allow students to learn about the practice of media communication. They will learn how the media operates and how to communicate messages through interviews, press conferences and news releases. Topics covered in the module will include the development of communication strategies, the understanding of news values and news cycles and strategies for successful and ethical communication.

15 credits

Critical Incidents in International Journalism

In this module students will explore and analyse international critical incidents (for example, in the UK, US, Asia and Africa) and the efforts to ensure high-quality journalism that follow them. Students will engage in the critical analysis of media reform history, theories and perspectives related to critical incidents in journalism. Additionally, students will have an opportunity to develop their own media reform project and/or participate in an existing one.

15 credits

Global Journalism: Radio and NGO Communication in conflict-affected areas

Non-governmental organisations (NGOs) and other such organisations are valuable information sources, mediators and actors in conflict-affected zones and use local media, particularly radio, to amplify their messages, programmes and advocacy. This module focuses on, and engages with, the public and political communication used, and sometimes misused, and even abused, by radio and NGOs, internationally and historically, during times of conflict and the challenges they encounter culturally, politically, economically, legally and institutionally. In this case, 'internationally' means from the perspective of the Global South.

15 credits
The content of our courses is reviewed annually to make sure it's up-to-date and relevant. Individual modules are occasionally updated or withdrawn. This is in response to discoveries through our world-leading research; funding changes; professional accreditation requirements; student or employer feedback; outcomes of reviews; and variations in staff or student numbers. In the event of any change we'll consult and inform students in good time and take reasonable steps to minimise disruption. We are no longer offering unrestricted module choice. If your course included unrestricted modules, your department will provide a list of modules from their own and other subject areas that you can choose from.
An open day gives you the best opportunity to hear first-hand from our current students and staff about our courses. You'll find out what makes us special.
Duration
MA: 1 year full-time
Teaching
There are lectures, seminars, group workshops, individual and team assignments.
Assessment
You're assessed on essays, examinations and practical journalism work – producing news stories, newspaper pages, web pages and portfolios.
You'll also have the chance to sit external examinations set by the NCTJ.
Department
Study with us and you'll learn vital practical skills: how to spot big stories and write sparkling copy, video editing, shorthand and advanced social media.
Because of our research expertise as an elite Russell Group university, you'll also discover how journalism is part of an epic social narrative about right and wrong, liberty and democracy, war and peace: about the life stories of people, societies and entire continents. We don't just teach you how, we show you why.
Join us and you'll be taught by professional journalists with years of experience in TV, radio, newspapers and magazines; and by influential academic researchers with powerful international reputations, who write the textbooks that journalists learn from.
Entry requirements
Minimum 2:1 undergraduate honours degree.
We may also consider your application if you do not meet the standard academic requirements but you have considerable work experience in a media-related role.
Overall IELTS score of 7.5 with a minimum of 7.0 in each component, or equivalent.
You can apply for postgraduate study using our Postgraduate Online Application Form. It's a quick and easy process.
Any supervisors and research areas listed are indicative and may change before the start of the course.
Recognition of professional qualifications: from 1 January 2021, in order to have any UK professional qualifications recognised for work in an EU country across a number of regulated and other professions you need to apply to the host country for recognition. Read information from the UK government and the EU Regulated Professions Database.