2023 start
September
Reproductive and Developmental Medicine
The Medical School, Faculty of Medicine, Dentistry and Health

This course provides training in reproductive and developmental medicine for scientists, clinicians and those looking to specialise. It's a good platform for a research career or a career in clinical laboratory training for IVF or embryology.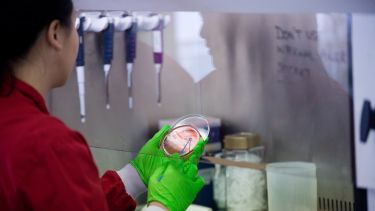 Course description
Lead academic: Dr Mark Fenwick
The course, taught by leading scientists, clinicians and embryologists, provides training in reproductive and developmental medicine for scientists, clinicians and others, for instance ethical advisers or lawyers looking to specialise. It's a good platform for a research career or a career in clinical laboratory training for IVF or embryology.
Through the taught modules you'll develop a solid understanding of reproductive science relevant to clinical applications. We cover the breadth of processes from gonadal development and production of gametes through to pregnancy and parturition. Each module is taught by leading scientists and clinicians in that field.
You'll also have the opportunity to learn about the ethical issues and international laws regulating reproductive medicine. Finally, you'll undertake a research project to develop a depth of knowledge in a specialist topic.
Completion of this course will prepare you for a range of opportunities, including:
a PhD (or MD) programme in reproductive science
a clinical laboratory training programme
specialising in assisted reproductive technologies (ART), embryology or andrology. Remember that our course does not provide training in clinical embryology techniques such as IVF and ICSI - these require specialist courses elsewhere
sub-specialising in reproductive medicine for doctors, lawyers and ethical advisors
a medical or teacher training programme.
Do you have a question? Talk to us
Book a 15-minute online meeting with our course tutor to find out more information and ask further questions.
Modules
The content of our courses is reviewed annually to make sure it's up-to-date and relevant. Individual modules are occasionally updated or withdrawn. This is in response to discoveries through our world-leading research; funding changes; professional accreditation requirements; student or employer feedback; outcomes of reviews; and variations in staff or student numbers. In the event of any change we'll consult and inform students in good time and take reasonable steps to minimise disruption. We are no longer offering unrestricted module choice. If your course included unrestricted modules, your department will provide a list of modules from their own and other subject areas that you can choose from.
An open day gives you the best opportunity to hear first-hand from our current students and staff about our courses. You'll find out what makes us special.
Duration
1 year full-time
Teaching
Much of the teaching during the first six months is lecture-based, but also includes seminars, tutorials and practical classes. Class sizes are kept small to encourage interactive learning.
You'll mostly be taught on site in the Jessop Wing, a purpose-built facility that houses the Academic Unit of Reproductive and Developmental Medicine. Occasionally classes may be scheduled in the Medical School or main University campus.
During the second six months, you'll be allocated a research project. This involves independent learning supported by one-to-one supervision.
Assessment
Assessment tasks have been developed to help you develop skills relevant to careers in reproductive medicine:
practical exercises with reflective reports
preparation of research articles
mock ethics committee presentations
systematic review and meta-analysis
The research project is assessed by:
a poster presentation
short reflective reports
a thesis
a short oral exam based on the written work
Your career
After successfully completing their course, graduates have had the opportunity to find work in a wide variety of areas and industries:
Medical or scientific writing
Clinical research and policy
Further PhD training in reproductive science
Technical support in fertility clinics, biotechnology and pharmaceutical companies and, clinical diagnostic labs
Our graduates often use the course as a stepping stone towards further training and a career in clinical embryology or Andrology clinics, with a high proportion securing a place onto the very competitive Scientific Training Programme (STP).
For medical students, our masters provides an introduction to obstetrics and gynecology or for those who may be interested in sub-specialising in reproductive medicine and fertility treatment.
Our graduates now work in various fertility clinics around the UK, as well as National Institute for Health and Care Excellence (NICE), Springer Nature and Porterhouse Medical.
Entry requirements
You'll need a minimum of a 2:1 in a relevant life science undergraduate degree such as biochemistry, biology, genetics, molecular biology or a degree in veterinary science or medicine. A 2:2 degree may be acceptable depending on an interview and assessment of your past achievements.
Medical students can intercalate after completing three years of their medical degree.
Overall IELTS score of 7.0 with a minimum of 6.5 in each component, or equivalent.
You can apply for postgraduate study using our Postgraduate Online Application Form. It's a quick and easy process.
Any supervisors and research areas listed are indicative and may change before the start of the course.
Recognition of professional qualifications: from 1 January 2021, in order to have any UK professional qualifications recognised for work in an EU country across a number of regulated and other professions you need to apply to the host country for recognition. Read information from the UK government and the EU Regulated Professions Database.