2024 start
September
Autonomous and Intelligent Systems
Department of Automatic Control and Systems Engineering, Faculty of Engineering

Become an expert in AI and autonomous and intelligent systems. As well as learning about autonomous and intelligent systems and artificial intelligence, on this course you'll learn control systems, machine learning and multisensor data modelling.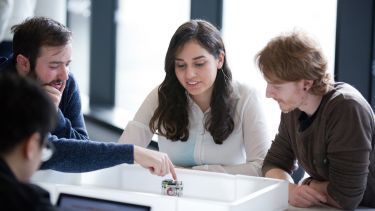 Course description
As the need and scope for robots, smart machines and real-time systems in society grows, so does the market for those trained in autonomous and intelligent systems.
The course covers all major aspects of these control and systems engineering with an emphasis on system autonomy and intelligence.
As you progress, you'll develop an extensive understanding of artificial intelligence, machine learning, autonomous agents, real-time intelligent systems and intelligent control theory.
You'll get hands-on experience working with various types of data, hardware and software and you'll have the opportunity to build a system from scratch using the specialist labs in the University. You'll be able to take optional modules, including a choice to work with companies to work on real opportunities and problems experienced by industry.
You will also work on a research-level dissertation project of your own where you'll be able to pick an area you are passionate about and develop a solution to a real world problem in the area.
Accreditation
Accredited by the Engineering Council UK, Institution of Engineering and Technology and the Institute of Measurement and Control.
Modules
Core modules:
Real-Time Embedded Systems

Many systems, for example; a control system, fault detection system or health monitoring system are required to work in real-time. Such systems can be developed and implemented using a CPU and external devices in an embedded system application/device to perform the desired tasks in the 'real' world. This module covers the hardware associated with building an embedded system and how the desired functionality and thus real-time operation of an embedded system can be realised through software/hardware.

15 credits

Modern Control & System Identification

This module introduces you to advanced state-space control systems analysis and design methods for multivariable systems. The focus is linear time-invariant (LTI) systems in the continuous-time domain, although an introduction is also provided to discrete-time cases and nonlinear cases. You will also be introduced to system identification techniques. System identification uses observations of inputs and outputs from physical systems and estimates dynamical models directly. The theoretical framework and the computational algorithms are explored using synthetic and real problems to show how models can be estimated and validated for future use.

15 credits

Agent-Based Modelling and Multi-Agent Systems

This module introduces multi-agent systems and agent-based modelling. It will motivate the many diverse types of complex adaptive system that can be represented and simulated by these approaches (including engineering applications, artificial intelligence and socio-technical systems). The module introduces a set of key theories, methods and tools in the domain of multi-agent systems and agent-based models. You will gain experience of implementing agent-based simulations in state-of-the-art software, building on your experience in object-oriented programming and agile software development methods.

15 credits

Data Modelling and Machine Intelligence

All of our lives are affected by machine intelligence and data models - Google is a very visible example. But if you are a victim of identity theft, if you want a loan to buy a house or if you want to pass through immigration at an airport, a model derived from data using some form of machine learning technique will be involved.
Engineers increasingly look to machine intelligence techniques such as neural networks and other machine learning methods to solve problems that are not amenable to conventional analysis e.g. by application of Newton's and Kirchhoff's laws, and other physical principles. Instead they use measurements of system variables to compute a model of the process that can then be used in design, analysis and forecasting. System identification is a specific example of data modelling.
We will look at the underlying principles of machine learning, the advantages and limitations of the various approaches and effective ways of applying them with the aim of making you a competent practitioner.

15 credits

Deep Learning

An important field within artificial intelligence is machine learning, which enables systems to learn from data rather than being explicitly programmed to solve a task. Conventional machine learning algorithms tend to rely on a human to carefully engineer and extract features to present to a machine learning algorithm, which can be time-consuming and difficult. A deep learning system, by contrast, takes raw data as input and learns to extract features automatically. This approach has led to significant improvements in processing images, video, speech and audio. Deep learning has also had an impact on the design of intelligent agents, giving rise to the area of deep reinforcement learning, which is where an agent learns in a reward-based framework. An example of deep reinforcement learning is where the Google DeepMind team designed an agent that learned to play Atari computer games to better-than-human-expert level.

15 credits

Multisensor and Decision Systems

The ability to use data and information from multiple sources and make informed decisions based on that data is key to many applications, e.g. manufacturing, aerospace, robotics, finance and healthcare. Through effective use of multisensory data and decision making we can reduce uncertainty, improve robustness and reliability, enhance efficiency and ultimately improve the performance of systems. In this module you will develop an in depth knowledge and understanding of multisensor and decision systems and the underlying mathematics and algorithms. You will develop your confidence in solving complex problems requiring the application of multisensory and decision techniques to a wide variety of applications.

15 credits

Control Systems Project and Dissertation

The aim of the project is to give you the opportunity to develop further your advanced knowledge and skills and apply these to a specific problem or set of problems. It builds on the taught modules and develops a greater level of independence. You will be allocated a project supervisor with whom you will develop the project specification and who will provide overall guidance on the project. However, you are expected to demonstrate a high level of initiative and independence. You will also develop skills in creative and critical thinking, analysis, reflection, effective project management and communication. The project is very different from many of your taught modules where the lecturer takes the lead in your learning. In the project you are expected to take the lead and the supervisor is expected to provide overall guidance and help.

60 credits
Optional modules - examples include:
Machine Vision

The module gives knowledge of machine vision methods for a broad range of applications. It introduces you to image and video processing models and methods and provides you with skills on how to embed them in autonomous systems. You will be able to apply the acquired knowledge to both industrial and research areas.

15 credits

Advanced Control

The aim of this module is to provide you with an introduction to some of the advanced control techniques used in modern control engineering research and industrial applications. The module will cover both theory and practice, involving analysis and design.

Different control techniques and applications may be covered in different years. In all cases, the basic principles and concepts of a particular control technique will be introduced, and comparisons and contrasts will be made with other techniques. Subsequently, the design, analysis and implementation of advanced controllers or control laws will be covered, starting from the requirements of the basic control problem for the application at hand (i.e. stability in the presence of constraints; disturbance and noise rejection). Controller design will be illustrated by industrially-relevant case studies.

15 credits

Mobile Robotics and Autonomous Systems

Robotics and autonomous systems are having an increasing impact on society and the way we live. From advanced manufacturing and surgical robots to unmanned aerial systems and driverless cars, this exciting area is presenting increasing technological challenges. This module provides you with the advanced knowledge and understanding to apply control and systems engineering concepts to the closely related disciplines of robotics and autonomous systems. The module covers theoretical and technical analysis, and design aspects of mobile and manipulator robots with reference to their applications. The module further covers advanced techniques in autonomous decision making for robots and autonomous vehicles.

15 credits

Industrial Training Programme (ITP) in Computational Intelligence

This module will provide an insight into advanced computational intelligence systems via industry-relevant project work. This will be in collaboration with an industrial partner. The industrial partner will set a real technical challenge and your group will undertake practical and theoretical work and present a report that will also require an in-depth literature review. To supplement the main technical challenge there will be focused technical seminars on relevant topics. These topics will be provided by both academics and industry engineers. In addition, the industrial partner will provide seminars relevant to both professional and technical skills to help you complete the project.

15 credits
The content of our courses is reviewed annually to make sure it's up-to-date and relevant. Individual modules are occasionally updated or withdrawn. This is in response to discoveries through our world-leading research; funding changes; professional accreditation requirements; student or employer feedback; outcomes of reviews; and variations in staff or student numbers. In the event of any change we'll consult and inform students in good time and take reasonable steps to minimise disruption.
Open days
An open day gives you the best opportunity to hear first-hand from our current students and staff about our courses. You'll find out what makes us special.
You may also be able to pre-book a department visit as part of a campus tour.Open days and campus tours
Duration
1 year full-time
Teaching
There are lectures, seminars, tutorials, individual assignments and a major research project.
Assessment
You'll be assessed via exams, coursework assignments and a project dissertation.
Your career
Our courses are informed by our strong links with industry and our research. Graduates of this course go on to work as software engineers, developers, AI researchers or data scientists.
Some graduates choose to work in research or follow up their studies with a research degree.
Department
Department of Automatic Control and Systems Engineering
We are the only department in the UK dedicated to Control and Systems Engineering.
Our engineering graduates imagine, design and develop the advanced technologies and solutions that address big societal challenges.
We have a diverse and vibrant community of students and staff from all over the world and we are committed to provide an inclusive and supportive learning and working environment. 
As a student of the Faculty of Engineering you'll be able to participate in student-led teams and societies where you can apply your engineering skills for example; SunrIde which launch rockets to record altitudes, MarsWorks who develop a Mars rover and Sheffield Bionics who create new technology for healthcare. All of this will help you develop skills for your chosen career. 
We are home to the Rolls-Royce University Technology Centre and we're an integral part of Sheffield Robotics and the Insigneo Institute. We have research contracts with major institutions like the European Space Agency, as well as our many academic and industrial partners. These connections mean our teaching is based on the latest thinking.
Entry requirements
Minimum 2:1 undergraduate honours degree in an engineering or mathematics subject.  We may also consider science subjects with a significant amount of programming modules.
We may also consider your application if you have a considerable level of relevant professional experience in the Engineering Industry.
Overall IELTS score of 6.5 with a minimum of 6.0 in each component, or equivalent.
Apply
You can apply now using our Postgraduate Online Application Form. It's a quick and easy process.
Any supervisors and research areas listed are indicative and may change before the start of the course.
Recognition of professional qualifications: from 1 January 2021, in order to have any UK professional qualifications recognised for work in an EU country across a number of regulated and other professions you need to apply to the host country for recognition. Read information from the UK government and the EU Regulated Professions Database.