2024 start
September
Biological and Bioprocess Engineering
Department of Chemical and Biological Engineering, Faculty of Engineering

Develop the essential skills for a career in bioindustry or for further advanced research in next-horizon biotechnologies.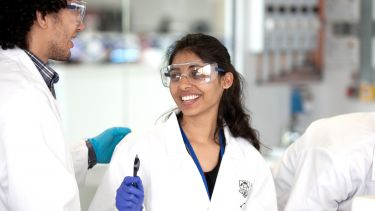 Course description
The emerging multi-discipline of bioscience is central to providing affordable and sustainable sources of energy, food and medicine. This course provides you with the essential skills for a career in bioindustry or for further advanced research. 
You'll learn from world-class researchers, including staff from Biomedical Science and Materials Science and Engineering. Our graduates work in biotechnology, biopharmaceutical and bioprocess organisations.
Bioscience-based industries represent a new frontier for chemical engineering, where diverse skill sets are in increasing demand. This emerging multidisciplinary field will be central to addressing the grand challenges facing today's society in areas such as medicine, food and energy.
This course will train you to operate effectively at the core of Biological Engineering and Bioprocessing, enabling you to contribute to the development of next generation biomanufacturing technologies and processes.
The course is suitable for both bioscience and chemical engineering graduates. It enables science and engineering graduates to broaden their skill sets with complementary skills and build multidisciplinarity required in the industrial biotechnology sector of today and tomorrow.
Throughout your study here, you'll be involved with the Chemical Engineering at the Life Science Interface (ChELSI) Institute and the Advanced Biomanufacturing Centre. These are centres with excellent capabilities, staffed by experts in bio-systems engineering and bioprocessing. You'll have access to the best minds with the best facilities in the UK.
Accreditation
We are accredited by the Institution of Chemical Engineers on behalf of the Engineering Council.
Modules
Core modules:
Biopharmaceutical Engineering

This module will equip you with a comprehensive understanding of technologies that contribute to the production of complex biological products by engineered cells. An emphasis will be placed on (a) core design principles and tools that underpin engineering of genetic vectors, cells and biopharmaceutical products (e.g. proteins, vaccines, gene therapeutics) and (b) bioproduction process design and optimisation. Case histories and exemplars will be provided by invited external experts from bioindustry to reinforce your understanding of core principles.

15 credits

Bioresources and Bioprocessing (PGT)

This module provides an overview of bioresources and their applications in the bioeconomy. The different types of bioresources, their characteristics and how that affects their applications will be discussed. Technologies, including chemical and biochemical methods, that are used for processing bioresources will be explored. Production of bioenergy from bioresources will be discussed.

15 credits

Advanced Bioprocess Design Project

This module will cover the design of whole biomanufacturing processes for the manufacture of biotherapeutic proteins. This will include a taught component, where process design principles and practice will be learnt; plus assistance during the design process, where you will produce a process design and accompanying report. The course will also cover part of modern quality by design, specifically the attainment of product critical quality attributes through the control of process parameters and its ramifications on process design will be discussed.

15 credits

Advanced Biochemical Engineering

This module will extend the use of classical chemical engineering principles of mass balance, energy balance and mass transfer to unit operations used in the manufacture of biopharmaceuticals. This will include fermentation, cell culture reactors, homogenisation, centrifugation, filtration and chromatography. Unit operation specific models will also be applied to predict these operations effectiveness.

15 credits

Applied Biological and Bioprocess Engineering

This is a practical module where students learn applied technical skills relevant to biological engineering in a biomanufacturing context.

15 credits

Research Project

The application of scientific and engineering principles to a solution for practical problems of engineering systems and processes is developed throughout the course and demonstrated in particular by the research project. Each student registered for the Masters degree in 'Biological and Bioprocess Engineering' and 'Biochemical Engineering with Industrial Management' is required to complete a research-based portfolio. The project is worth 60 credits. This is the most important individual module in the course. The topic for study is selected in consultation with appropriate members of the teaching staff. You will choose a research project that best fits your interests and undertakes a unique and original project on that area. Projects vary from industrially-based problem solving to laboratory-based research and development of new processes or ideas. The research portfolio is a major part of the degree and you will be allocated an academic supervisor who provides advice and guidance throughout the period of study. Opportunities exist for research studies to be carried out in collaboration with other university research centres as well as industrial organisations. You will present your project as a portfolio consisting of a Technical Review (5,000 words) and a Dissertation (10,000 to 15,000 words) and you are also required to present the work as a poster and oral presentation during the academic year. A marking scheme is provided at the start of the project and each research project report is marked using a mark sheet which gives weightings to different parts

60 credits
Optional modules - examples include:
Stem Cell Biology

This lecture course will provide a thorough grounding in the biology of stem cells and regenerative medicine, with special reference to the molecular and genetic control of cell fate specification and differentiation. Students will also be enouraged to consider the clinical use of stem cells and their derivatives as well as the ethical issues that these raise. As this is a rapidly developing field, strong emphasis will be placed on understanding the current controversies in the literature.

15 credits

Tissue Engineering Approaches to Failure in Living Systems

This lecture course continues the systems based introduction to human physiology and anatomy which were introduced in level 2 and explores through lectures the tissue engineering approaches that are being developed to cope with disease, failure and old age in body systems. The emphasis is placed primarily on generic technologies of relevance to tissue engineering recognising that this is an enormous and growing field. Thus the first four weeks focus on generic issues relevant to tissue engineering of any tissues and then for the remainder of the course exemplar tissues are selected to illustrate current tissue engineering approaches and identify the challenges that remain ahead. The lectures are supported by linked tutorials which focus on:(a) assessing the students understanding of their current knowledge so that they achieve immediate and informal feedback, and(b) giving the students the experience of working in small groups to apply what they have learnt in the preceding lectures to current problems. Thus a key feature of this module is to stimulating the students in critical thinking, essentially by giving them a toolkit to equip them to look critically at any tissue engineering challenge and come up with pertinent questions and experimental approaches.

15 credits

Synthetic Biology

Synthetic Biology is: a) the design and construction of new biological parts, devices and systems; b) he re-design of existing, natural biological systems for useful purposes. The module seeks to introduce you to the field of synthetic biology, the context (technical and ethical, legal and social issues) and the industrial promise. The module demonstrates the concepts of the engineering design paradigm applied to the exploitation of biology. In particular, issues related to standardisation and modularity of biological parts, devices and systems are introduced and examined in light of examples. Concepts related to 'creation of life' and 'deconstruction of life' are covered.

15 credits

Biopharmaceutical Manufacturing

The module aims to provide an understanding of the key unit operations used in manufacturing biopharmaceutical products including vaccines, therapeutic proteins, and cell/gene therapies. The module will cover fermentation, extraction technologies and purification operations. The module will describe the design and application of each unit of operations, and introduce key associated topics including process engineering, analytical technologies, automation, quality by design, and regulatory issues. The module will have a particular focus on the latest industrial trends, and current and future challenges in biopharmaceutical manufacturing will be studied in-depth.

15 credits
The content of our courses is reviewed annually to make sure it's up-to-date and relevant. Individual modules are occasionally updated or withdrawn. This is in response to discoveries through our world-leading research; funding changes; professional accreditation requirements; student or employer feedback; outcomes of reviews; and variations in staff or student numbers. In the event of any change we'll consult and inform students in good time and take reasonable steps to minimise disruption.
Open days
An open day gives you the best opportunity to hear first-hand from our current students and staff about our courses. You'll find out what makes us special.
You may also be able to pre-book a department visit as part of a campus tour.Open days and campus tours
Duration
1 year full-time
Teaching
We use a combination of lectures, tutorials, examples classes and coursework assignments.
Assessment
Assessment is based on assignments for each module, formal examination of core modules, dissertation and oral presentation of the laboratory-based research project.
Department
Department of Chemical and Biological Engineering
Chemical engineers conceive and design processes to produce, transform and transport materials. Our courses help prepare you for a career in the oil and gas, chemical, nuclear and pharmaceutical industries.
Our first-class facilities include cutting-edge laboratories such as the Analytics Lab, Thermodynamics Lab and the Pilot Plant.
The Pilot Plant is the cornerstone to educate our students and it features a continuous powder processing plant – the first of its kind in any UK University.
We also have key relationships with major international companies involved with food, fuels, medicines, plastics, energy and high-technology industries.  Some of these include: Siemens, Petronas, Pfizer, Nestle, Lonza, Astrazeneca, Syngenta and Unilever. 
Here at Sheffield you'll become an innovative product developer, forward looking, a risk taker and a trail blazer. You'll be proud of the manufacturing heritage of our university and of our city.
Our intensive teaching, combined with practical experience in most of our courses, produces the kind of graduates employers want. 
We'll equip you with everything you need to deliver sustainable solutions to support an ever growing, global population – study at Sheffield and you could literally change millions of lives.
Entry requirements
Minimum 2:2 undergraduate honours degree in a science, technology or engineering subject.
Overall IELTS score of 6.5 with a minimum of 6.0 in each component, or equivalent.
Fees and funding
Contact us for current information on available scholarships.
Apply
You can apply now using our Postgraduate Online Application Form. It's a quick and easy process.
Any supervisors and research areas listed are indicative and may change before the start of the course.
Recognition of professional qualifications: from 1 January 2021, in order to have any UK professional qualifications recognised for work in an EU country across a number of regulated and other professions you need to apply to the host country for recognition. Read information from the UK government and the EU Regulated Professions Database.