2024 start
September
Broadcast Journalism
School of Journalism, Media and Communication, Faculty of Social Sciences

Would you like to be a broadcast journalist, searching out stories and telling them in engaging and creative ways? Study on our BJTC-accredited course and learn how to research, interview, write, record, film, edit and present for TV, radio, podcast, social and digital media.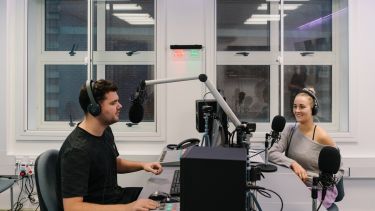 Course description
Are you determined, articulate and fascinated by news and current affairs? Is your ambition to work as a reporter or producer in radio and television news, or maybe to launch a ground-breaking podcast?
This course will teach you vital broadcasting and digital media skills using industry-standard software and equipment, then provide you with the opportunity to go out into the city to put your skills to the test.
We invest heavily in audio and video facilities, so you'll be immersed in TV, radio, podcasts and online techniques from day one. Nurture your skills using our TV news studio and gallery, radio studios and production booths, all laden with the same industry-standard equipment and software used by the professionals.
You'll be taught by current and former broadcast journalists, editors and media professionals, who will show you how to find and research news stories, conduct interviews, record and edit the material for broadcast as well as for web and social media.
Our experts in media law, regulation and public affairs will make sure your journalism is responsible and ethical as well as hard-hitting. 
On newsdays, you'll work against the clock as part of a team that goes out into the city to find the news, shoot footage and create bulletins to meet tight deadlines back at the newsroom.
It's demanding work, but that's how our students finish the degree newsroom-ready, as complete broadcast journalists: many of our alumni secure jobs in a newsroom within the first six months after graduating, whilst others win awards for their work before they've even graduated.
Accreditation
This degree is professionally accredited by the Broadcast Journalism Training Council (BJTC), an important benchmark of quality recognised across the UK media industry.
You will also have the opportunity to take extra exams as part of the NCTJ Diploma. This includes shorthand and media law.
Modules
Core modules:
Researching News

Finding, researching, and developing news stories is a basic journalistic skill and one that is common to all media. This module is intended to equip students with the understanding, knowledge, insights and skills necessary for effective journalistic research and news gathering. It seeks to develop in students some of the basic practical skills involved - such as effective interviewing and researching - with the development of 'news sense' and an understanding of the potential sources of news in a variety of settings. It will demonstrate the generic nature of news gathering skills across all media.

15 credits

Broadcast News

This module introduces you to news production for radio, television, the web and social media. You will learn basic technical skills covering recording and editing for radio and television, and the conventions of writing and presenting. It emphasises the nuts and bolts of radio and television news bulletins and starts the process of encouraging you to use production techniques effectively. You'll learn how to use a content management system and begin to learn how writing for the web differs from writing for broadcast. You will apply newsgathering and interviewing skills in broadcast situations which are structured to simulate the professional working environment. You will also have one to one voice training sessions to improve presentation skills.To get the most out of this module, you should be listening to and watching as great a variety of broadcast news as you can. A typical week might include some combination of 'Today' on BBC Radio 4, BBC Radio Sheffield, Hallam FM, BBC 5 Live Breakfast Programme, the main television news bulletins, Sky News and BBC News as well as all the regional programmes you can find, particularly 'Look North' and 'Calendar'. You should also log on regularly to news websites and if you haven't already done so, join Twitter (www.twitter.com) and follow as many journalists as you can find.

15 credits

Law for Journalists

This module aims to develop students' understanding of legal constraints on journalists working in the UK, including defamation and contempt law. Students will also study how matter can be published in the public interest, and how a journalist can challenge invalid restrictions. There will also be a study of the Editors' Code of Practice and the Ofcom Broadcasting Code.

15 credits

Ethics and Regulation

This module examines some of the major ethical controversies in journalism. Students will explore debates about the tension between freedom of expression and the exercise of responsibility, and about the need to balance privacy rights with publishing material in the public interest. There will also be study of regulation, truth-telling, media representation of vulnerable groups and journalists' relationship with their sources. Students will explore how ethical behaviour is encouraged in journalism, and consider how the industry codes seek to achieve this in the UK.

15 credits

Power and Society - The Institutions of Government

This unit explores the institutions and organisations which significantly affect the nature of our society and which effect change within it. It explores the nature of the relationships between local, national and international institutions of government and seeks to equip journalists to understand how those relationships reflect or effect the decision making processes in society. It will also examine the structures and processes of the institutions of government at local, national and European level.

15 credits

Advanced Broadcast Journalism

The focus of this module allows you to build on the basic skills developed in JNL6008. You will work on features, bulletins and programmes covering a range of formats and styles and further develop your online skills. A key exercise is a block of radio and television newsdays.

30 credits

Broadcast Journalism Portfolio

This module requires students to submit a substantial piece of journalistic work in either radio or television. The project should be accompanied by a detailed written appraisal of the editorial and production processes involved.

60 credits
Optional modules
You must choose one from the list below.
Dealing with data for journalists

News reporting relies increasingly on knowing how to understand and analyse data. "Now that information is abundant, processing is more important." (Philip Meyer). Data science is the scientific discipline that feeds into this new type of journalism. It provides methods for collecting and systematizing data, which is then analysed using a combination of statistical and machine learning techniques, and finally presented in an appealing and understandable format. This module will equip students with the confidence to appreciate and apply the most widely used statistical techniques, which constitute the very core of data science and, hence, facilitate responsible evidence-based journalism.

15 credits

Communicating with the Media

This module will provide students with knowledge and skills necessary to communicate messages through the media. Case studies and practical workshops will allow students to learn about the practice of media communication. They will learn how the media operates and how to communicate messages through interviews, press conferences and news releases. Topics covered in the module will include the development of communication strategies, the understanding of news values and news cycles and strategies for successful and ethical communication.

15 credits

Critical Incidents in International Journalism

In this module students will explore and analyse international critical incidents (for example, in the UK, US, Asia and Africa) and the efforts to ensure high-quality journalism that follow them. Students will engage in the critical analysis of media reform history, theories and perspectives related to critical incidents in journalism. Additionally, students will have an opportunity to develop their own media reform project and/or participate in an existing one.

15 credits

Radio and NGO Communication in conflict-affected areas

Non-governmental organisations (NGOs) and other such organisations are valuable information sources, mediators and actors in conflict-affected zones and use local media, particularly radio, to amplify their messages, programmes and advocacy. This module focuses on, and engages with, the public and political communication used, and sometimes misused, and even abused, by radio and NGOs, internationally and historically, during times of conflict and the challenges they encounter culturally, politically, economically, legally and institutionally. In this case, 'internationally' means from the perspective of the Global South.

15 credits
The content of our courses is reviewed annually to make sure it's up-to-date and relevant. Individual modules are occasionally updated or withdrawn. This is in response to discoveries through our world-leading research; funding changes; professional accreditation requirements; student or employer feedback; outcomes of reviews; and variations in staff or student numbers. In the event of any change we'll consult and inform students in good time and take reasonable steps to minimise disruption.
Open days
An open day gives you the best opportunity to hear first-hand from our current students and staff about our courses.
Find out what makes us special at our next online open day on Wednesday 17 April 2024.
You may also be able to pre-book a department visit as part of a campus tour.Open days and campus tours
Duration
MA - 1 year full-time
Teaching
There are lectures, seminars, group workshops, newsdays, individual and team assignments.
Assessment
You'll be assessed on producing a combination of radio and TV news stories, bulletins, features, web pages, portfolios, essays and examinations throughout your degree.
Your career
Our graduates launch straight into work in roles like Broadcast Journalist, Assistant News Editor, Producer, Video Content Production Executive, Video Journalist and more within just 15 months of graduation. Many of them find work in huge news organisations like the BBC, Daily Mail, Bauer and ITN, whilst others go on to launch careers as freelance broadcasters (Graduate Outcomes Survey 2020/1). 
Thanks to our industry connections, we offer a huge range of work experience opportunities to students on our practical journalism programmes. To see what our students get up to during these placements, check out the #JUSPlacement hashtag on X or read the #JUSPlacement Blog.
You can also find out more about our graduates and where they go on to work.
Department
School of Journalism, Media and Communication
Here at the School of Journalism, Media and Communication, we've been training extraordinary journalists and conducting pioneering research since 1994, when our department was launched by Observer Editor Donald Trelford at our first home in Minalloy House.
After 30 years in the industry, we've learnt a thing or two about networking. Study with us, and you'll have exclusive access to our unrivalled contacts and alumni network, situated in newsrooms across the world.
We'll also provide you with award-winning employability support in the form of one-to-one support sessions, weekly masterclasses and an array of placement opportunities to help you get your foot in the door. 
You'll learn to ace the basics on our practical courses, including how to spot big stories and make them shine; edit engaging audio, video and podcasts in our state-of-the-art facilities; become an expert in social media; and even ace those shorthand exams. We're the only Russell Group University to be accredited by the NCTJ, BJTC and PPA, so you know you're learning from the best of the best.
For those with an eye for Journalism's bigger picture, our research-led programmes will help you piece together the epic social narratives of global journalism, mass media and political communication. You'll be rubbing shoulders with experts in media law, mis/disinformation, propaganda and freedom of the media - taking full advantage of the research excellence we have to offer as a Russell Group institution.
Our graduates go on to achieve great things and remain part of our legacy forever. They change the world through the power of storytelling - be they journalists, documentarians, PR experts, novelists, or teachers.
Entry requirements
Minimum 2:1 undergraduate honours degree.
We may also consider your application if you do not meet the standard academic requirements but you have considerable work experience in a media-related role.
Overall IELTS score of 7.5 with a minimum of 7.0 in each component, or equivalent.
Apply
You can apply now using our Postgraduate Online Application Form. It's a quick and easy process.
Any supervisors and research areas listed are indicative and may change before the start of the course.
Recognition of professional qualifications: from 1 January 2021, in order to have any UK professional qualifications recognised for work in an EU country across a number of regulated and other professions you need to apply to the host country for recognition. Read information from the UK government and the EU Regulated Professions Database.