2024 start
September
Energy Engineering with Industrial Management
Department of Chemical and Biological Engineering, Faculty of Engineering

Gain an in-depth understanding of the environmental impact of different energy choices. You'll be equipped to help address the challenge of increasing demand for energy but limited world resources.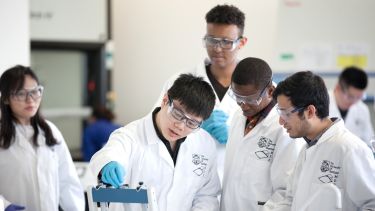 Course description
We're becoming increasingly concerned with our impact on the environment around us. The world has a limited amount of resources and our energy demands are only growing; to address this efforts are being made to change the way we produce and consume energy and dispose of waste.
On this course, you'll become the next generation of engineers and managers for in-depth understanding of the environmental impact of different energy choices.
The teaching is aimed at graduates and professionals who want to take up a role within energy management or require an advanced knowledge of the subject. You'll have a thorough understanding of energy engineering and management by combining theoretical aspects of the discipline with hands-on practical experience, ensuring you are well-equipped to enter and succeed in a wide range of career areas.
The programme provides an increased breadth and depth of study with additional emphasis on:
Industrial application
Teamworking
Use of industrially-relevant applications of engineering analysis
Independent learning and work
Modules
Core modules:
Introduction to Fuels and Energy

The module covers the following topics:- Introduction to energy: sources, history, classifications, units

- Primary energy - Introduction to coal

- Primary energy - Introduction to oil and natural gas

- Primary energy conversion - heat to power

- Introduction to electrical systems and energy carriers

- Primary electricity - nuclear

- Energy end use - transport

- Introduction to combustion processes I

- Introduction to combustion processes II

- Energy futures

15 credits

Applied Energy Engineering

Applied Energy Engineering comprises three experiments: coal characterisation, gas boiler efficiency and renewable energy. The main objectives of this module are (a) experimental studies of some of the energy principles that chemical engineering is relying on and (b) development of skills for collecting and interpreting data and draw conclusions. In addition, collecting and reviewing literature concerning a particular experiment is also essential for this module. After each experiment you will write a laboratory report, which is guided by these principles and finally apply the data and knowledge to suggest an open-ended design for an energy system for an urban scenario.

15 credits

Managing Innovation and Change in Engineering Contexts

This module introduces you to the importance of innovation in manufacturing and service organisations whose primary business activity is engineering and/or technology. Innovation management is introduced as the thoughtful combination of new product/process development and change management. Through case studies, theoretical frameworks, and tools you will come to understand innovation at multiple scales: international, national, regional, organisational and team, with particular emphasis on how organisations manage and exploit the commercial risks and opportunities inherent in innovation, and how project teams and engineers can respond to innovation challenges effectively. The module is aimed at engineering students of any discipline.

15 credits

Engineering Commercial Success: And making the world a better place!

Students work in interdisciplinary teams to create solutions to a real problem provided by a real customer. Typically the customer will be a member or members of the community e.g. children with disabilities, terminally ill people, etc. Student teams learn how to solicit needs from user interviews and go on to create (and where possible prototype) solutions that meet functional, commercial and social requirements. Teams pitch their concept and business start up proposals to an invited audience and assessors.

15 credits

Strategic Engineering Management and Business Practices

This module aims to provide fundamentals of what strategy is and distinguish it from activities, tactics and goals of an organisation. It explains its important role in the continual success of organisations. It also introduces how strategy can be translated into business practices, methods, procedures to achieve the goals of an organisation's strategy.

The module is designed to develop your analytical and critical skills in the strategic management issues facing engineering organisations in today's fast-changing environment. It is a unique opportunity for you to equip yourself with the essential industry-relevant skills to excel as a future leader.

15 credits

Energy Systems and Management

The module provides a broad study of conventional and renewable Energy Systems and an advanced knowledge of selected emerging energy technologies. It develops practical skills and confidence in carrying out energy management tasks such as conducting an energy audit.

15 credits

Research Project

The application of scientific and engineering principles to a solution for practical problems of engineering systems and processes is developed throughout the course and demonstrated in particular by the research project. Each student registered for the Masters degree in 'Energy and Environmental Engineering' and in 'Energy Engineering with Industrial Management' is required to complete a research-based portfolio. The project is worth 60 credits. This is the most important individual module in the course. The topic for study is selected in consultation with appropriate members of the teaching staff. You will choose a research project that best fits your own interests and undertakes a unique and original project on that area. Projects vary from industrially-based problem solving to laboratory-based research and development of new processes or ideas. The research portfolio is a major part of the degree and you will be allocated an academic supervisor who provides advice and guidance throughout the period of study. Opportunities exist for research studies to be carried out in collaboration with other university research centres, as well as industrial organisations. You will present your project as portfolio consisting of a Technical Review (5,000 words) and a Dissertation (10,000 to 15,000 words) and are also required to present the work as a poster and oral presentation during the academic year. A marking scheme is provided at the start of the project and each research project report is marked using a mark sheet that gives weightings to different parts.

60 credits
Optional modules - examples include:
Low Carbon Energy Science and Technology

Low carbon technologies are an essential requirement if the world's energy needs are to be met without causing irreversible changes to the planet's climate. This module will cover why there is a need for various different technologies that can help to meet the world's energy needs without releasing large amounts of CO2 into the atmosphere. Various different technologies that aim to meet this need will be introduced and then a select number will be studied in more detail. The aim of the module is to enable the student to make critical assessments of the different low carbon technologies backed by sound scientific understanding of their limitations and advantages.

15 credits

Petroleum Engineering

This module gives an overview of current and future technology for the oil and gas industry. It includes the origins of petroleum and its refining, as well as introduction to biofuels.
This module covers:
- the origins, types and quality of refinery feedstock and products
- detailed analysis of various sections of petroleum processing in refineries
- introduction to advanced topics in petrochemical engineering such as catalyst development, desulphurisation, pollution control and hydrogen production
- details on key biofuels and their strategic importance and the technological challenges of viable large scale production


15 credits

Nuclear Reactor Engineering

The module provides a broad base introduction to the theory and practice of nuclear reactors for power production. This includes those aspects of physics which represent the source of nuclear energy and the factors governing its release, as well as the key issues involved in the critical operation of nuclear cores. The relation of the science underlying successful operation with the needs for fuel preparation and engineering designs is emphasised. The module aims to provide students with a clear grasp of those aspects relevant to the design and operation of nuclear reactors along with an understanding of the principles of reactor design. The module will cover the techniques used to prepare nuclear fuels and process spent fuel. Students will develop an understanding of the present and future roles of nuclear reactors in energy provision.

15 credits

Electrochemical Engineering

This module covers three key topics:
1.Fundamentals of electrochemical kinetics and thermodynamics
2. Electrical and mass transport and electrochemical characterisation
3. Energy storage and conversion – fuel cells, batteries & supercapacitors

15 credits
The content of our courses is reviewed annually to make sure it's up-to-date and relevant. Individual modules are occasionally updated or withdrawn. This is in response to discoveries through our world-leading research; funding changes; professional accreditation requirements; student or employer feedback; outcomes of reviews; and variations in staff or student numbers. In the event of any change we'll consult and inform students in good time and take reasonable steps to minimise disruption.
Open days
An open day gives you the best opportunity to hear first-hand from our current students and staff about our courses. You'll find out what makes us special.
You may also be able to pre-book a department visit as part of a campus tour.Open days and campus tours
Duration
1 year full-time
Teaching
We use a combination of lectures, tutorials, examples classes and coursework assignments.
Assessment
Assessment is based on assignments for each module, formal examination of core modules, dissertation and oral presentation of the laboratory-based research project.
Department
Department of Chemical and Biological Engineering
Chemical engineers conceive and design processes to produce, transform and transport materials. Our courses help prepare you for a career in the oil and gas, chemical, nuclear and pharmaceutical industries.
Our first-class facilities include cutting-edge laboratories such as the Analytics Lab, Thermodynamics Lab and the Pilot Plant.
The Pilot Plant is the cornerstone to educate our students and it features a continuous powder processing plant – the first of its kind in any UK University.
We also have key relationships with major international companies involved with food, fuels, medicines, plastics, energy and high-technology industries.  Some of these include: Siemens, Petronas, Pfizer, Nestle, Lonza, Astrazeneca, Syngenta and Unilever. 
Here at Sheffield you'll become an innovative product developer, forward looking, a risk taker and a trail blazer. You'll be proud of the manufacturing heritage of our university and of our city.
Our intensive teaching, combined with practical experience in most of our courses, produces the kind of graduates employers want. 
We'll equip you with everything you need to deliver sustainable solutions to support an ever growing, global population – study at Sheffield and you could literally change millions of lives.
Entry requirements
Minimum 2:2 undergraduate honours degree in a science, technology or engineering subject.
Overall IELTS score of 6.5 with a minimum of 6.0 in each component, or equivalent.
Apply
You can apply now using our Postgraduate Online Application Form. It's a quick and easy process.
Any supervisors and research areas listed are indicative and may change before the start of the course.
Recognition of professional qualifications: from 1 January 2021, in order to have any UK professional qualifications recognised for work in an EU country across a number of regulated and other professions you need to apply to the host country for recognition. Read information from the UK government and the EU Regulated Professions Database.