2024 start
September
Global Journalism
School of Journalism, Media and Communication, Faculty of Social Sciences

Our students see journalism's bigger picture: freedom of expression, misinformation and 'fake news', media ethics and globalisation. If you're interested in further study of these themes, this is the course for you.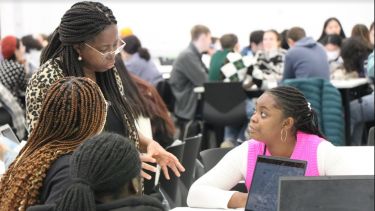 Course description
This research-based course combines study of themes such as globalisation, misinformation and media freedom with some practical newswriting experience. 
You'll cast a critical eye over journalism within an international context, comparing and contrasting media theory and practice around the world. Our academics will also involve you in vital discussions around their pioneering research on media, society and government at a hugely critical moment for freedom of expression.
In the first semester, you will be placed front and centre at International Journalism Week - a unique opportunity to engage with dozens of high-profile academics and media practitioners from around the world. This annual programme of lectures, seminars and workshops allows our students to immerse themselves in a huge range of subjects, from war reporting to issues of representation. All students from the department are welcome, but the event is especially tailored to the interests of our MA  Global Journalism students. 
Some of our graduates go on to practice journalism. The majority of our students, however, use this course as the launching pad for a career in academia, and go on to conduct significant research on subjects that lie at the heart of the global media landscape.
Modules
Core modules:
Writing for the media

This module introduces students to the culture and practice of writing for the media and to some of the practical reporting methods used by journalists. In so doing, it introduces students to some of the key skills required by journalists and media professionals. As this module is an introduction to how journalists prepare and write news stories for the media under stringent deadlines, students will develop basic skills in these areas.

15 credits

Journalism in Britain

This module encourages a critical approach to its subject matter and this means questions! Who owned the first million-selling daily newspaper in Britain? What was the impact of broadcast journalism on newspapers? Why has the tabloid genre become so pervasive? Where can we see comparisons and contrasts to the 'British' model? When did journalism emerge as a distinct form of communication? How have women been involved in the development of journalism? What role have news cartoons played within the quality and tabloid press?

In order to understand issues and debates within the contemporary British news media, it is best to start with an understanding of how journalism has evolved within this particular national context. How did we get the news media that we have today and what does this mean for contemporary society? This is as important a question whether you are an overseas student, or a student from the UK who has never taken too much notice of the specifics of the news media. Students on this module will learn about the historical development of journalism and current debates concerning the news media in the UK including the evolution of the related field of Journalism Studies.

15 credits

Digital Journalism

This module introduces students to understanding new forms and practices of digital journalism emerging in the data era, including online and multimedia journalism, digital storytelling, data journalism, computational journalism, drone journalism, immersive journalism, social media and mobile journalism, and entrepreneurial journalism. It also discusses the challenges journalism is facing in media markets. It examines the current communication environment and the role of ICTs in shaping journalism and its quality.

These topics will be explored through discussing theories and examples from around the world and student-led research projects using digital and data skills for examining various topics about digital journalism.

As such, this module seeks to address the following questions:

What is digital journalism? How does this concept change along with the development of Information Communication Technologies (ICTs)? How are ICTs changing journalistic practices, and with what consequences? What do these changes tell us about the relationship between technology and journalism? What implications are there for the quality of journalism?

15 credits

Global Journalism, Media and Communication Ethics

Ethics are fundamental to journalism in all societies. The module aims to introduce and examine diverse, sometimes clashing, theoretical perspectives in media, journalism and communication ethics. Not enough attention is paid to journalism and communication ethics across the world, and the West does not hold the only answers to ethical dilemmas. Students will get an opportunity to consider and debate diverse theoretical perspectives on journalism and media practices. Throughout the module students will examine a range of scholarly approaches to ethics and responses to ethical challenges that may be appropriate in different circumstances and cultures. While this module will not provide students with a set of answers about ethical dilemmas, it will encourage them to engage in a better-informed conversation about ethics and its increasingly vital place in global journalism cultures and practices. The module will help students develop their analytical skills and help them acquire a set of tools they can put to use in ethical reasoning and decision-making in their future professional practice. The module will highlight instances of journalism practice that make a positive contribution to people's lives and explore the relationship between ethical norms and global journalistic practice.

15 credits

Journalism, Technology and Globalisation

This module examines the relationship between journalism and globalisation, and how technology has influenced the two over the years. Through the discussion of key theoretical concepts and specific examples of media narratives from different parts of the world, the module explores ways in which media and information technologies can assist people and communities to meet wellbeing challenges, and critically assesses how technology enabled the globalisation of media content, with a particular focus on the news industry. The module will study media representations of the North/South divide; coverage of major global issues in a range of countries; the relationship between journalism and international politics; and the potential of new media technologies to facilitate activism and social change.

15 credits

Research Portfolio

You will design, plan and execute a substantial piece of independent work, in the form of a research portfolio, including a reflective research proposal, a journal article and a project for a non-academic audience, that analyses an issue in journalism. You will learn and apply knowledge regarding the use, dissemination and application of research, its potential impact, and how to target different audiences and how to reflect on the challenges faced by researchers. You will be able to make an informed choice about the nature of your project in relation to your own strengths, weaknesses and ambitions.

75 credits
Optional modules
You will choose two of the following:
Media freedom: European, UK and US perspectives

The overall aim of this module is to develop an understanding of the international treaties and national laws safeguarding the exercise of freedom of expression by the media, the different interpretations of this freedom in Europe and the US, and the limitations to which it is subject. In particular, it aims to facilitate students in developing knowledge of topics including the protection of freedom of expression in the European Convention of Human Rights, the Human Rights Act and the First Amendment; the tensions between media freedom, hate speech and privacy; media freedom and political expression; the contrasting models of press freedom and broadcasting regulation; the debate on internet freedom or regulation. The module seeks to expose students to European, UK and US laws, as well as to other jurisdictions where comparative analysis is appropriate.

15 credits

Radio and NGO Communication in conflict-affected areas

Non-governmental organisations (NGOs) and other such organisations are valuable information sources, mediators and actors in conflict-affected zones and use local media, particularly radio, to amplify their messages, programmes and advocacy. This module focuses on, and engages with, the public and political communication used, and sometimes misused, and even abused, by radio and NGOs, internationally and historically, during times of conflict and the challenges they encounter culturally, politically, economically, legally and institutionally. In this case, 'internationally' means from the perspective of the Global South.

15 credits

Critical Incidents in International Journalism

In this module students will explore and analyse international critical incidents (for example, in the UK, US, Asia and Africa) and the efforts to ensure high-quality journalism that follow them. Students will engage in the critical analysis of media reform history, theories and perspectives related to critical incidents in journalism. Additionally, students will have an opportunity to develop their own media reform project and/or participate in an existing one.

15 credits

Journalism and Society

The rise of new forms of journalism, the transforming relationship between journalism and audiences in the digital and data era, and the changes in the wider social and political contexts have brought questions about the role of journalism in society.

This module will provide students with an academic understanding of the role of journalism in society in the current communication environment and with recent social and political changes. The module will explore issues including the journalism-audience relationship, the influence of social media on journalism, fake news and journalism, journalistic autonomy and legitimacy, the tabloidisation of journalism, tensions between journalism and politics, the rise of partisan journalism, the crisis of objective journalism, and journalism and democracy.

These issues will be explored through academic readings and discussions and student-led empirical/research projects using digital methods and data skills for studying journalism and society. Academic theories, examples, and case studies from around the world will be discussed.

15 credits
The content of our courses is reviewed annually to make sure it's up-to-date and relevant. Individual modules are occasionally updated or withdrawn. This is in response to discoveries through our world-leading research; funding changes; professional accreditation requirements; student or employer feedback; outcomes of reviews; and variations in staff or student numbers. In the event of any change we'll consult and inform students in good time and take reasonable steps to minimise disruption.
Open days
An open day gives you the best opportunity to hear first-hand from our current students and staff about our courses. You'll find out what makes us special.
You may also be able to pre-book a department visit as part of a campus tour.Open days and campus tours
Duration
1 year full-time
Teaching
We teach through lectures, seminars, workshops and research exercises.
Assessment
You're assessed by essays, examinations, presentations and a research portfolio.
Your career
Our graduates launch straight into work in roles like Broadcast Journalist, Assistant News Editor, Producer, Video Content Production Executive, Video Journalist and more within just 15 months of graduation. Many of them find work in huge news organisations like the BBC, Daily Mail, Bauer and ITN, whilst others go on to launch careers as freelance broadcasters (Graduate Outcomes Survey 2020/1). 
Thanks to our industry connections, we offer a huge range of work experience opportunities to students on our practical journalism programmes. To see what our students get up to during these placements, check out the #JUSPlacement hashtag on X or read the #JUSPlacement Blog.
You can also find out more about our graduates and where they go on to work.
Department
School of Journalism, Media and Communication
Here at the School of Journalism, Media and Communication, we've been training extraordinary journalists and conducting pioneering research since 1994, when our department was launched by Observer Editor Donald Trelford at our first home in Minalloy House.
After 30 years in the industry, we've learnt a thing or two about networking. Study with us, and you'll have exclusive access to our unrivalled contacts and alumni network, situated in newsrooms across the world.
We'll also provide you with award-winning employability support in the form of one-to-one support sessions, weekly masterclasses and an array of placement opportunities to help you get your foot in the door. 
You'll learn to ace the basics on our practical courses, including how to spot big stories and make them shine; edit engaging audio, video and podcasts in our state-of-the-art facilities; become an expert in social media; and even ace those shorthand exams. We're the only Russell Group University to be accredited by the NCTJ, BJTC and PPA, so you know you're learning from the best of the best.
For those with an eye for Journalism's bigger picture, our research-led programmes will help you piece together the epic social narratives of global journalism, mass media and political communication. You'll be rubbing shoulders with experts in media law, mis/disinformation, propaganda and freedom of the media - taking full advantage of the research excellence we have to offer as a Russell Group institution.
Our graduates go on to achieve great things and remain part of our legacy forever. They change the world through the power of storytelling - be they journalists, documentarians, PR experts, novelists, or teachers.
Entry requirements
Minimum 2:1 undergraduate honours degree.
We may also consider your application if you do not meet the standard academic requirements but you have considerable work experience in a media-related role.
Overall IELTS score of 6.5 with a minimum of 6.0 in each component, or equivalent.
Fees and funding
There are a number of bursaries for students on the journalism, magazine and broadcast courses, from the Scott Trust (owner of The Guardian), Journalism Diversity Fund and others.
Apply
We use a staged admissions process to assess applications for this course. You'll still apply for this course in the usual way, using our Postgraduate Online Application Form.
Any supervisors and research areas listed are indicative and may change before the start of the course.
Recognition of professional qualifications: from 1 January 2021, in order to have any UK professional qualifications recognised for work in an EU country across a number of regulated and other professions you need to apply to the host country for recognition. Read information from the UK government and the EU Regulated Professions Database.