2024 start
September
International Political Economy
Department of Politics and International Relations, Faculty of Social Sciences

What is the global economy and how is it shaped by relationships of power that are generated by political decision-making? Where traditional economics tends to focus on the market as something that simply exists, and politics tends to ignore or underplay it, this course helps you understand that the two are inextricably linked.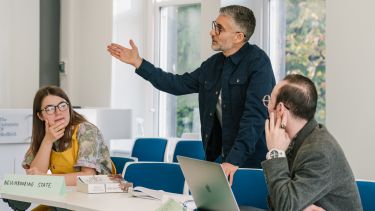 Course description
We can't begin to understand how political decisions are made without examining the economic context that shapes them, yet we also cannot grasp why the economy functions in the way it does without understanding the profoundly political decisions that determine who gets what, when, why and how.
This course will expand your understanding of contemporary capitalism by looking at how the global political economy is constituted, the ways in which it functions to benefit particular groups, countries and people, and how it is evolving.
You'll be taught by expert academics who are pushing the boundaries of international political economy. You will learn how to analyse the operation of contemporary capitalism, who wins and loses from it, and whether we can achieve more equal, just and sustainable societies. Throughout your studies you will address questions such as:
Who are the key actors in international political economy and how do they interact with our local, national and international political institutions to produce particular economic outcomes?
How do we generate decent living standards in a world of rapid technological change? 
Why does the global economy seem to be producing ever-greater concentrations of wealth and poverty? 
What explains the rapid development of the so-called 'rising powers' and is theirs a model that can be emulated? 
Which level of analysis - the family, the village, the region, the nation, the global - should we examine when seeking to make sense of the global political economy? 
Is it possible for our economies to keep growing in a world of looming environmental breakdown? 
Will globalisation continue over the coming decades, or do current conflicts mean we are now entering an era of deglobalisation? 
Whose theories and concepts can help us make better sense of a rapidly changing 21st Century context that appears to be replete with economic crises?
The MA International Political Economy degree attracts a hugely diverse student body. Some may have already studied politics and international relations previously, whereas others may have little academic experience in the subject but wish to better understand the evolution of the global political economy in an era marked by significant economic upheaval.
Students come from all sorts of different backgrounds, and this really is evident in the classroom. You will be encouraged to share your knowledge and experience, and the varied perspectives help to produce fruitful and lively discussions in seminars.
Modules
Core modules:
Approaches to Political Economy

This module introduces a wide range of different tools, methods, and theories for doing political economy scholarship. The first half of the module surveys classical and modern political economists, while the second half of the module focuses on contemporary approaches. The module aims to: (1) unpack the uneven historical development of political economy as located as a particular field within social sciences; (2) sketch out (and, ideally, critique) the conventional narrative of twentieth century capitalist development of the shift from embedded to disembedded liberalism/towards neo-liberalism; and (3) introduce a number of puzzles that are central to political economy.

30 credits

Understanding Politics

The module's purposes are to introduce students to the dominant analytical and methodological traditions in politics (broadly understood as 'positivism' and 'interpretivism') and the different ontological, epistemological, and methodological implications of each tradition for the study of politics. The module will require students to consider explicitly their approach to the study of politics, and understand both the strengths and weaknesses of their individual understanding. The module requires students to be able to articulate coherently their understanding of what politics is and what they consider to be the most appropriate way of studying and researching politics and present reasoned arguments for their choices. As such this module is an essential precursor to their specific programme and to the dissertation.

15 credits

Research and Dissertation Preparation

This module is designed to prepare the student for writing their dissertation. This module serves to introduce the student to the nature of the research process and encourage the student to focus on developing their research question and methodology that underpin the full dissertation. The module also aims to develop the students' research retrieval skills and to undertake a literature search to underpin the full dissertation. The module also discusses the nature of the supervision process.

15 credits

Politics Dissertation

Students must complete a 10,000 word dissertation on a topic of their choice relating to an aspect of their studies in their taught MA programme (International Politics, Politics and Governance, Global Political Economy programmes) under the direction of an academic supervisor. The dissertation gives the student the opportunity to explore an area of interest in depth. To achieve a master standard the student is required to demonstrate and up-to-date critical understanding of the topic, as well as undertake advanced political analysis of the dissertation's subject matter.

60 credits
Optional modules
Capitalism and Crisis

This module explores the relationship between capitalism and crisis through the prism of the causes of and fallout from the 2008 crash. Part 1 introduces and unpacks the core concepts of the module - capitalism, crisis - and presents a brief historical overview of pre-2008 economic crises in order to provide some necessary context and comparison points. Part 2 surveys competing explanations of the 2008 crisis, by starting narrow (i.e. regulation of banking) and then broadening out (i.e. evolution of capitalism). Part 3 examines the fallout from the 2008 crisis, including the extent to which the crisis was truly global and the variety of political responses to the crash.

30 credits

Development and the State

This module will explore and critically assess the political economy of development. It does so by focusing on the interplay between processes of economic transformation and the political strategies pursued by states in the name of national development. The module is interdisciplinary, drawing on development studies, the political economy of growth and transformation, and comparative capitalisms. Part one reviews the most salient theoretical themes in approaches to capitalist development. This will put students in a position to understand more specific theorisations of capitalist development as a state strategy in a world characterised by uneven and combined capitalist development. Part two focuses more specifically on the state. This section will bring the more generic issues reviewed in Part One into a focused 'developmental' framing. Part three will open up to more ambitious evaluative work in which normative questions are asked and the prospects for capitalist development are contested.

30 credits

Contemporary Global Security

This module examines responses at state, regional and international level to key security challenges. It focuses primarily on the post-Cold War setting, the types of security challenges that have developed and the responses to them at state, regional and international level. It analyses the role played by international organisations and develops case analyses of key international security crises that represent or reflect important dimensions of contemporary global security. These could include, for example, the crisis in ex-Yugoslavia, the Rwandan crisis, the first and second Gulf wars and the conflict in Afghanistan. Attention will also be directed to the role and development of key international security organisations, particularly the United Nations.

30 credits

Feminist and Decolonizing Approaches to International Relations: Bodies, Coloniality, Knowledge

This module problematizes core IR concepts and themes through an alternative 'geopolitics of knowledge' that comprises postcolonial, decolonial, feminist and queer, Marxist and post-Marxist approaches to IR theory. The first part provides an understanding of key moments, processes, actors and practices in the emergence of the modern system of sovereign states. The second part interrogates key concepts and themes in IR, including violence, the body, capitalism, globalization, sovereignty and anarchy, hierarchy and hegemony/empire, and indigeneity. In place of the 'West versus the Rest', the module will examine the imperial dimension of these themes while revealing the mutually constitutive relations between metropoles/colonies in the formation of modernity both materially and ideationally.

30 credits

Global Health and Global Politics

Situated within contemporary approaches to International Relations and International Political Economy, this module will introduce students to the global politics of health, addressing health as both a global issue, and also as a quintessentially political one. The module will: chart the recent rise of health as an issue of 'high politics'; examine the relationship between individual and population health and the global political economy; explore the ways in which and institutions by which health is governed at the global level; analyse some of the key contemporary issues and challenges in contemporary global health governance.

30 credits

Human Rights

The module offers a critical engagement with the key debates in the theory and practice of human rights. The first section of the module examines the very idea of human rights, asking how human rights ought to be defined, and whether they can or ought to be morally justified. It also looks at some important challenges to the idea of human rights: namely that they are ethnocentric, superficial, and have become instruments of power. The second section explores some specific controversies in human rights practice: including such issues as how they are best protected, whether they can tackle such global problems as poverty and environmental degradation, and whether their violation can provide a justification for military intervention.

30 credits

Political Economy of Global Environmental change

The aim of this course is to introduce students to the major debates in the political economy of the environment. It will examine central debates around climate change, the Anthropocene, the commons, the green economy, biodiversity loss, population, sustainability and environment induced conflict. These debates will be examined by analysing the different approaches to tackling global environmental change. Therefore, the course will explore the debates about the political economy of global environmental change at various scales including international, regional, national and local scales, and as well as managing the commons and how individuals might engage in forms of environmental self regulation/self- limiting behaviours. The course will also make use of specific case studies to illuminate the wider conceptual debates.

30 credits

Global Politics of Climate Change

This module explores the politics of global anthropogenic climate change, one of the central challenges - if not the single greatest challenge - of our age. By combining theoretical, case study and normative analysis, you will consider the nature and causes of climate change; global, national and local attempts to limit and mitigate it; its current and projected future impacts; and the possibilities of climate change adaptation. Topics discussed will range from the UN climate regime to Extinction Rebellion, from the origins of our global fossil fuel economy to the politics of renewables, and from 'climate refugees' to the political economy of carbon offsetting.

30 credits

Chinese Governance and Politics

This module focuses on the latest political developments in the People's Republic of China. It starts by putting contemporary Chinese politics into historical context and introducing students to key institutions in the PRC, including the Chinese Communist Party and the state. It then focuses on important current academic debates related to Chinese politics, including the resilience of China's authoritarian political system and the implications of Xi Jinping's rise to power. This course also examines key governance challenges in China, including those related to pollution, social stability, and the economy.

30 credits

Terrorism and Political Violence

This module produces a critical take on security and violence, combining Sociological and International Relations approaches, and applying them to cases ranging from the 'macro-level' (war, including guerrilla warfare/insurgency; genocide and most especially terrorism) through to 'micro-level' sites usually considered 'private' or 'intimate' ('domestic' violence, white supremacist bombing of historical Black churches, etc).

30 credits

Policy-Making in the Real World

Policy making is an increasingly complex process, involving a range of 'wicked problems' and a growing set of options for addressing them. Given the multiple risks and crises they must deal with, how can policy makers come up with effective policy, learn from mistakes and deal with unexpected events? What tools can they employ to do so and how can we evaluate their success or failure? This unit will provide a theoretically informed, but practice-focused approach to these questions. Students will gain a range of practical skills through innovative group projects and visiting speakers from the policy world.

30 credits

Democratic Governance in the 21st Century: Problems, Innovations and Solutions

Political systems around the world strive to be democratic, but what is meant by democracy and how this can be achieved? This module considers the nature of the democratic crisis faced by countries around the world and maps the latest innovations designed to address this challenge. Students will study tensions between new and old democratic arenas and consider the indicators of a thriving democracy. The module is grounded in the tradition of engaged scholarship and uses real world examples and solution focused analysis. Students will develop keen professional and research skills by studying the theory and practice of democratic innovation.

30 credits

Wellbeing in Politics and Policy

There has been a dramatic rise in political interest in wellbeing over the past decade. Politicians and policy-makers in a range of contexts - national and international - have moved towards embracing wellbeing as a more comprehensive, inclusive and appropriate goal of public policy than the traditionally narrow focus on indicators of economic prosperity. This has led to the development of wellbeing frameworks that embrace indicators of subjective wellbeing (e.g., happiness), environmental and social concerns alongside economic indicators. For some these developments have the potential to transform aspects of politics and policy in the long term. This module explores conceptual, empirical and policy-related aspects of wellbeing. It examines competing definitions, understandings and measurements of wellbeing and related concepts such as quality of life and happiness. It aims to give students a clear understanding of how and why wellbeing has risen up political agendas, the significance of developments in policy to date and the potential for wellbeing as a political idea and guide to policy.

30 credits

Freedom

Freedom is one of the most important political values, if not the most important one of all. This module investigates the political value of freedom via an engagement with the literature in contemporary political theory. To do so it focuses on: competing theories of freedom (negative, positive, republican); the relationship between freedom and other values (autonomy, equality, security); and a number of applied issues (the harm principle, freedom of expression, freedom of association, freedom of movement). The approach is theoretical and philosophical with the overall aim being to equip students to analyse and evaluate political arguments which invoke the value of freedom.

30 credits
The content of our courses is reviewed annually to make sure it's up-to-date and relevant. Individual modules are occasionally updated or withdrawn. This is in response to discoveries through our world-leading research; funding changes; professional accreditation requirements; student or employer feedback; outcomes of reviews; and variations in staff or student numbers. In the event of any change we'll consult and inform students in good time and take reasonable steps to minimise disruption.
Open days
An open day gives you the best opportunity to hear first-hand from our current students and staff about our courses. You'll find out what makes us special.
You may also be able to pre-book a department visit as part of a campus tour.Open days and campus tours
Duration
1 year full-time
2 years part-time
Teaching
You'll be taught by experts working at the very cutting-edge of the field, who will bring their novel and important insights to bear on classroom discussion.
The real-world puzzles and problems that you deal with in class are the same problems that real-world policymakers are grappling with themselves. 
The majority of this course will be taught through seminars. Seminars offer an engaging and dynamic learning experience, where you are encouraged to investigate an issue from multiple perspectives, and then develop arguments for which there is no 'correct' answer, just different answers with different implications.
You will then debate these answers with your fellow students and academic tutors, as well as invited guest expert policymakers, to develop your own perspectives on crucial issues of public policy and governance that are grounded in solid evidence and reasoning.
Assessment
Students will be assessed through a variety of assignments, typically including essays and portfolios. You will also complete a dissertation based on a topic of your choice, which enables you to put all of the skills and knowledge you have gained throughout your degree into practice. You will undertake research-led inquiry on the chosen topic, and a dedicated dissertation supervisor will support you, offering you one-to-one guidance throughout the dissertation process.
Your career
Politics postgraduate students go on to work in a variety of exciting roles across the globe.
The MA International Political Economy degree will prepare you especially well for working in jobs that value an outward-looking global perspective that grasps how political and economic relationships are intertwined.
The skills developed on the degree lend themselves particularly well to careers that require advanced analysis skills. This can be in government and the wider public sector, as well as lobbying organisations, charities and private companies, as well as more overtly financial jobs in banking and insurance.
You will cover a variety of topics on the degree, from central banking to financial sector reform, development, poverty and inequality to trade policy; this means that you can shape your degree in such a way that it also prepares you for working professionally on that issue, too.
You will develop a host of transferable skills that will appeal to a range of employers. Recent graduates have secured employment with: 
Bank of England
UK Government
International Development Research Network
British Red Cross
Department for Business Energy and Industrial Strategy
WPP plc
Ministry of Justice
Chulalongkorn University
(Source: Graduate Outcomes, 2019-20, 2020-21, Postgraduate, Department of Politics and International Relations)
Department
Department of Politics and International Relations
We're proud to be one of the UK's leading departments for politics and international relations.
We are a research-intensive department, and research lies at the heart of everything we do. The quality of our research environment is rated top nationally, which means that our department is a vibrant, progressive and supportive place to undertake your research.
We offer an inclusive and collegial culture. You'll work closely with leading academic experts whose research is making a significant and global impression, and with students from across the world who share your commitment to the subject.
Everyone is encouraged to work together, hold lively debates and benefit from each other's different perspectives and backgrounds. When you join us, we will ensure that you have many opportunities to immerse yourself in all aspects of academic life in the department. 
Our postgraduate degrees are distinct and reflect our core strengths. Our staff have a wide range of research interests and expertise, which are brought together around four research themes:
International politics
Political economy
Environmental politics
Political theory
Governance and public policy
Our community of researchers is diverse and draws upon a wide range of methodologies and approaches to the discipline.
Entry requirements
Minimum 2:1 undergraduate honours degree in a relevant social science, arts and humanities subject or other related subject.
Overall IELTS score of 6.5 with a minimum of 6.0 in each component, or equivalent.
Apply
You can apply for postgraduate study using our Postgraduate Online Application Form. It's a quick and easy process.
This course has a date of equal consideration of 31 October 2023. This date has now passed, but we are currently still welcoming applications.
Any supervisors and research areas listed are indicative and may change before the start of the course.
Recognition of professional qualifications: from 1 January 2021, in order to have any UK professional qualifications recognised for work in an EU country across a number of regulated and other professions you need to apply to the host country for recognition. Read information from the UK government and the EU Regulated Professions Database.