2024 start
September
International Postgraduate Certificate in Education (iPGCE)
School of Education, Faculty of Social Sciences

Enhance your professional performance by developing a deeper understanding of planning, teaching and assessment strategies, new technologies and links between practice, theory and research.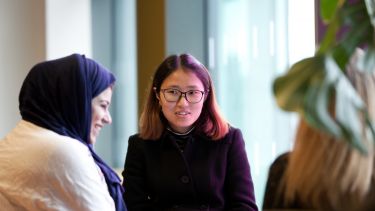 Course description
This course will help you develop a deep understanding of planning, teaching and assessment strategies, along with helping you to get the most out of new technologies.
It will help you to develop links between practice, theory and research through reflection on your own teaching, in order to enhance your professional performance.
Although you don't need to be a practising teacher to apply for the programme, you'll need to engage actively with current teaching, including planning, conducting and reflecting on a lesson (module 1). If you don't currently teach, you should be in a position where you have access to an education environment, for example through volunteering in a classroom setting or as a personal tutor.
Qualified Teaching Status
While the iPGCE does not offer Qualified Teacher Status, many international schools recognise the value of our postgraduate education certificate. Please see our explanation of Qualified Teaching Status for more information.
FAQs
Do I need to be working in a school and is there a minimum number of teaching hours?

No. We ask that you have access to an educational context in which you can take over teaching activities. The first assignment requires you to plan, conduct and evaluate a teaching activity, as well as tie it to relevant pedagogical literature. All assignments and discussions revolve around you reflecting on your learning and your practice. This is possible in a variety of ways, however, and we have had full-time teachers, part-time teachers, self-employed tutors, teaching assistants and people volunteering in a school to gain experience, successfully complete the programme.

Do I need to find a mentor in my educational institution?

No. Although students who have the support from their institution definitely find the programme easier, it is not strictly necessary. Our students come from a variety of backgrounds, some have already taught for more than a decade and might even hold senior positions in their educational contexts. Others are just starting out. We are conscious that this means that you might have different needs. We have a school experience handbook, which suggests a number of lesson observations and teaching tasks, and these can be used to build a professional support-network within the school. This will help you to focus any discussions and to find support in areas you need to improve in. Online discussions will be available to those that use the handbook to share experiences and gain support from university, but the content of this handbook is not assessed – it is an additional support mechanism to help especially you to identify and address professional development.

Does the iPGCE relate to a specific subject or sector?

No. The iPGCE is linked to pedagogy, teaching and learning in general, however, all assignments are phrased in a way that encourages you to specialise and contextualise your work.

For example, if you are interested in learner motivation, you might tailor your assignment to look into secondary school girls' motivation to engage in Physical Education lessons, or you might look into a primary school context that explores motivation in learner-centered learning.

If you are interested in assessment, you might focus on different attitudes towards formative assessment among learners in an international school context or question techniques in the Science classroom. These are just examples.

On the iPGCE, we ask you to contextualise your learning and work with your supervisor and peers to create assignments that are both academically viable and useful to your own development and career progression.

Does the iPGCE offer Qualified Teacher Status?

The answer to this question is complex, so please read the following information carefully. If you have any further queries, please get in touch.

Essentially, teaching qualifications are national, professional qualifications and they are typically government-approved. Therefore Qualified Teaching Status (QTS) in England is, legally, only valid in England. While it may be a shorthand in other contexts, it does not, for example, qualify a teacher to teach in other countries without an appropriate conversion.

Similarly, teachers who trained in other countries may need to convert their qualification, should they want to teach in England. Even in England, however, QTS is currently needed to teach in state schools, but not, legally, in academies or private schools, which describes a large proportion of schools in England.

QTS is a specifically England-relevant qualification, so it is very difficult to obtain abroad, apart from in a very small number of accredited schools. International schools are typically aware of this, but if you have concerns do discuss them with the relevant school or us.

Most of our students are already involved in the international school sector, as teachers, teaching assistants or in other roles. Each cohort of students so far has included the following:

students who make the jump from teaching assistant to teacher in the international school sector, on the basis of the iPGCE
students who have gained a teaching position on the condition that they complete the iPGCE in their first year of teaching
students who have been teaching for several years, and are using the iPGCE as a stepping stone for higher-level (Masters) study to advance their careers
students who use the iPGCE as proof of a post-graduate educational qualification from a highly regarded institution.

While 'Qualified Teaching Status' or being a 'qualified teacher' might be a shorthand used in job descriptions or in general talk, it is often used with two very different meanings. On the one hand, it is a legal term, related to a very specific professionally accredited qualification for a very specific context.

We want you to trust that you are getting a highly valuable degree from a prestigious university, so we need to explain to you that, with this definition, the iPGCE is not for you – however, if you are looking to move to and teach in England in future, there is an assessment-only route to qualified teaching status, for which the iPGCE will stand you in very good stead as preparation.

The other meaning schools might use to refer to a qualified teacher is by using the term as shorthand for a teacher who has pedagogically sound training, is able to plan, teach and evaluate lessons, understand their local and professional context – and be able to add to it through practitioner-led research – and engage reflectively in their own practice.

With that, we can help – and we can prove it. Schools are sending us multiple students across different cohorts and schools are making offers to unqualified applicants, on the condition that they undertake our iPGCE.

Overall, we find that schools are very much aware of difficulties of obtaining English QTS whilst working abroad and our students tell us that their schools are happy to accept the iPGCE as a postgraduate education certificate from a university with a very long-standing background in teacher training.

So, while we obviously cannot guarantee that all schools will accept the iPGCE, we hope this information is helpful to you in making your decision.

What wording is shown on the certificate students receive upon completion of the course?

The certificate states the full title and that you are awarded the International Postgraduate Certificate in Education.
Modules
Education, Teaching and Learning

This module will provide you with a solid grounding in the general principles of pedagogy, from a range of different theoretical perspectives, and will explore key topics such as aspects of teaching, planning, assessment, policy, classroom management, special educational needs, learner motivation and learner autonomy. Through guided reading, structured discussions and the use of other online materials, you will explore educational practice and issues particularly related to both your context and your teaching subject, comparing and contrasting your own experiences with those of other course participants and the literature, leading to critical reflection on yourself as an educational practitioner, and, ultimately, to the development of new educational practice.

30 credits

Practice-based Inquiry

This module provides you with the opportunity to devise and carry out a small scale research study on a topic relevant to your own practice. Supported by guided readings and online discussions surrounding research methods, methodology, ethics and the evaluation and writing up of research data, you will be able to reflect on your practice through the process of original research, culminating in a research report. The module gives you the opportunity to explore opportunities for change in your own context, either at classroom or institutional level, or, in some cases, going beyond, enabling you to base innovation on reading, research, and reflection.

30 credits
The content of our courses is reviewed annually to make sure it's up-to-date and relevant. Individual modules are occasionally updated or withdrawn. This is in response to discoveries through our world-leading research; funding changes; professional accreditation requirements; student or employer feedback; outcomes of reviews; and variations in staff or student numbers. In the event of any change we'll consult and inform students in good time and take reasonable steps to minimise disruption.
Open days
An open day gives you the best opportunity to hear first-hand from our current students and staff about our courses. You'll find out what makes us special.
You may also be able to pre-book a department visit as part of a campus tour.Open days and campus tours
Duration
1 year part-time (online)
Teaching
The course is fully online.
Because nearly all students on the course are professionals and based all over the world and in different time zones, core teaching and learning is asynchronous. This means you can work in your own time at your own pace.
An introductory period during the first weeks of the course consists of reflective tasks, learning to use the library and online discussions, setting the expectations for the rest of the programme and ensuring all students begin the first module on a similar footing. Teaching and learning takes place at a variety of levels.
Personal supervision
Each student is assigned a personal supervisor. Your supervisor will advise on assignment proposals and drafts, and mark your work.
Independent study
Independent study is fundamental to the course. You'll critically engage with, reflect on and formulate perspectives on important issues and debates concerning teaching, schools and other teaching institutions, and explore education from relevant academic and other literatures.
Interactive collaboration
We encourage you to interact with fellow professionals on the course through discussions on a range of topics. You'll have lots of opportunities to share ideas and your own progressing work and development, and to explore current developments in education as well as course materials.
Assessment
You'll be assessed on:
a learning and teaching portfolio, which consists of a lesson plan, a teaching reflection, a pedagogical essay and a blog post, totalling 4,500 words (module 1)
a report on a small-scale research project, equivalent to 4,500 words (module 2).
Department
School of Education
We're proud to welcome a vibrant and diverse community, with students based locally, nationally and internationally. Our research has a direct impact on educational theory, policy and practice; we're supporting the development of children, families, schools and learning communities.
Our seminars are interactive and everyone is encouraged to take part. The course director knows every student personally, and you will get a lot of individual support across all of your modules.
Our team of tutors at the School of Education comprises of experts in early childhood education, policy and practice, psychological theory of education, and languages and education. Many of our academic staff are internationally recognised in their specialist areas.
Student profiles
It's very exciting to be able to use our findings, through research, to further/better inform not only our own teaching practice and learning journey, but also to have a positive impact on our work environment, and ultimately our students.

Matt Green
iPGCE Student
Entry requirements
Minimum 2:1 undergraduate honours degree.
We may also consider your application if you do not meet the standard academic requirements but you have equivalent qualifications and/or experience. In such cases, you would need to evidence equivalence and may be asked to complete an entry assessment.
Overall IELTS score of 6.5 with a minimum of 6.0 in each component, or equivalent.
Apply
You can apply now using our Postgraduate Online Application Form. It's a quick and easy process.
Any supervisors and research areas listed are indicative and may change before the start of the course.
Recognition of professional qualifications: from 1 January 2021, in order to have any UK professional qualifications recognised for work in an EU country across a number of regulated and other professions you need to apply to the host country for recognition. Read information from the UK government and the EU Regulated Professions Database.