2024 start
September
International Public and Political Communication
School of Journalism, Media and Communication, Faculty of Social Sciences

Become an expert in media relations, political marketing and persuasive communication. You'll take part in debates on mis and disinformation, learn how organisations shape their messages to persuade, inform or mislead, and put your knowledge to the test by designing a campaign of your own.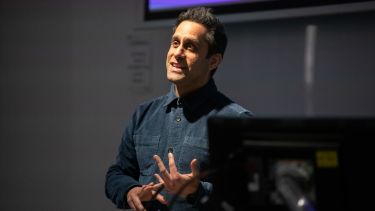 Course description
We are continually surrounded by differing viewpoints and messages. This content is shaped in different ways, advocating viewpoints and constructing campaigns to influence public opinion, audiences and policymakers.
Our course teaches you to be an expert in both the analysis and development of messages from groups such as political parties, public and governmental institutions, pressure groups, charities and NGOs. 
You'll learn about media relations, political marketing and the scope and significance of political communication. You'll also develop skills in persuasive communication, including communicating with the media, media training, and using different media outlets to promote ideas through advocacy and lobbying.
Our teaching provides a thorough, critical understanding of key debates around the intersection of the media and international public and political communication.
Modules
Core modules:
Visual political communication

This module will introduce students to key conceptual/methodological debates concerning the role, function and impact of images and visual representations within contemporary forms of political communication. Focusing on a variety of communication, media and journalism-based media and contexts (i.e. photojournalistic coverage of war/conflict/terrorism, the role of images within political campaigns, political cartoons, visual representations of minority groups, etc.), and actors (e.g. politicians, NGOs, marketing and PR professionals, terrorist organisations, protest movements, etc), the module will to equip students with the critical and analytical skills for interrogating dominant modes and methods of visual political communication.

15 credits

Communicating with the Media

This module will provide students with knowledge and skills necessary to communicate messages through the media. Case studies and practical workshops will allow students to learn about the practice of media communication. They will learn how the media operates and how to communicate messages through interviews, press conferences and news releases. Topics covered in the module will include the development of communication strategies, the understanding of news values and news cycles and strategies for successful and ethical communication.

15 credits

Media, Society and International Crises

This module examines the relationship between media, political bodies, NGOs, and wider societal actors at the outbreak of international crises. It looks into particular cases of recent international crises and early reportage, questions the emerging media and political representations, and evaluates them in light of theories of perception, identity, and reactions to uncertainty. In this module students will conduct a research project into the early media coverage of a crises, interview journalists, participate in a modelling exercise of political, public and media reactions to an international crisis and relate early coverage to later narratives found in media and film.

15 credits

Research Methods

This module is designed as an introduction to social scientific research methods as applied in the communications, media and journalism fields. The module provides an overview of key research methods, and the different ways in which research can be conducted. Topics covered include surveys, questionnaire design, focus groups, interviewing, ethnography, content analysis, discourse analysis and different aspects of information search, reserach design, project management and research presentation. The module is designed to make students aware of basic skills in these social science research methods and to equip them to conduct small scale projects on their own, or in groups.

15 credits

Introduction to Political Communication

The module seeks to explore a range of ideas and issues within the very broad area of political communication. It starts with a basic introduction to the field and then moves on to look at key issues that feature in the discussion of politics, journalism and communication, and the intersection of these three fields of study. The module will also seek to explore how we should look at the field of political communication at a time when traditional media (newspapers) are in relative decline and different forms of communication (Twitter, Facebook, WeChat) exist in abundance. The discussion will take in comparative, global and historical contexts.

15 credits

Dissertation (International Public and Political Communication)

This module will require students to conduct their own research project utilising some of the methods they will have learnt in JNL6210 Research Methods which runs in the autumn semester and is compulsory for all students. Students will be asked to analyse a public or political communication campaign of their choice. Such analysis includes all elements of a campaign including the political marketing material. Students are required to submit a dissertation of not less than 12,000 words and not more than 15,000 words in length.

60 credits
Optional modules
You will choose three of the following:
Big Brother: Communicating conspiracy theories

Conspiracy theory is a popular way to interpret the reality around us. Any major event that happens today immediately receives a 'conspiratorial' version which explains its origins as a result of malevolent actions of a secret group of people. No matter how wacky conspiracy theories may be at times, these ideas often have some solid roots in the historical and cultural backgrounds of communities. This module will bring together various theoretical approaches and popular culture products to study conspiracy theories in order to answer a number of questions: How do conspiracy theories emerge and spread on the national and global levels? What are the causes that make people believe in conspiracy theories? How can we prevent the spread of conspiracy theories in our communities? This module will provide a unique chance for students to explore an exciting phenomenon in detail, testing their critical thinking and developing a more rigorous approach to the information that surrounds us daily.

15 credits

Transnational Feminist Approaches to the Media

Drawing on examples from across the globe, this module will critically evaluate how transnational feminist issues are constructed and communicated in a variety of media including social media, podcasts, magazines, and newspapers. This includes the examination of both images and texts that represent political issues that impact women, feminist activism, and gender norms. With a focus on the political nature of mediated communication, students will analyse sources from a feminist, intersectional, and decolonial perspective. This analysis will be informed by transnational feminist scholarship, postcolonial studies, and queer theories. Students will consider the role of the media in both perpetuating, but also challenging, normative ideas about gender and feminism. They will also learn how to communicate effectively about diverse feminist issues using strategies such as agenda setting, framing, field analysis, and audience targeting. Topics include intersectionality, neocolonialism, social movements, NGOs, LGBTQ+ identity, and the body.

15 credits

Radio and NGO Communication in conflict-affected areas

Non-governmental organisations (NGOs) and other such organisations are valuable information sources, mediators and actors in conflict-affected zones and use local media, particularly radio, to amplify their messages, programmes and advocacy. This module focuses on, and engages with, the public and political communication used, and sometimes misused, and even abused, by radio and NGOs, internationally and historically, during times of conflict and the challenges they encounter culturally, politically, economically, legally and institutionally. In this case, 'internationally' means from the perspective of the Global South.

15 credits

Critical Incidents in International Journalism

In this module students will explore and analyse international critical incidents (for example, in the UK, US, Asia and Africa) and the efforts to ensure high-quality journalism that follow them. Students will engage in the critical analysis of media reform history, theories and perspectives related to critical incidents in journalism. Additionally, students will have an opportunity to develop their own media reform project and/or participate in an existing one.

15 credits
The content of our courses is reviewed annually to make sure it's up-to-date and relevant. Individual modules are occasionally updated or withdrawn. This is in response to discoveries through our world-leading research; funding changes; professional accreditation requirements; student or employer feedback; outcomes of reviews; and variations in staff or student numbers. In the event of any change we'll consult and inform students in good time and take reasonable steps to minimise disruption.
Open days
An open day gives you the best opportunity to hear first-hand from our current students and staff about our courses. You'll find out what makes us special.
You may also be able to pre-book a department visit as part of a campus tour.Open days and campus tours
Duration
1 year full-time
Teaching
We teach through lectures, seminars, workshops and research exercises.
Assessment
You're assessed by essays, examinations and a dissertation.
Your career
Our graduates launch straight into work as marketing officers, communications professionals, PR officers, teaching assistants, policy makers more within just 15 months of graduation.
Our most recent graduates work for a huge range of employers in the UK and beyond, including Leeds City Council, Natwest Group, the Liberal Democrats party, the Fosun Foundation and Hebei University (Graduate Outcomes Survey 2020/1).
Find out more about our graduates and where they go on to work.
Department
School of Journalism, Media and Communication
Here at the School of Journalism, Media and Communication, we've been training extraordinary journalists and conducting pioneering research since 1994, when our department was launched by Observer Editor Donald Trelford at our first home in Minalloy House.
After 30 years in the industry, we've learnt a thing or two about networking. Study with us, and you'll have exclusive access to our unrivalled contacts and alumni network, situated in newsrooms across the world.
We'll also provide you with award-winning employability support in the form of one-to-one support sessions, weekly masterclasses and an array of placement opportunities to help you get your foot in the door. 
You'll learn to ace the basics on our practical courses, including how to spot big stories and make them shine; edit engaging audio, video and podcasts in our state-of-the-art facilities; become an expert in social media; and even ace those shorthand exams. We're the only Russell Group University to be accredited by the NCTJ, BJTC and PPA, so you know you're learning from the best of the best.
For those with an eye for Journalism's bigger picture, our research-led programmes will help you piece together the epic social narratives of global journalism, mass media and political communication. You'll be rubbing shoulders with experts in media law, mis/disinformation, propaganda and freedom of the media - taking full advantage of the research excellence we have to offer as a Russell Group institution.
Our graduates go on to achieve great things and remain part of our legacy forever. They change the world through the power of storytelling - be they journalists, documentarians, PR experts, novelists, or teachers.
Entry requirements
Minimum 2:1 undergraduate honours degree.
We may also consider your application if you do not meet the standard academic requirements but if you have considerable work experience in a media-related role.
Overall IELTS score of 6.5 with a minimum of 6.0 in each component, or equivalent.
Apply
You can apply for postgraduate study using our Postgraduate Online Application Form. It's a quick and easy process.
This course has a date of equal consideration. To be guaranteed equal consideration with other applicants you need to submit your application by Thursday 14 March 2024. Later applications are considered on an individual basis if places are still available.
Any supervisors and research areas listed are indicative and may change before the start of the course.
Recognition of professional qualifications: from 1 January 2021, in order to have any UK professional qualifications recognised for work in an EU country across a number of regulated and other professions you need to apply to the host country for recognition. Read information from the UK government and the EU Regulated Professions Database.