MA
PG Certificate
PG Diploma
2024 start
September
Library and Information Services Management (Distance Learning)
Information School, Faculty of Social Sciences

Gain understanding, knowledge and practical insights so your career as a library and information professional can flourish. The MA and PG Diploma awards are CILIP accredited.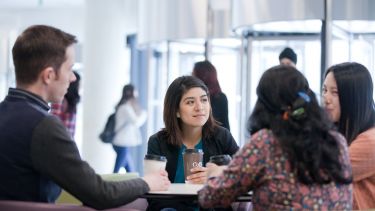 Course description
This course will introduce you to the best current thinking and practice, and equip you with the knowledge and skills needed to enter this fast-developing sector. You'll learn core competencies in IT, management and information handling, together with a wide range of specialisms.
The skills of librarians and information specialists are essential to identify, control, organise and make accessible the ever-increasing amounts of information available in paper, digital and multimedia formats. You'll be prepared for a professional role in areas ranging from public service to business.
Accreditation
CILIP accredited for the MA and PG Diploma awards
Modules
You'll need 180 credits to get a masters degree, with 90 credits from core modules, 30 credits from optional modules and a dissertation (including dissertation preparation) worth 60 credits.
Core modules:
Information Literacy (distance learning)

The module aims to enable students to understand the concepts of information literacy and information behaviour from both theoretical and practical perspectives. Students will develop their own information literacy and their approach to teaching information literacy, and gain insight into developments internationally. They will learn about changes in the information environment, including the impact of new media. Learning will take place through online discussion and interaction, through viewing and reading learning materials and through assessments which develop students understanding and capabilities.

15 credits

Libraries, Information and Society (distance learning)

This module provides an overview of the role of library and information services (LIS) in contemporary society and introduces students to public policy issues and their implications for the provision of LIS. Students are introduced to current practices and contemporary concerns in academic, national, public and special/workplace libraries and encouraged to develop an awareness of the social, economic, political and cultural environment in which LIS operates. It examines the importance of users in the design and management of LIS, explores ethical issues and aims to develop a critical awareness of the role of LIS in contemporary society.

15 credits

Leadership, Strategy and Change (distance learning)

This module aims to support students in the development of a range of leadership skills. Students will develop an understanding of different leadership and wider management theories and techniques, and will be able to evaluate their application and usefulness in a library and information services management context, in a variety of organisational settings. Topics will include leadership, strategic management and change management.

15 credits

Information Organisation (distance learning)

This core module explores the organisational principles to facilitate the effective storage, search and retrieval of information and knowledge to meet users needs and domain requirements. Beginning with the challenges faced by those tasked with organising, the module considers the fundamental concepts, processes and issues that relate to the identification, organisation, maintenance and disposal of information and knowledge within various domains including libraries, museums, archives, computing, business, databases and the Web. A critical, evaluative and theoretical approach is adopted to ensure the modules learning outcomes transfer to students future studies and careers.

15 credits

Information and Knowledge Management (distance learning)

This module will examine principles and practices of information and knowledge management in the health sector. It will identify the different types of information and knowledge resources typically found in healthcare organisations and investigate methods used to generate, organise and exploit these assets. Real-world case studies will be used to illustrate and critique contemporary approaches to the design and implementation of information and knowledge audits, policies, strategies, products and services.

15 credits

Personal and Professional Development Portfolio (distance learning)

This module aims to support students in their personal and professional development and career planning. Students will develop skills in reflective practice, and understand how to assess and evaluate their own skills and attributes as they move to the next stage of their careers. You will be able to evaluate the professional environment, and the contributions you make within that professional context. Students will be encouraged to develop personal and professional goals for the future. Topics will include reflective practice, professional awareness, career planning, and various types of continuing professional development (CPD) opportunities

15 credits

Research Methods and Dissertation Preparation (distance learning)

AIMS: to assist students in the identification of, and preparation of a dissertation proposal and to prepare the initial literature search for the chosen dissertation research topic. OBJECTIVES: Students will: become aware of ongoing research in the department; identify and prepare a dissertation proposal; carry out a preliminary literature search in the area of the dissertation research topic; be introduced to the use of social research methods and statistics for information management; start to collect data, compile questionnaires, etc. on the basis of discussions with their supervisor.

15 credits

Dissertation (distance learning)

This module enables students to carry out an extended piece of work on an Information School approved topic, so that they can explore an area of   specialist interest to them in greater depth. Students will be supported through tutorials with a project supervisor, apply research methods appropriate to their topic, and implement their work-plan to produce an individual project report. Students will already have identified a suitable topic and designed a project plan in the pre-requisite unit Research Methods and Dissertation Preparation.

45 credits
Optional modules - two from:
Academic and Workplace Library, Information and Knowledge Services (distance learning)

This module introduces students to the purposes, functions and practices of a range of academic, research and other specialist library, information and knowledge services in educational, public, charitable, and private sectors. It considers the challenges of delivering and developing services in a demanding, fast-moving and complex environment. Lectures are combined with sector-based case studies presented by visiting speakers drawn from various backgrounds giving extensive opportunities for interaction with specialist practitioners.

15 credits

Database Design and Data Management (distance learning)

Effective data management is key to any organisation, particularly with the increasing availability of large and heterogeneous datasets (e.g. transactional, multimedia and geo-spatial data). A database is an organised collection of data, typically describing the activities of one or more organisations and a core component of modern information systems. A Database Management System (DBMS) is software designed to assist in maintaining and utilising large collections of data and becoming a necessity for all organisations. This module provides an introduction to the area of databases and database management, relational database design and a flavour of some advanced topics in current database research that deal with different kinds of data often found within an organisational context. Lectures are structured into three main areas: (1) an introduction to databases, (2) the process of designing relational databases, and (3) advanced topics (e.g. data warehouses and non-relational databases). The course includes a series of practical sessions aimed at providing you with the skills required to implement a database in Oracle and extract information using the Structured Query Language (SQL).

15 credits

Public and School Library Services (distance learning)

This module aims to provide an introduction to the principles, politics, functions, practice, value and impact of school library services, and public library services for people of all ages. Students will be introduced to the challenges of delivering services to which everyone has the right of access and will also be given an opportunity to examine the ways in which both school and public libraries deliver information to people with specific information needs. They will develop a critical awareness of the role of these services in contemporary society, and will be able to recognise best current thoughts and practice in the field. The course also aims to develop students' understanding of the extent to which school and all public library services (including prison libraries) work independently and together to support the educational, social, recreational and cultural needs of people of all ages and from all backgrounds. Recent and ongoing research will underpin the entire unit.

15 credits

Information Governance and Ethics (distance learning)

The module explores a) the emergence of information and data as an economic resource b) the governance challenges and ethical issues arising from organisations' systematic capture, processing, and use of information and data for organisational goals, e.g. value, risk, accountability, ownership, privacy etc. c) governance, ethical, legal and other frameworks relevant to the capture, processing and use of information and data within organisational and networked contexts d) technologies and techniques used in the governing and governance of information and data. Case examples from a number of domains, e.g. business, government, health, law, and social media illustrate the topics investigated.

15 credits
Other courses:
Postgraduate Certificate requires a total of 60 credits
Postgraduate Diploma requires a total of 120 credits
The content of our courses is reviewed annually to make sure it's up-to-date and relevant. Individual modules are occasionally updated or withdrawn. This is in response to discoveries through our world-leading research; funding changes; professional accreditation requirements; student or employer feedback; outcomes of reviews; and variations in staff or student numbers. In the event of any change we'll consult and inform students in good time and take reasonable steps to minimise disruption.
Open days
An open day gives you the best opportunity to hear first-hand from our current students and staff about our courses. You'll find out what makes us special.
You may also be able to pre-book a department visit as part of a campus tour.Open days and campus tours
Duration
2 years part-time by distance learning
3 years part-time by distance learning
Teaching
We have an international reputation for teaching and research in library management and the latest ideas are fed directly into the programmes.
You will be taught via the University's Virtual Learning Environment and specialised distance-learning software, which delivers lectures, seminars and tutorials online in real-time. If you cannot attend live sessions you will be able to catch up on recordings and take part asynchronously in discussions using online fora.
Teaching for each module lasts 12 weeks with assessment deadlines typically in the middle and at the end of semesters. We recommend that you spend 10 hours a week, per module, for the 12 timetabled weeks and for the weeks leading up to and following teaching. This will include reading, viewing recorded lectures, undertaking coursework and assignment preparation, and participating in online lectures, activities and seminars. You will write your dissertation after teaching ends, in the final year of your course.
Throughout the course you'll have the support of a personal tutor and module coordinators and peer support through student-led discussions and interaction is also encouraged.
Assessment
Assessments vary depending on the modules you choose but may include essays, briefing papers, reflective reports and portfolios, creation of a database and other relevant assessments.
There is a dissertation of 10–15,000 words, which provides the opportunity, under one-to-one supervision, to focus in depth on a topic of your choice. You may choose to carry out your dissertation with an external organisation, for instance if you are in employment, your project could be directly related to your own work situation. In the past, students who have carried out such dissertations have welcomed the opportunity to tackle real-life problems.
Your career
A postgraduate qualification in library management is essential for many roles in the library and information profession. Our Library and Information Services Management course has been designed for people who want to enter the profession or who are preparing to take the next step up in their careers.
Modern library and information services require professionals who can manage large volumes of information in both digital and traditional forms. Graduates from this course will be equipped with the skills that are needed for the developing role of the library and information professional in organisations today.
Examples of organisations that have employed our graduates include:
Various further and higher education institutions in the UK
Independent schools in the UK and internationally
Public libraries in the UK 
Health organisations including various NHS Trusts
County councils in the UK
The Royal Horticultural Society
Graduates are employed in roles such as:
Librarian
School librarian
Learning support assistant
Learning and teaching librarian
Library and information specialist
Metadata and Discovery Librarian
Department
Information School
The University of Sheffield Information School is ranked number one in the world for library and information management in the QS World University Rankings by subject 2023. These rankings are based upon academic reputation, employer reputation and research impact.
The school has been at the forefront of developments in the information field for more than fifty years. The subject is characterised by its distinctive, interdisciplinary focus on the interactions between people, information and digital technologies. It has the ultimate goal of enhancing information access, and the management, sharing and use of information, to benefit society.
When you come to study with us you'll be an integral part of our research culture. The school is your home and we pride ourselves on the friendliness and helpfulness of our staff.
We offer an outstanding academic education through a wide range of taught postgraduate degrees which embed the principles of research-led teaching.
When you join any of our degree programmes you'll develop a critical understanding of current issues in library and information management. You'll benefit from being taught by staff who are undertaking leading-edge research and who have many links with industry.
As part of our mission to provide world-quality university education in information, we aim to inspire and help you pursue your highest ambitions for your academic and professional careers.
Student profiles
The course has exceeded my expectations. The subjects and materials are relevant to my current role and the course has provided an opportunity to improve transferable skills."

Josephine Bailey
MA Library and Information Services Management student
Entry requirements
Minimum 2:2 undergraduate honours degree.
You should also have around 12 months' information-related practical work experience. This is flexible depending on the level and relevance of your experience. If you don't have a degree but your professional experience is extensive, you might be able to take the postgraduate certificate or diploma and upgrade to the MA later.
Overall IELTS score of 6.5 with a minimum of 6.0 in each component, or equivalent.
Fees and funding
Two-year MA
The fees below apply to the two-year version of this course for 2022 entry.
Three-year MA
The fees below apply to the three-year version of this course for 2022 entry.
Apply
You can apply now using our Postgraduate Online Application Form. It's a quick and easy process.
Any supervisors and research areas listed are indicative and may change before the start of the course.
Recognition of professional qualifications: from 1 January 2021, in order to have any UK professional qualifications recognised for work in an EU country across a number of regulated and other professions you need to apply to the host country for recognition. Read information from the UK government and the EU Regulated Professions Database.