2024 start
September
Money, Banking and Finance
Department of Economics, Faculty of Social Sciences

Explore specialist modules in finance, banking and monetary economics alongside economic theory.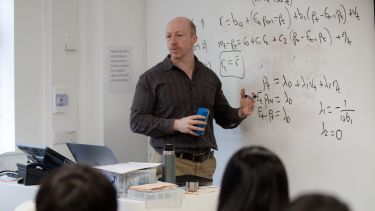 Course description
This course equips you well for a career in banking, financial institutions and markets.
You'll take specialist modules in finance, banking and monetary economics as well as learning core economic theory.
Modules
Core modules:
Macroeconomic Analysis

Macroeconomics concerns the behaviour of the economy as a whole. In this module you will develop a coherent framework for understanding macroeconomics building on microeconomic foundations. The module will analyse the source of business cycle fluctuations, the aims of monetary policy in advanced economies, including the design of optimal monetary policy. It will also provide an advanced understanding of fiscal policy and debt dynamics. You will be introduced to the concept of financial frictions in the context of the last financial crisis, and gain an understanding of the aims and challenges faced by monetary policy makers.

15 credits

Econometric Methods

This module will develop your core econometrics skills. The first half of the module provides a grounding in key econometric techniques covering elements such as the classical linear regression model, hypothesis testing and problems of non-spherical disturbances. More advanced topics are then introduced in the second half of the module. Specifically you will focus upon topics in microeconometrics: including modelling discrete binary variables; censoring and sample selection, and then topics in macroeconometrics including: economic forecasting; stationarity; and cointegration. You will also develop a knowledge of using econometric software Stata.

15 credits

Modern Theory of Banking and Finance

This module will give you a broad introduction into the economic literature on finance and banking. You will develop an understanding of the principles behind investment-financing decisions, the concept of governance and its implications for the efficiency of firms' investment decisions, and the role of financial intermediation. The module emphasises both theoretical and practical considerations. On completing this module, you will have a working knowledge of lexicon, theory, and tools associated with monetary theory and understand how the economy and financial markets fit together.

15 credits

Modern Finance

This module will introduce you to some of the key concepts and methods in modern finance. This is an analytical module, which reflects the quantitative nature of the subject and in which each topic is developed from first principles. The module will cover the theoretical foundations of investor choice and portfolio selection based on utility theory, using these to provide a rigorous foundation for the Capital Asset Pricing Model. You will then examine some of the empirical issues that arise in the practical use of the theory.

15 credits
Core modules:
International Money and Finance

In this module, you will acquire an understanding of the relationship between domestic and international economic activity in an open economy. You will learn to relate the various motives underlying international financial flows to their effects on real economic variables. The module will introduce mainstream theories of the determination of equilibrium exchange rates, both in the short run and the long run. You will also explore the causes of international financial crises and consider policy responses.

15 credits

Asset Pricing

This module will introduce you to the advanced principles of asset pricing in finance and the use of derivatives in risk management. You will gain knowledge of how important derivative assets are traded, the pricing models for important derivative assets, and the principles of hedging. This is an analytical module, which reflects the quantitative nature of the subject and in which each topic is developed from first principles. The module will cover both the theoretical foundations of asset pricing, the issues that arise in the practical use of these models and their limitations.

15 credits
Optional modules* - two from:
Applied Microeconometrics

The module provides examples and experience of applying standard microeconometric techniques to large sample surveys, with practical guidance on how to estimate and interpret results from different models. The syllabus covers topics such as limited dependent variables, instrumental variables, panel data methods and decomposition methods. Throughout use will be made of the Stata econometric software.

15 credits

Applied Macroeconometrics

This module will enable you to understand recent applied literature in core journals of macroeconomics and finance, which uses time series methods, and prepare you for possible later research involving time series. You will learn to identify the empirical features of macroeconomic and financial data, and how to analyse the dynamic interaction of macroeconomic variables over time using key econometric techniques. Throughout use will be made of the Stata econometric software.

15 credits

Industrial Organisation

This module will introduce you to contemporary topics in industrial organisation with a particular emphasis on the role of economic analysis of strategic decision making. You will learn to use and appraise a range of economic techniques to make better strategic decisions. In this module you will build on and expand on your knowledge of microeconomics related to market structure; such as competition in oligopolistic industries. You will also become familiar with further oligopoly models (product differentiation, collusion, mergers) as well as behaviour in platform markets. We will also consider market implications when consumers are imperfectly informed (or naive) about prices or product characteristics.

15 credits

Monetary Economics

This module will provide you with a formal analysis of monetary economics and an understanding of how monetary policy works. It will cover the role of monetary policy in the macro economy, and expose you to the latest theoretical developments in monetary theory and policy. You will also gain an appreciation of some of the limitations of monetary policy.

15 credits

Public Economics

This module will provide you with a comprehensive grounding in public economics. Government policies, through fiscal policy instruments, can have a massive impact on the allocation of resources and the distribution of income in the economy. This module evaluates the government's ability to identify and achieve more efficient and equitable outcomes than the situation without intervention. You will apply the theory in the analysis of real world public policy programmes.

15 credits

International Trade

This module will provide you with an overview of the theory of international trade to explain the patterns of exchange of goods and services between countries, international migration and foreign direct investment flows. The module provides a survey of all the main models of international trade and foreign direct investment, supplemented by applications to key contemporary policy issues. You will use a number of analytical tools and empirical methods to analyse trade and policy issues.

15 credits

Public Policy Evaluation

This module will introduce you to the key principles for evaluating the impacts of government policies. The module will cover the leading quantitative techniques for estimating causal policy effects, and how to select appropriate techniques for different policy interventions. You will gain an understanding of how evidence about policy evaluation is used to inform policy debates, and critically assess real world examples of policy evaluation. Examples will be drawn from health, labour, education and development economics. Throughout use will be made of the Stata econometric software.

15 credits
*the optional modules available each semester may change
MSc Dissertation

In this module students will complete an extended piece of written work on a topic of their choice. The dissertation will demonstrate their ability to carry out independent research and make an original contribution to the discipline.

60 credits
The content of our courses is reviewed annually to make sure it's up-to-date and relevant. Individual modules are occasionally updated or withdrawn. This is in response to discoveries through our world-leading research; funding changes; professional accreditation requirements; student or employer feedback; outcomes of reviews; and variations in staff or student numbers. In the event of any change we'll consult and inform students in good time and take reasonable steps to minimise disruption.
Open days
An open day gives you the best opportunity to hear first-hand from our current students and staff about our courses. You'll find out what makes us special.
You may also be able to pre-book a department visit as part of a campus tour.Open days and campus tours
Duration
1 year full-time
Department
Department of Economics
We have an international reputation for practical and real-world economics.
You'll be taught by some of the top economic experts in their field and you'll receive the latest cutting-edge teaching from people who care passionately about their subject.
Our staff advise government departments in the UK such as the Department for Work and Pensions, the Department for Education, as well as advisory bodies such as the Low Pay Commission. Their research helps shape government policies and aims to improve people's lives. This research also informs what you will be taught in your modules.
Our graduates are in demand by some of the country's top economics employers such as the Bank of England, PwC, IBM and HM Treasury.
Entry requirements
Minimum 2:1 undergraduate honours degree in economics or a related subject with a strong emphasis on macroeconomics, microeconomics, mathematics and statistics.
Overall IELTS score of 6.5 with a minimum of 6.0 in each component, or equivalent.
Apply
You can apply now using our Postgraduate Online Application Form. It's a quick and easy process.
Any supervisors and research areas listed are indicative and may change before the start of the course.
Recognition of professional qualifications: from 1 January 2021, in order to have any UK professional qualifications recognised for work in an EU country across a number of regulated and other professions you need to apply to the host country for recognition. Read information from the UK government and the EU Regulated Professions Database.