I had a beautiful experience of studying in the Department of Economics.
MSc Money, Banking and Finance
Liz is originally from China and after graduating plan to find an internship in the UK before going back to China to setup her own business.
On my course every module has a two hour lecture and one hour workshop every week, and all Lecturers have Consultation and Feedback time. So if you had any questions you can meet your lecturer in their office hour or during the workshop. Also, I think workshops and readings are helpful for understanding the course. Lecturers will guided you through workshop questions and the explanation of reading references, so you can get a thorough understanding of the course material.
My favourite module was Macroeconomic Analysis. I really enjoyed the Lecturer for this module because he used many examples from real-life to explain economic concepts, lecture slides and workshop questions.
After I graduate, I plan to find an internship in the UK after graduation and then I will go back to China to setup my own business in the area of education. I think my course helped me increase my skills. For example, the module Industrial Organization has taught me how firms set up prices and locations and how to make a business strategy. So I believe all of the Masters courses will help increase your employability.
Applying for jobs and careers support 
I received lots of careers support both from the University and from the Department of Economics. If you wanted to get a part time job, you can go to 'myJob shop' in the Students' Union.
If you're looking for a full time job, you can make an appointment with careers services to ask for help. The University support is on how to write your CV, how to search for vacancies and how to prepare for interview.
But the support of the Department of Economics is more specific. The department will send you vacancies by email, once you sign that you want to get information about careers. Also, in the spring semester, the department holds workshops to introduce how to search for jobs, placements and how to prepare for an interview.
The best part of these workshops is when other students are invited to share their experiences about how to search for jobs or placement, and you can ask them questions individually.
The University campus 
The University of Sheffield campus is everywhere in the city. For example, the location of one of my modules is close to the Royal Hallamshire Hospital which is some distance from the main campus. But most buildings we used were close to the Diamond and the Information Commons, which are located in the main campus. The ranking of Students' Union is the best in the UK. It organises lots of social events, so the student social experience is excellent. 
The learning environment is excellent. We have three libraries, so there's enough spaces to study. During the exam periods, it can be a bit difficult to get a space, but the University will try its best to arrange more space for students.
The 301 Academic Skills Centre, offers help, such as study skills tutorials, maths, statistics and language support. If you need any help, you can make an appointment online, then you will get a high quality one-on-one tutorial.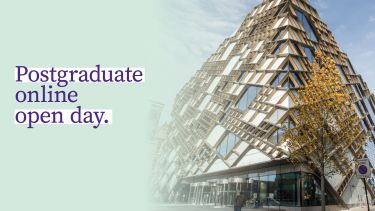 Postgraduate online open day
Book your place at our online open day on Wednesday 26 April to find out more about postgraduate taught study at the University of Sheffield.