Information about applying for a postgraduate research degree in the Department of Economics.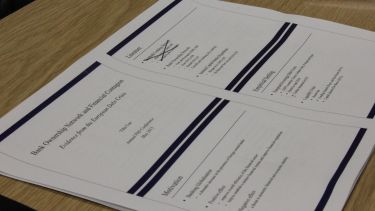 Off
Apply online
To apply for a PhD in the department you will need to complete an online application form.Submit your application
About the PhD programme in Economics 2022
Entry requirements for a PhD degree
---
About the PhD programme in Economics 2023
We are seeking talented and enthusiastic students to join the PhD programme in Economics at the University of Sheffield from September 2023.
The Department of Economics at the University of Sheffield has an international reputation for practical and real-world economics. We are a leading research department in a Russell Group University, and our academic staff are among the top economic experts in their field.
Students that study a PhD with us receive excellent academic support and advanced research training, in a friendly, vibrant research environment with excellent facilities (94% of our PhD students were satisfied with their training in the 2017 Postgraduate Research Experience Survey). We are part of the White Rose Social Sciences Doctoral Training Partnership (WRDTP), providing research students with a world-class environment to develop their discipline specific and interdisciplinary research skills.
Applications are welcomed in all economics topics. We particularly welcome applications from candidates with research interests in the following speciality areas of our research-active staff:
Behavioural Economics
Financial Economics and Household Finance
Gender, Race and Inequality
Health Economics
Industrial Organisation
International Economics and Development
Labour and Education Economics
Macroeconomics
Political Economy
Time Series Econometrics
Urban and Environmental Economics
Applicants must demonstrate an enthusiasm for interdisciplinary research, with a masters degree in economics or related topics at an equivalent level.
Applications are now open for scholarships awarded by the department providing maintenance and tuition fees. These will be awarded on the basis of outstanding academic achievement and research potential. The studentships are open to all nationalities and subject areas. Other PhD funding is also available via the ESRC White Rose Social Sciences Doctoral Training Partnership Studentships and the China Scholarship Council.
If you have any questions, please contact econphd@sheffield.ac.uk or the PhD programme directors Prof. Alberto Montagnoli (a.montagnoli@sheffield.ac.uk) and Dr. Enrico Vanino (e.vanino@sheffield.ac.uk).
---
Entry Requirements for a PhD degree
A strong economics background is essential. Applicants should have, or expect to obtain a Masters degree with Merit (or international equivalent) and have a 2:1 or 1st class honours degree in an appropriate subject.
Language requirements
All applicants need to be competent at spoken and written English. Applicants whose first language is not English AND who do not hold a degree from an English-speaking university will need to take an English language test - normally IELTS or TOEFL.
The test scores currently required are:
6.5 in IELTS with at least 6 in each component 90 in the Internet-based TOEFL (iBT)
---
Your thesis proposal
Although students can, and often do, slightly alter their research topic after arriving at Sheffield, a thesis proposal helps us to make sure that:
The topic is viable.
That the department can provide appropriate supervision and other necessary support.
You have thought through your interest in and commitment to a piece of research.
You are a suitable candidate for admission.
The process of producing a proposal is usually also essential if you need to apply for funding to pay your fees or support yourself whilst doing your research. Funding bodies will often need to be reassured that you are committed to a viable project at a suitable university.
A proposal should be typed double-spaced, if possible, and be between 1000 and 2000 words long. You need to include your proposal with your application form.
A proposal should contain at least the following elements:
Proposed thesis title.
A description of the research issue in which you are interested.
An explanation as to why this issue merits research.
A description of research carried out by others (completed or ongoing) in the area.
An indication of what your research would contribute to understanding.
Details of how the research would be conducted, including any special facilities etc. which would be required and any necessary skills which you either have already or would need to acquire.
An indication of how the results of your research would be disseminated.
You may care to use the points listed above as headings in your own proposal, adding any further sections as you see fit.
We strongly suggest to discuss your proposal with a potential supervisor in the department before applying through the online system.
---
Find a PhD
Search for PhD opportunities at Sheffield and be part of our world-leading research.