2024 start
September
Psychological Research Methods
Department of Psychology, Faculty of Science

Tailor your training to your research interests and career goals, from clinical and cognitive to developmental and social psychology, as you study the latest techniques from published psychologists.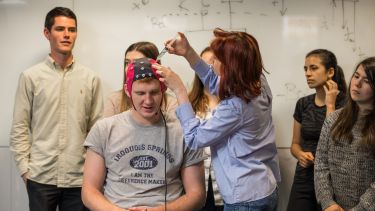 Course description
Throughout your course, you will learn the latest techniques in cutting-edge psychological research from the psychologists who are using them in their published studies.
These include neuroimaging (EEG, fMRI), behavioural genetics, experimental methodologies, qualitative methods (including diary studies), systematic review and meta-analysis methodologies as well as specialist methods for working with infants, children and co-producing research with non-academic partners.
We'll teach you the skills you need and give you the opportunities to apply them to the area of psychology that you are interested in. 
From week one, you'll begin training in a range of skills that are important for psychologists in academia and professional roles. You will understand ethical issues in research, learn how to write a grant proposal, receive training in multivariate statistics, and develop your presentation skills ready to take part in our annual student-led summer conference.
The research project gives you the opportunity to focus on a chosen psychological research question in detail under the supervision of one of our world-class researchers. You can choose a supervisor from an area of psychology that matches your research interests and future career aspirations within cognitive, developmental, social or clinical psychology.
These projects give you the opportunity to put your new research methods knowledge into practice while addressing an issue at the cutting edge of psychological research.
Example research projects

Identifying risk factors for poor treatment outcomes in clinical therapy
The roles of self-control, ambivalence and decision-making in the context of health behaviour change
The development of cognitive flexibility / inhibitory control in the preschool / school years

Example student publications

It's common for MSc research projects and literature reviews to form the basis of publications in peer-reviewed journals.

Simmonds-Buckley, M., Osivwemu, E. O., Kellett, S., & Taylor, C. (2022). The acceptability of cognitive analytic therapy (CAT): Meta-analysis and benchmarking of treatment refusal and treatment dropout rates. Clinical Psychology Review, 96, 102187.
Griffin, B., Conner, M., & Norman, P. (2022). Applying an extended protection motivation theory to predict Covid-19 vaccination intentions and uptake in 50–64 year olds in the UK. Social Science & Medicine, 298, 114819.
Tait, J., Edmeade, L., & Delgadillo, J. (2022). Are depressed patients' coping strategies associated with psychotherapy treatment outcomes? Psychology and Psychotherapy: Theory, Research and Practice, 95, 98–112.
Psychological Research Methods at Sheffield
In addition to Psychological Research Methods, at Sheffield we offer two other specialist masters courses in this area that allow you to specialise further and develop the skills you need for a successful career:
Modules
Core modules:
Research Project in Psychology

Students conduct, analyse and write up a research project under the guidance of their academic supervisor. The topic and methods chosen will normally be closely related to the area of expertise of the supervisor. In conducting the research project under supervision, students gain first-hand practical experience of managing the research process, starting with the formulation of a specific research question on the basis of review of relevant literature and guidance from the supervisor, through to the design, execution and analysis of a study, and the writing-up of a report. All projects must be submitted to, and receive approval from, the Psychology Department Ethics Committee before they can proceed. Projects are written up in the standard format for submission to an appropriate academic journal (e.g., British Journal of Social Psychology).

60 credits

Intermediate Multivariate Statistics for Psychology

This module covers the intermediate level statistical techniques needed in psychology. Lectures will be used to teach the rationale behind hypothesis testing and describe the principles behind techniques such as linear regression, including testing for mediation and moderation, reliability analysis and factor analysis. Students will also attend practical classes in order to apply and develop their knowledge with respect to selecting the appropriate analytic technique, interpreting output, and applying critical thinking to the results.

15 credits

Research Methods

This course provides coverage of both quantitative and qualitative methods for psychology graduates. It emphasises the relationship between the research question being addressed and choice of method of data collection. The course combines lectures and tutorials to help students develop critical awareness of the conceptual basis of various methods, their advantages and limitations. Topics may change from year to year depending on staff availability but include: diary methods and experience sampling, eye tracking, EEG methods, fMRI, questionnaire design and behavioural genetics. This module will help in the integration of knowledge from different strands of Psychology, and how to think analytically, critically and logically. It will provide essential preparation for being able to critically evaluate scientific literature from broad fields of psychology. It will also enhance students' transferable skills in critical thinking, and skills necessary to present logically structured arguments.

30 credits

Current Issues in Psychological Research

This unit describes how multiple research methods can address current debates in Psychological research. Sessions will cover a current debate and illustrate how research being conducted at the University of Sheffield and further afield is contributing to and shaping these debates. Group activities and discussions, will allow students to develop a position on contemporary debates in Psychology, informed by various research methods. Individual written work will allow students to explore one of the debates in depth allowing them to weigh up evidence, take a position on the debate and make suggestions for next research steps.The module will encourage critical appraisal, collaborative discussion and individual articulation of a position on contemporary debates in Psychology.

15 credits

Professional Skills for Psychologists

This module will provide training in a range of professional research skills including (a) understanding and critically discussing ethical issues related to psychological research, interpreting professional codes of practice, and understanding the work of ethical committees and professional discipline committees; (b) writing grant proposals and understanding the submission criteria and review processes for papers and grant proposals; (c) understanding issues of reproducibility of research and open science practices addressing them; and (d) understanding processes of dissemination to academic and non-academic audiences.

30 credits

Systematically Reviewing Psychological Research

This module provides training in the advanced use of information retrieval and literature searching resources, such as Web of Knowledge and Google Scholar. Students will also be introduced to the different types of literature reviews that are commonly used to review psychological research, including narrative, systematic and meta-analytic reviews. In addition, students will be taught the use of a reference manager to organise and present references according to different journal styles. Students will be required to write a literature review of psychological research - the precise topic and journal styles will be agreed with the supervisor and module organiser.

30 credits
The content of our courses is reviewed annually to make sure it's up-to-date and relevant. Individual modules are occasionally updated or withdrawn. This is in response to discoveries through our world-leading research; funding changes; professional accreditation requirements; student or employer feedback; outcomes of reviews; and variations in staff or student numbers. In the event of any change we'll consult and inform students in good time and take reasonable steps to minimise disruption.
Book open day
An open day gives you the best opportunity to hear first-hand from our current students and staff about our courses. You'll find out what makes us special.
One is taking place today - Wednesday 29 November 2023.
You may also be able to pre-book a department visit as part of a campus tour.Book now for open days and campus tours
Duration
1 year full-time
2 years part-time
Teaching
You'll learn through small-group teaching in a mixture of seminars, workshops and one-to-one supervision.
Your individual research project contributes one third of the overall course credit. Here you'll gain first-hand experience as a researcher, and will have access to the outstanding research facilities offered in Sheffield.
For the research project, you will be partnered with a dedicated academic mentor who will provide guidance and oversee your work. This involves weekly meetings with your supervisor, fostering a platform for in-depth discussions surrounding your independent exploration of the research question.
For part-time students, the engagement with the research project and systematic review assignment takes place in the second year of the program, allowing for a structured and paced approach to your academic work.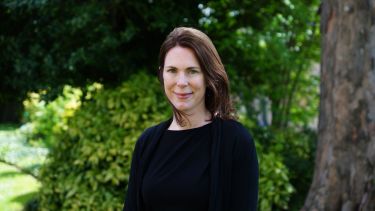 From my masters thesis onwards, I've researched how children under five learn to talk. This took on a new significance when my son was born. I became aware of how little evidence-based advice there is for promoting language development. I'm now interested in contributing to this advice by focusing on the fundamentals of human language and human learning.

Dr Danielle Matthews

Teaches on:  MSc Psychological Research Methods
Assessment
All assessment is coursework-based. Regular feedback is provided, so students can understand their own development throughout the course.
Your career
This course is great preparation for a PhD or the next step towards clinical training. Our graduates have gone on to PhD training in neuroimaging, health psychology and social psychology. Graduates also go on to find roles in:
NHS trusts or other public health organisations, in roles including Assistant Psychologist or Research Assistant
charitable and not-for-profit organisations such as the Alzheimer's Society, Mind and Righsteps in roles including Psychology Practitioner or Mental Health Support Worker.
academia as a psychological researcher or lecturer.
Entry requirements
Minimum 2:1 undergraduate honours degree in psychology or a related subject. Applicants will need evidence of undergraduate training in statistics for psychology. 
Overall IELTS score of 6.5 with 6.0 in the other components, or equivalent.
Apply
You can apply now using our Postgraduate Online Application Form. It's a quick and easy process.
Any supervisors and research areas listed are indicative and may change before the start of the course.
Recognition of professional qualifications: from 1 January 2021, in order to have any UK professional qualifications recognised for work in an EU country across a number of regulated and other professions you need to apply to the host country for recognition. Read information from the UK government and the EU Regulated Professions Database.