2024 start
September
Psychology of Music
Department of Music, Faculty of Arts and Humanities

Explore fundamental questions about music and its central place in our lives on the longest established music psychology programme in the UK. Our interdisciplinary approach offers a unique perspective on music and rigorous training in research techniques.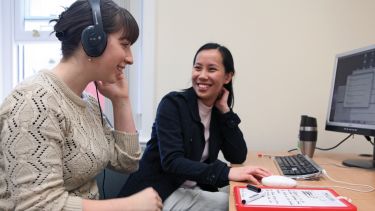 Course description
Cover the key areas and debates in music psychology, become proficient in psychological research techniques and explore the implications of psychology of music in everyday life.
You'll receive a rich grounding in areas relevant to the understanding of music cognition, the neuroscience of music; music education; music therapy and wellbeing; music in everyday and exceptional situations; and psychological approaches to performance.
You'll specialise within an area of your choice and pursue original research leading to a dissertation. The course is taught by widely-published and leading experts in the field who will guide and support you in your work.
This MA offers an unparalleled opportunity to develop your insight into music and musical experience, which will help to shape your career, whether you go on to be a researcher, teacher or practitioner.
Our department is vibrant community of academics and students and, between us, we cover an extraordinary range of specialisms and interests. We currently have large projects on music, dementia and technology; innovation in audience experiences of classical music; and supporting socio-musical dynamics in group singing.
We have internationally recognised research centres such as SPARC (Sheffield Performer and Audience Research Centre) and Music, Mind and Machine which enable collaborative and interdisciplinary work and links with international collaborators and organisations.
These form a vibrant context for peer and mentor-led learning and act as focal points for students doing research in the department and for staff of different career stages working on projects.
Our staff are also involved in consultancy work, contributing to the arts and cultural sectors and ensuring our teaching and research is relevant to their needs.
Accreditation
We are an All-Steinway School.
Modules
Core modules. A student will take a minimum of 45 and a maximum of 60 credits from this group. 'Music, brain and body' and 'The social and applied psychology of music' can be taken with 15 or 30 credits.
Dissertation

A dissertation of about 15,000 words comprising original research and survey of relevant literature, on a topic agreed between the student and supervisor.

60 credits

Music, Brain and Body

In this module, you will explore the perceptual and cognitive foundations of music. Over the course of the module, we cover issues in the neuropsychology of music, examine memory processes in music, learn about the complex relationship between music and emotions and the psychological foundations of the elements of music such as pitch and rhythm. The module will give you contemporary insight and understanding of the way in which our brains and bodies engage with and process musical sound. 

15 credits

The Social and Applied Psychology of Music

This module explores the psychology of music in a variety of settings, from the everyday uses of music to music in education and in therapeutic settings. The emphasis in this module lies in two related areas: the use of music psychology to help solve the practical problems of people's lives (in terms of wellbeing, therapy, education and development) and also to explore music as a social phenomenon, that is understanding the psychology of music as a social and interactive facet of human life. 

15 credits
Optional modules. A student will take a minimum of 45 and a maximum of 60 credits from this group. Both modules can be taken with 15 or 30 credits.
Quantitative Research Techniques

This module provides a research training in quantitative research techniques relevant to the study of musical behaviour. The module consists of teaching and learning of statistical techniques in a computer-lab setting, plus a group project in which an empirical study is partially designed and fully executed and analysed. The project is assessed by means of an individual report of 6,000 words.

30 credits

Qualitative Research Techniques

This module provides a research training in a qualititative research techniques relevant to the study of musical behaviour. This module consists of teaching and learning of qualitative research design and analysis techniques in a seminar setting, plus a group project in which an empirical study is executed and reported. This project is assessed by means of an individual report of 6,000 words.

30 credits
Optional modules: Subject to the approval of the course director. A student will take up to 30 credits from this group.
Communicating about music and music research

This exciting module is delivered in collaboration with the English Language Teaching Centre, and is directed at all students who wish to work on English communication skills - written and oral, in order to reach a variety of audiences interested in music and music research. Assessments for this module provide opportunities to improve academic writing skills, which can benefit performance in other modules. They also offer the opportunity to engage with a broad spectrum of written and oral communication, useful for academic and professional contexts.

15 credits

Critical Listening and the Musical Work

Students will consider recordings across a range of genres from European and American music to develop their critical listening skills and understanding of musical works. Classes will cover broader questions in the first half of the module, giving way to focused case studies in the second.
Key issues may include:
what is a musical work?;
what is critical listening?;
scores and editions;
positionality;
types and values;
taste and recordings;
reception of recordings;
recording over time;
and other issues and ideas in musical listening.

Weekly listening and research tasks will contribute to an independent project, which will be assessed through a presentation and short essay.

30 credits

Critical Musicology

This unit acts as an introduction to key trends and figures in musicology from the mid-twentieth century to the present day. Students will learn techniques and skills related to the literature in the field, and will employ them in an essay on a topic of their own choice.

30 credits

Fundamentals of Cognition

The module provides an overview of the fundamental issues in cognitive neuroscience and its contributory disciplines. The approach taken is in terms of its development over the past 50 years, providing an overview of the key concepts in the information processing approach and in cognitive science, followed by an analysis of the advances that have been made recently using cognitive neuroscience techniques. Topics include: fundamental issues in cognition (memory, attention, learning, language); theoretical approaches including cognitive neuropsychology, symbolic and sub-symbolic modelling; and methodological issues.

15 credits

Introduction to Language and Linguistics

This module will familiarise students with the theory and practice of TESOL curriculum design, language teaching materials design, and test design. We will look at different scholarly approaches to the design of language teaching curricula, materials, and tests, evaluate the strengths and weaknesses of these approaches, and their usefulness in various TESOL situations in diverse secondary and tertiary education contexts. The module will include practice in designing curricula, teaching materials, and tests. The module therefore will provide students with an essential theoretical and practical foundation to design language curricula, teaching materials, and tests and to critically assess existing examples of each.
For their dissertations, students on the MAAL programme are required to either do a traditional empirical data-gathering dissertation; or a curriculum or test design dissertation. This module will also provide a foundation for those students wishing to do a curriculum or test design dissertation.

15 credits

Performing South Asian Rhythm

The unit provides an opportunity to integrate practice in an unfamiliar musical genre into the MA in Ethnomusicology (and also, as an option, into the MA Music Performance Studies and MA Musicology). Taught weekly in practical classes, the unit will focus on the music of one tradition hitherto unfamiliar to the class in question, requiring them to learn vocal or instrumental performance in that style. Students will back up their practice-based understanding of the world music tradition with an online learning diary and theoretical knowledge derived from the ethnomusicological literature. Their practical learning leads to a performance examination with an oral component dealing with historical, organological or cultural aspects of the same musical tradition.

30 credits

Strategic planning for music business clients

The module consists of students working as a team with a live client from the world of professional music to address an issue of the client's choice. The issues sought from prospective client organisations will be those which either have a long term strategic bearing on the organisations's work and existence, or which address an immediate operational issue or set of issues. In both instances the issues to be studied will be typical of what might be expected to be encountered in the real world of music management. Once the definition of the issue to be studied has been fully agreed with the cilent, the course will consist of weekly seminars at which the team will plan reasearch into the issue and will discuss on a regular basis its ideas and proposals for action with the course tutor. The progress of the team will be checked with the client at the mid-point of the semester. The final outcome of the project will be a live presentation by the team to the client outlining its research findings, its interpretation of these, followed by conclusions and recommendations. This presentation in turn will be followed by the creation of a written group report which will be the subject of formal assessment and then made available for the client to use as they choose Assessment will also include peer-group assessment by the students of themselves.

15 credits

Staging Music in Theory and Practice

This unit is practice based as students develop and run a one day music related event within the local community. There will be theoretical input on the nature and impacts of, and planning for, art oriented festivals and events including marketing and the practical application of legal and health and safety principles.

15 credits

Topics in Musicology

This unit gives students the opportunity to develop skills and knowledge in a focused area of musicolgy. Students will explore the literature related to a specific topic in depth, and will write an essay that responds to the current state of the literature in this area. Topics offered will be in line with staff research interests, but the exact number and selection of topics will depend on student demand.

30 credits
The content of our courses is reviewed annually to make sure it's up-to-date and relevant. Individual modules are occasionally updated or withdrawn. This is in response to discoveries through our world-leading research; funding changes; professional accreditation requirements; student or employer feedback; outcomes of reviews; and variations in staff or student numbers. In the event of any change we'll consult and inform students in good time and take reasonable steps to minimise disruption.
Open days
An open day gives you the best opportunity to hear first-hand from our current students and staff about our courses. You'll find out what makes us special.
You may also be able to pre-book a department visit as part of a campus tour.Open days and campus tours
Duration
1 year full-time
2 years part-time
Teaching
You'll learn through lectures, lab-sessions, and tutorials. These are combined with departmental study days and extracurricular performance opportunities, all of which makes for a stimulating and supportive study environment.
Department of Music students study at the heart of the campus in our Jessop Building, Soundhouse and performance facilities. We timetable teaching across the whole of our campus.
Learn more about your supervisors

Changes to the teaching staff on the programme are possible, but are likely to include:
Assessment
The taught programme is continuously assessed through a variety of forms such as reports and essays. They are usually individual assessments, even if they concern the processes and outcomes of group work.
Your career
Many of our graduates have found success within music therapy and performance, while a large number have gone onto teach or work in creative arts organisations. Others have stayed to continue their studies at PhD level, or taken up offers to study further at leading music conservatoires.
By joining a leading Russell-Group University you'll experience an outstanding teaching and learning environment. The multidisciplinary approach will provide you with a well-rounded skill set to succeed in a wide range of rewarding career paths.
Department
Department of Music
Our department ethos combines high achievement with a sense of community and a shared passion for music. Our internationally recognised research informs our high-quality teaching and our student experience is collaborative, supportive and inspiring.
Sheffield is celebrated as one of the UK's leading music cities, with dozens of major venues from the City Hall and Crucible to Yellow Arch Studios and the Foundry, covering all music genres. This brings with it a host of opportunities for our students to get involved in professional music-making of the highest quality.
We work closely with the University's Concerts Series and oversee ensembles such as the Symphony and Chamber Orchestras, the Chamber Choir and the Folk Group, so our MA students have the opportunity to perform and develop ensemble skills with their peers.
Entry requirements
Minimum 2:1 undergraduate honours degree in music, psychology or a combined degree with a substantial music component.
We may accept other undergraduate degrees in a related subject, depending on your experience.
Overall IELTS score of 6.5 with a minimum of 6.0 in each component, or equivalent.
Fees and funding
University funding and scholarships opportunities are available each year. Please check the department funding webpages for music specific scholarships. Department scholarships details are released in the January prior to the start of your course.
Apply
You can apply now using our Postgraduate Online Application Form. It's a quick and easy process.
Any supervisors and research areas listed are indicative and may change before the start of the course.
Recognition of professional qualifications: from 1 January 2021, in order to have any UK professional qualifications recognised for work in an EU country across a number of regulated and other professions you need to apply to the host country for recognition. Read information from the UK government and the EU Regulated Professions Database.