Applications for 2024 entry are now open. Register your interest to hear about postgraduate study and events at the University of Sheffield.
2024 start
September
Reproductive and Developmental Medicine
School of Medicine and Population Health, Faculty of Health

Explore the science behind reproductive and developmental processes and their clinical applications. Develop specialist knowledge as a scientist or clinician, or prepare for further training in IVF or embryology.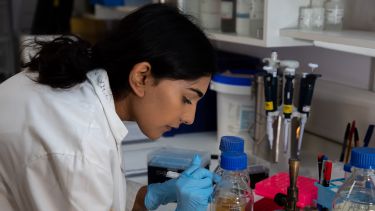 Course description
This course covers the biological, clinical and social issues surrounding fertility, pregnancy, prenatal development and childbirth. It covers the fundamentals of reproductive science and their clinical applications.
You will study topics ranging from genetics, gonadal development, the production of gametes and embryo development, through to pregnancy and labour. Disorders that can affect fertility, foetal development and pregnancy are covered, along with their treatments. You will also explore social issues, and the ethical and legal debates surrounding reproductive medicine.
Each module is taught by experts, including clinicians, embryologists, reproductive counsellors, genetic testing specialists and scientists.
Purpose-built facilities
Most of our teaching takes place in Sheffield Teaching Hospitals' purpose-built Jessop Wing, which is home to working maternity wards and as well as the Reproductive and Developmental Medicine team. There is an assisted conception unit, an andrology clinic, imaging, ultrasound and neonatology facilities, and a dedicated teaching and lab space.
Research project
You will apply the knowledge you have gained in the first half of your degree to a six-month research project in the second half. This will give you experience of life as a scientific researcher, and you choose from a wide range of areas to identify a research topic that matches your interests. Projects can be based in the lab or have a clinical focus that involves working with clinical data sets or directly with patients.
Do you have a question? Talk to us
Book a 15-minute online meeting with our course tutor to find out more information and ask further questions.
Modules
The first half of the programme consists of six taught modules that run through March.
The second half of the programme from March to September encompasses the research project module. Completion of all seven modules is core to requirements for the MSc.
Research Skills in Reproductive Medicine

This unit provides general and subject-specific training in research and careers skills. The unit will be run over the first six months of the MSc programme (taught component), where initially, a range of core topics, for example understanding what is plagiarism and selection of appropriate research methods, will be introduced to support the development of effective research and communication skills. Students then have the option of selecting from a range of analytical methods (primary methods such as lab-based work or secondary methods such meta-analysis and systematic review). The unit will be assessed using three-minute thesis-style presentations and the production of a portfolio incorporating reflective practice over the module.

15 credits

Gonads to gametes: fundamentals of reproduction

This module has been designed to provide an introduction to the course by covering fundamentals of reproductive biology. It will explain how sex determination is initially defined from the genetics of a single cell and how this evolves into two distinct individuals with phenotypes that culminate in the propagation of male and female gametes. A contextual framework of foundation principles will be enhanced by state-of-the-art scientific and special-interest research seminars, which will serve to underpin many of the clinical aspects introduced in subsequent modules of the course.

15 credits

Fertilisation, implantation and embryology

This module provides students with a comprehensive knowledge of pivotal physiological events around conception using a blend of lectures, seminars and practical sessions. It will cover a chronology of processes relevant to mammalian physiology from pre-fertilisation through to implantation and embryonic development. The mechanisms by which the maternal environment influences development and fertility will be emphasized. Knowledge of these processes will be used to inform students about the clinical implications in humans and domestic species, and also the societal impact of these technologies.

15 credits

Fetal Development, Pregnancy and Parturition

This module is designed to provide students with knowledge of the biochemistry, physiology and pathology of human pregnancy, fetal development, and parturition. Lectures will cover a recap of implantation, and provide details of the maternal biochemical and physiological changes associated with pregnancy, birth and the puerperium, and will give an overview of key processes during fetal development. Disorders of pregnancy, fetal development, labour and delivery will be taught, and emphasis will be placed on the commoner clinical problems and their solutions. Various clinical sequalae associated with pregnancy will be introduced and broad range of clinical and underpinning scientific scenarios will be covered.

15 credits

Reproductive medicine and assisted conception

The unit will provide a broad overview of clinical and laboratory aspects of human reproduction within the context of the clinical management of male and female infertility. In addition, the module will cover the essential aspects of assisted conception treatment. Essential skills required for appraisal and assessment of the research literature in relation to topics relevant to reproductive medicine and assisted conception will also be provided.

15 credits

Law, ethics and policy in reproductive medicine

This module will give an overview of basic legal and ethical principles relevant to reproductive medicine. This will consider primarily the Abortion Act (1967), the Warnock Report (1978) The Human Fertilisation and Embryology Acts of (1990) and (2008) and the EU Tissues and Cells Directive (2004). However, comparisons with other legal frameworks around the world will be made with regard to how they deal differently with aspects of IVF, donation, gamete and embryo cryopreservation, sex selection, pre-implantation genetic diagnosis and surrogacy. Basic ethical principles will be examined, including the Declaration of Helsinki and the role ethics committees and research governance plays in overseeing research using human subjects and embryos.

15 credits
Research project (reproduction)

The aim of this module is to provide the opportunity to learn and apply research methods to test a specific scientific hypothesis and to develop good laboratory technique in appropriate methods and good, safe, professional laboratory behaviour. A list of projects will be made available and students will be asked to select their top choices. Having being assigned a project of their choice, the students will carry out a 25-week research project and will present a poster of their preliminary findings around the half way mark. Upon completion of the project, the student will submit a dissertation of their research for assessment, which will also form the basis for an oral examination. Students will also be expected to attend and actively contribute to unit seminars, research group and supervisor meetings to learn and experience the day-to-day role of a scientific researcher.

90 credits
The content of our courses is reviewed annually to make sure it's up-to-date and relevant. Individual modules are occasionally updated or withdrawn. This is in response to discoveries through our world-leading research; funding changes; professional accreditation requirements; student or employer feedback; outcomes of reviews; and variations in staff or student numbers. In the event of any change we'll consult and inform students in good time and take reasonable steps to minimise disruption.
Open days
An open day gives you the best opportunity to hear first-hand from our current students and staff about our courses. You'll find out what makes us special.
Duration
1 year full-time
Teaching
You will learn through lectures, seminars, tutorials, practical classes, independent study and your research project.
Assessment
You will be assessed through practical exercises with reflective reports, preparation of research articles, mock ethics committee presentations, systematic review and meta-analysis.
The research project is assessed through a poster presentation, short reflective reports, a thesis and a short oral exam based on your written work.
Your career
This course is an ideal stepping stone towards further specialist training and a career in clinical embryology or andrology. Our graduates work in NHS and private fertility clinics around the UK, and many have secured places in the highly competitive NHS Scientist Training Programme.
Entry requirements
You'll need a minimum of a 2:1 in a relevant life science undergraduate degree such as biochemistry, biology, genetics, molecular biology or a degree in veterinary science or medicine. A 2:2 degree may be acceptable depending on an interview and assessment of your past achievements.
Medical students can intercalate after completing three years of their medical degree.
Overall IELTS score of 7.0 with a minimum of 6.5 in each component, or equivalent.
Apply
You can apply for 2024 postgraduate study using our Postgraduate Online Application Form. It's a quick and easy process.
Any supervisors and research areas listed are indicative and may change before the start of the course.
Recognition of professional qualifications: from 1 January 2021, in order to have any UK professional qualifications recognised for work in an EU country across a number of regulated and other professions you need to apply to the host country for recognition. Read information from the UK government and the EU Regulated Professions Database.