Applications for 2024 entry are now open. Register your interest to hear about postgraduate study and events at the University of Sheffield.
2024 start
September
Science Communication
School of Biosciences, Faculty of Science

Learn how to communicate science to the public from world-leading experts. You'll explore the use of different platforms and methods, to find your voice within the science communication world.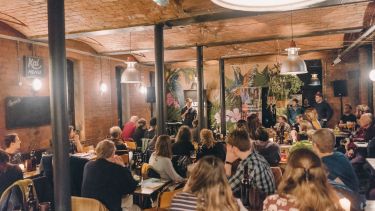 Course description
Taught by subject experts and in collaboration with the Department of Journalism, this course will help you to develop the skills to communicate science effectively to a wide range of audiences. You know your science subject, we will teach you how to be excellent at sharing it with others.
Through hands-on training, you'll learn how to inform, educate and entertain people without the same specialist knowledge, covering the latest topics in science that interest you. Training sessions can cover writing skills, how to record and edit content for film and television, social media, and the design of science communication activities. Regular small group workshops give you the time to debate and discuss topics, and practise key communication skills.
In completing these activities you'll produce a portfolio of high quality science communication work and develop a range of experience to include on your CV, as you consider the relationship between science, the media, and the wider public, and the role that science communication plays in society.
Your final project dissertation can be based around a print, broadcast or digital portfolio, an event you've organised or a work placement you've completed. This can be customisable to your interests and cover any STEM subject you're passionate about.
Previous students have based their dissertation around work they've completed at organisations ranging from National Geographic to the CERN research institute in Switzerland.
Example research projects include:
Let them lead the way: engaging children in climate policy
Science Communication in a pandemic: How effective are virtual conferences?
The role of social media in the dissemination of public health messaging
Writing women into the history of science; challenging the gender gap in STEM
Which paper is best? A study of comprehensiveness of news articles on gravitational waves
Investigating the quality and validity of Covid-19 reporting in the UK press
Animation as a form of science education; what determines successful education animations?
Modules
Core modules:
Engaging with the Public

In this module you will work in a small group to plan, organise and deliver a public engagement or schools outreach event.  This will be based on a piece of research that has been or is being carried out in the Faculty of Science at the University of Sheffield.  The course will start with a series of workshops that cover the guiding principles of developing and delivering an effective and engaging science communication event.  This will include, among other things, audience and venue considerations, choosing a science topic, budgeting, risk assessment, contingency planning and evaluation.  You will also attend, reflect and report on a real-life public engagement event.  Finally you will, in your group, prepare the materials and resources required to stage an effective science event, deliver it to a public audience and critique its success.

15 credits

Science Communication Skills

Science communication is a fast-paced and rapidly changing field. This module will introduce the latest technical, editing and media techniques needed to produce cutting edge visuals and audio for any online audience. The course will introduce a wide range of topics, designed to cover the huge breadth of science communication options in the Digital Age.

30 credits

Research Methods

This module is designed as an introduction to social scientific research methods as applied in the communications, media and journalism fields. The module provides an overview of key research methods, and the different ways in which research can be conducted. Topics covered include surveys, questionnaire design, focus groups, interviewing, ethnography, content analysis, discourse analysis and different aspects of information search, reserach design, project management and research presentation. The module is designed to make students aware of basic skills in these social science research methods and to equip them to conduct small scale projects on their own, or in groups.

15 credits

Communicating with the Media

This module will provide students with knowledge and skills necessary to communicate messages through the media. Case studies and practical workshops will allow students to learn about the practice of media communication. They will learn how the media operates and how to communicate messages through interviews, press conferences and news releases. Topics covered in the module will include the development of communication strategies, the understanding of news values and news cycles and strategies for successful and ethical communication.

15 credits

Topical Science

What are the current 'hot topics' in science? Why are these important? This module delivers the skills to take new scientific research and communicate it to a range of audiences. The module focuses on written communication, covering a broad spectrum of writing styles including news articles, opinion pieces, features and stories. The aim is to develop students' abilities to research and communicate exciting new scientific research both within and beyond their own areas of expertise.

15 credits

Ethics and Regulation

This module examines some of the major ethical controversies in journalism. Students will explore debates about the tension between freedom of expression and the exercise of responsibility, and about the need to balance privacy rights with publishing material in the public interest. There will also be study of regulation, truth-telling, media representation of vulnerable groups and journalists' relationship with their sources. Students will explore how ethical behaviour is encouraged in journalism, and consider how the industry codes seek to achieve this in the UK.

15 credits

Dealing with data for journalists

News reporting relies increasingly on knowing how to understand and analyse data. "Now that information is abundant, processing is more important." (Philip Meyer). Data science is the scientific discipline that feeds into this new type of journalism. It provides methods for collecting and systematizing data, which is then analysed using a combination of statistical and machine learning techniques, and finally presented in an appealing and understandable format. This module will equip students with the confidence to appreciate and apply the most widely used statistical techniques, which constitute the very core of data science and, hence, facilitate responsible evidence-based journalism.

15 credits

Science Communication Project

The project exercise provides the student with a choice of three pathways to undertake a piece of scholarly research work in the area of Science Communication. These include critical analysis of the literature, developing experimental methods to test a hypothesis, or a practice based approach (which may include an optional work-placement).

60 credits
The content of our courses is reviewed annually to make sure it's up-to-date and relevant. Individual modules are occasionally updated or withdrawn. This is in response to discoveries through our world-leading research; funding changes; professional accreditation requirements; student or employer feedback; outcomes of reviews; and variations in staff or student numbers. In the event of any change we'll consult and inform students in good time and take reasonable steps to minimise disruption.
Open days
An open day gives you the best opportunity to hear first-hand from our current students and staff about our courses. You'll find out what makes us special.
Duration
1 year full-time
Teaching
Teaching is led by expert scientists who have a wealth of experience in sharing their work with the public, and professional journalists with backgrounds in print, broadcast and online journalism, from Fleet Street to the BBC and Channel 4.
You'll also meet regularly with your designated personal tutor and your project dissertation supervisor.
At Sheffield we have a long track record of delivering excellent science communication and outreach work to a huge variety of audiences. Projects have included local and national festivals, schools activities and media work, giving you plenty of opportunities to get involved and put your skills into practice alongside your studies.
Assessment
Assessment is 100% coursework based and includes, but is not limited to, a written and creative portfolio of print materials and digital content, reflective pieces, spoken presentations, practical exercises and a dissertation.
Your career
Through practical training and opportunities to get involved in science journalism, film and audio production, public engagement and event organisation throughout your degree, our graduates are in a great position to pursue exciting careers across science, technology and the media.
Previous graduates are now working in press offices, newsrooms, research institutes and charities, in roles ranging from marketing and communications, to planning, outreach and education. They are now working as:
STEM Editor, Oxford University Press
Assistant Editor, Bioinsights Publishing
Senior Medical Writer, International Medical Press
Events Assistant, The Royal Society of Biology
Corporate Communications Manager, NHS Education England
Press Officer, Zoological Society of London
Science Journalist, Research Publishing International
If you choose to continue your research training to PhD level, this masters course will give you the skills to effectively communicate your own research to a wide audience.
Department
School of Biosciences
The School of Biosciences brings together more than 100 years of teaching and research expertise across the breadth of biology.
It's home to over 120 lecturers who are actively involved in research at the cutting edge of their field, sharing their knowledge with more than 1,500 undergraduate and 300 postgraduate students. 
We carry out world-leading research to address the most important global challenges such as food security, disease, health and medicine, ageing, energy, and the biodiversity and climate crises.
Our expertise spans the breadth and depth of bioscience, including molecular and cell biology, genetics, development, human physiology and pharmacology through to evolution, ecology, biodiversity conservation and sustainability. This makes us one of the broadest and largest groupings of the discipline and allows us to train the next generation of biologists in the latest research techniques and discoveries.
Entry requirements
Minimum 2:1 undergraduate honours degree in biology, chemistry, physics, psychology, mathematics, engineering or other science-related subject.
We also accept medical students who wish to intercalate their studies.
Overall IELTS score of 7.0 with a minimum of 6.5 in each component, or equivalent.
Apply
You can apply for 2024 postgraduate study using our Postgraduate Online Application Form. It's a quick and easy process.
Any supervisors and research areas listed are indicative and may change before the start of the course.
Recognition of professional qualifications: from 1 January 2021, in order to have any UK professional qualifications recognised for work in an EU country across a number of regulated and other professions you need to apply to the host country for recognition. Read information from the UK government and the EU Regulated Professions Database.