Applications for 2024 entry are now open. Register your interest to hear about postgraduate study and events at the University of Sheffield.
2024 start
September
Translational Neuroscience
School of Medicine and Population Health, Faculty of Health

Designed for students interested in gaining the practical, lab-based skills necessary to understand neurological diseases at the molecular and cellular level and how to apply this knowledge to benefit patients.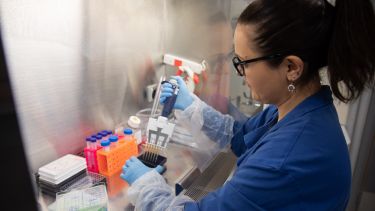 Course description
Lead academic: Dr Julie Simpson
This course gives you the opportunity to explore the latest advances in neuroscience and their impact on patients. It includes extensive laboratory training so you can help tackle major healthcare challenges including Parkinson's, Alzheimer's and motor neurone disease.
You will cover a range of topics, from fundamental neurobiology and molecular biology, and the structure and function of the human brain, to how this knowledge is used to develop new therapies for nervous system diseases and put into practice by clinicians.
The course is led by leading experts in both basic and clinical science and puts a significant emphasis on the development of practical skills that scientists use to understand neurological diseases, such as microscopy, neuroimaging and molecular pathology. The biggest part will be your research project where you will work as part of a team of professional scientists to test a specific scientific hypothesis.
As a Translational Neuroscience student at the University of Sheffield, you will be based within the Sheffield Institute of Translational Neuroscience (SITraN) – an internationally recognised centre of excellence, where top researchers are working on groundbreaking treatments to improve the lives of patients with neurodegenerative disorders.
Modules
Core modules:
Ethics in Neuroscience

Ethics is embedded in all scientific research and clinical practice. This module introduces the ethical considerations and current legislation regarding patient and animal research, and how these are adhered to. This module will enable a detailed understanding of why and how all scientific research and clinical practice must comply with relevant legal and ethical standards.

15 credits

Molecular Neuroscience

This module aims to ensure students understand the current experimental strategies being used in molecular neuroscience, such as methods used to study genetic inheritance and molecular biology techniques, from the fundamental through to state of the art. This module will combine classroom teaching with carefully guided, complementary small group practical training in basic and advanced molecular biology techniques. The teaching will also include computer based tutorial and problem solving classes, in which the students will be taken through basic bio-informatic approaches, such as sequence analysis, searching databases for gene, protein, expression and functional data and primer design.

15 credits

Neurodegeneration

The prevalence of neurodegenerative diseases is increasing, but effective treatments are lacking. Detailed knowledge of the neuropathology of neurodegenerative diseases is essential to understanding these disorders. Cellular and animal models of neurodegenerative diseases are key to translational research, but have limitations. This module will examine the classical neuropathology of a range of neurodegenerative diseases including Alzheimer's disease, Parkinson's disease and motor neurone disease, and investigate the application and limitations of using models of disease.

15 credits

Neuroanatomy

Neuropathology is underpinned by knowledge of the neuroanatomy of the central nervous system. This module will combine a lecture series on basic and functional neuroanatomy, neuroimaging, peripheral neuroanatomy and basic neuroscience with laboratory dissection of the human brain and spinal cord, thereby enabling the students to acquire an in-depth and critical understanding of core neuroanatomy. The gross anatomy dissection course will also be complemented by examination of histology specimens to demonstrate the microscopic neuroanatomy and observing a standard brain cut session with a consultant neuropathologist.

15 credits

Nervous system disease

Nervous system diseases are diverse and a common cause of death and disability. This module focuses principally on inflammatory, vascular, and neoplastic disease processes in detail, but also includes consideration of epilepsy, neurodevelopmental dsorders, mitochondrial disease and neurotrauma. In recent years great progress has been made in both prevention and acute management of these diseases, however the precise pathways and molecular mechanisms involved are unknown. This module provides an opportunity for students to engage in depth learning of the classical clinical manifestations and neuropathologies of these diseases. It will also facilitate the students' understanding how recent laboratory breakthroughs have been translated into clinical benefits for patients in the modern treatment of these conditions.

15 credits

Neuroimaging and Histopathology

While cell and animal models of disease are important research tools. Imaging and histological examination of human tissue is essential to provide important insights into the underlying pathology of neurological disease. In this module, you will learn how imaging technologies are used to study the structure and function of the brain, and develop an understanding of the fundamentals of neuropathology alongside practical training in a range of histological techniques.

15 credits

Literature Review and Critical Analysis of Science

This module provides training in detailed critical analysis of current scientific literature. Students will select an essay title from a list of current topics in translational neuroscience and write a 3000 word critical review. Students will produce a draft that will be discussed with the academic member of staff who provided the title prior to writing the review. Learning will be complemented with a series of tutorials. In the initial tutorial sessions, groups of students will present contradictory scientific papers and challenge the findings of the other groups' papers, while in later sessions each student will present and critique a paper individually prior to group discussion.

15 credits

Research Project

The aim of the module is to provide the opportunity to learn and apply research methodologies to test a specific scientific hypothesis. A list of projects will be made available and students will be asked to select their top choices. Having been assigned a project of their choice, the students will carry out a 20 week research project, culminating in an oral presentation and dissertation concisely written in the style of a scientific paper describing their research. Students will be expected to join in with the Departmental seminars, journal clubs and supervisor meetings, to learn and experience the role of a scientific researcher.

75 credits
The content of our courses is reviewed annually to make sure it's up-to-date and relevant. Individual modules are occasionally updated or withdrawn. This is in response to discoveries through our world-leading research; funding changes; professional accreditation requirements; student or employer feedback; outcomes of reviews; and variations in staff or student numbers. In the event of any change we'll consult and inform students in good time and take reasonable steps to minimise disruption.
Open days
An open day gives you the best opportunity to hear first-hand from our current students and staff about our courses. You'll find out what makes us special.
Duration
1 year full-time
Teaching
You will learn through lectures, seminars, tutorials, laboratory classes and research training sessions.
Assessment
You will be assessed through short-answer or essay questions, lab-based practical, oral presentation, online debate or a neuroanatomy extended spotter exam, depending upon the nature of the material covered by each module
Your career
This course is great preparation for a career in neuroscience research. Many of our graduates go on to complete a PhD and work at top universities and research institutes. Others work as researchers in the pharmaceutical industry or the NHS.
Student profiles
Entry requirements
You'll need a minimum of a 2:1 undergraduate honours degree in a relevant science subject (eg Neuroscience, Psychology, Biomedical Science or Medicine).
A 2:2 degree may be acceptable depending on an interview and assessment of your previous experience in areas related to the course.
We also accept medical students who wish to intercalate their studies.
 Overall IELTS score of 6.5 with a minimum of 6.0 in each component, or equivalent.
Apply
You can apply for 2024 postgraduate study using our Postgraduate Online Application Form. It's a quick and easy process.
Any supervisors and research areas listed are indicative and may change before the start of the course.
Recognition of professional qualifications: from 1 January 2021, in order to have any UK professional qualifications recognised for work in an EU country across a number of regulated and other professions you need to apply to the host country for recognition. Read information from the UK government and the EU Regulated Professions Database.