2024 start
September
Vision and Strabismus
School of Allied Health Professions, Nursing and Midwifery, Faculty of Health

Become a specialist in treating patients with vision and ocular motility issues. This is the only vision and strabismus course for eye care practitioners that is taught entirely online.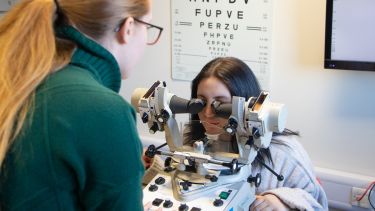 Course description
Lead academic: Dr Charlotte Codina
This course is designed for orthoptists and other eye care professionals to advance their clinical knowledge and understanding in the specialist area of vision and strabismus. It is the only course on these topics that is taught entirely online, so you can fit your studies around your other commitments.
Our flexible course structure means you can select modules, to  focus on the topics that interest you most, or that are most relevant to your clinical practice. MMedSci students can develop a detailed understanding of comitant and incomitant strabismus, examine diseases which affect ocular motility, study visual processing in detail or learn about the effects of stroke. There are also modules that cover research methods, assessing and managing low-vision children and adults, and the prescription and non-prescription medicines that orthoptists can use.
The programme is led by practising orthoptists and eyecare experts. You can work with them on an independent research project, either by collecting and analysing your own data, or exploring the latest findings on a specific topic. 
Modules
CPD modules
If you are not ready to apply for the three-year MMedSci programme, most of the modules on this programme can be taken as a standalone CPD module. Find out more on our continuing professional development web pages.
Concomitance and Incomitance in Depth

This is based around clinicians re-examining their prior knowledge in relation to clinical practice and recent research and to evaluate their work - emphasising areas in which further examination of techniques/theory is indicated. 

30 credits

Stroke

This module will enhance knowledge of the mechanisms and treatment of Stroke and develop a comprehensive understanding of issues concerning Stroke in relation to the eye-care practitioner's clinical practice and academic theory. It will advance learning and understanding of the multi-disciplinary approach to enable more holistic patient care. Delivery is part-time via Distance learning, and the student will currently be working in a clinical post. 

30 credits

Insight into Disease

This module will help the clinician to a wider understanding of diseases which affect ocular motility and which are frequently encountered in clinical practice. 

30 credits

Low Vision

This unit is delivered by Distance Learning with an Introductory day. It aims to give the qualified practitioner the knowledge to expand into the field of low vision assessment and management; also exploring local and national services and policies. It includes the optics of, and types of, low vision aids, and their method of use. The many factors relevant to reduced visual acuity, such as lighting, glare and contrast are explored along with pathology. Relevant literature will inform the unit and the students will be required to critically analyse and synthesise evidence pertaining to the subject as they complete unit exercises throughout. The student will be working in low vision clinics and will be required to provide evidence of reflection on patients seen as part of the assessment. The remaining assessments will be through an assignment and a practical examination.

30 credits

Eye to Vision

This module examines visual processing. Different visual functions are considered within the brain and this introduces the clinician to processes which are necessary for 'seeing' and for eye movements. 

30 credits

Exemption

This module will facilitate advanced practice in the area of prescription only and non-prescription exemption listed medicines for Orthoptists, by enhancing knowledge of the pharmacokinetics and actions of these specific medicines. It will advance learning and understanding of the different non-pharmacological and pharmacological approaches to modifying disease and inform practitioners of the potential for adverse effects and how to minimise them. Students will be enabled to apply the principles of evidence-based practice including clinical and cost-effectiveness. These areas of advanced knowledge and understanding will enable Orthoptists who are registered with the Health and Care Professionals Council, to become registered as qualified to use exemptions to sell, supply and administer specific listed medicines for any condition within their scope of practice. 

30 credits

Research Project

The research project allows the student to pursue an area of interest. It involves literature searching to determine previous work in the field and the design and execution of original work.   Students will prepare, conduct and write-up a piece of original research in one of two ways: either an empirical research project or a literature based dissertation.  This will enhance their understanding and knowledge of the conceptual research process.  Students will utilise systematic research methodology to design the project, undertake the research, analyse the data collected and produce an evidence-based report

60 credits
The content of our courses is reviewed annually to make sure it's up-to-date and relevant. Individual modules are occasionally updated or withdrawn. This is in response to discoveries through our world-leading research; funding changes; professional accreditation requirements; student or employer feedback; outcomes of reviews; and variations in staff or student numbers. In the event of any change we'll consult and inform students in good time and take reasonable steps to minimise disruption.
Open days
An open day gives you the best opportunity to hear first-hand from our current students and staff about our courses.
Find out what makes us special at our next online open day on Wednesday 17 April 2024.
You may also be able to pre-book a department visit as part of a campus tour.Open days and campus tours
Duration
3 years part-time
Teaching
This course is taught online through distance learning. Introductory learning blocks take place on a Saturday at the beginning of the first and second year. These include online presentations, workshops and interactive activities. Further introductory sessions take place in March, depending on the modules you are studying. Occasionally, there are also tutorials on weekdays between 4pm and 5pm (UK time).
Year one introductory day: Saturday 21 September 2024 
Year two introductory day: Saturday 20 September 2025
During the course, you should expect to spend between 10 and 12 hours each week on self-directed study units and building up a portfolio of your work. The expected study time for each module is around 300 hours.  Some modules such as low vision and exemptions, will require you to carry out some work-based learning activities.
You will have support from each module coordinator and your personal tutor, and other students often provide informal peer support. Essential reading for each module is provided and you will also have access to the University of Sheffield's online library services.
Other university libraries may be available to you through the Society of College, National and University Libraries Access scheme.
Assessment
You will be assessed through a variety of written assignments and presentations, depending on the modules you are studying. The Low Vision and Exemptions modules both have an online exam with the exemptions exam requiring use of a computer, webcam and microphone.
Your career
Many of our graduates continue to develop their careers in the NHS, progressing to more senior roles such as Head Orthoptist, Deputy Head Orthoptist and Service Manager. Others have gone to work overseas and, in some circumstances, have started a new low-vision clinic or orthoptic stroke service.
Student profiles
Entry requirements
Orthoptists, Ophthalmologists, Optometrists and Ophthalmic nurses with postgraduate qualifications, and Dispensing Opticians, are welcome to apply.
Minimum 2:2 undergraduate honours degree in orthoptics or another eye care-related degree. We may also accept other relevant eye care qualifications.
Overall IELTS score of 7.0 with a minimum of 6.5 in each component, or equivalent.
Apply
You can apply now using our Postgraduate Online Application Form. It's a quick and easy process.
Any supervisors and research areas listed are indicative and may change before the start of the course.
Recognition of professional qualifications: from 1 January 2021, in order to have any UK professional qualifications recognised for work in an EU country across a number of regulated and other professions you need to apply to the host country for recognition. Read information from the UK government and the EU Regulated Professions Database.