Sex lives in over 50s: Ending the stigma
The sex lives of the over 50s have long been ignored. Sheffield's new cafes are bringing the conversation back to the table.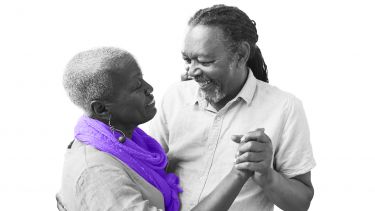 When you reach a certain age, there's a perception of how your life goes. Aged 18? You'll be out drinking every night. And if you're older than 50, your evenings consist of Emmerdale, bedtime reading from 8pm and lights out soon after. At least that's what we might perceive to be true, following preconceived notions generated in decades past. But according to statistics from Terrence Higgins Trust, the heat generated under the covers by millions of over 50s comes from more than just a hot water bottle.
Dr Sharron Hinchliff of the University of Sheffield has been delving into the intimate lives of older adults for almost two decades. And through her research, it's clear that while millennials are doing the Netflix, it's older adults who are doing the chill.
It might sound like great news for older adults, but Sharron's research has shown it's not all smiles. With older age comes health problems, and there's one rather important group that are showing a queasiness to their bedroom antics. The biggest group in need of education about sex lives aren't the over 50s; it's health practitioners. "I interviewed a GP who said he would not ask the question of a sexual issue in an older patient but they would in a younger patient." Sharron explains. "They knew the sexual issue could be caused by a medication that they had given to them. So for example, someone in their 30s or 40s, if they're prescribed an antidepressant that can cause orgasm problems, they'd mention it to that patient but when you get to your 60s, 70s, they said they probably wouldn't. And that's really unfair."
One of the major reasons that the conversations don't happen is the stigma. It's one of the difficulties that can block older adults from enjoying a healthy sex life, as an overwhelming proportion are being failed by a healthcare system simply not trained to provide the right support. "I've talked to many older adults who have not received help, and have just thought 'that's it' and given up. There's an assumption that those in their 70s and 80s are not going to be sexually active, or that if they are they won't want to talk about it because it's private.  Indeed, many older adults grew-up during a time when sex was not to be discussed. Some older women I've spoken to didn't know about menstrual cycles and when they had their first period, they were frightened and thought they were dying. Many older adults don't want to give up their sexual lives but they don't know there are things that can help."
This is where Sharron's research comes in. It's the first in the UK to identify sex and intimacy as two key components of quality of life in older adults. It's been used by the World Health Organisation — she's just returned from the Women Deliver conference in Vancouver, delivering their first ever talk on sexual health and older women. But how does that research translate into educating the wider world?
Helping to bring Sharron's work to life is Pete McKee, an artist from Sheffield. His unmistakable designs are ingrained into the city's culture, making him the first port of call as Sharron's Age of Love plans began to take shape."I didn't know what I wanted the project to look like, but inspired by The Snog (painted on the side of Fagan's pub), I approached Pete" Sharron explains. "He was interested, so we met a few times and I explained my research findings and the discrimination that older adults face in this area. And he decided to take it up. I was delighted. Pete is the perfect creative partner for my research - his approach to everyday life, the humour, the imagery, and the characters."
Pete's work is centred around reality, and this project saw him focus on two of his earlier characters, Frank and Joy. A Yorkshire couple later on in life, they swiftly became the face (and bodies) of Sharron's work. Already adorning walls across Pete's home city, the decision to use the pair transformed a serious subject into one that was more approachable to the wider world.
Sharron and Pete's collaboration was made public in 2018 as part of the Festival of the Mind, a series of Sheffield talks and workshops between University of Sheffield academics and the city's creative and digital industries. Hundreds of visitors from Sheffield and beyond took in the eye catching designs and the messages behind them. And a large proportion of those visitors had plenty in common with Frank and Joy. "People were laughing, gasping, and smiling during the exhibition. They wanted to buy art for their walls based on this. We knew that the exhibition had done what we wanted it to - to start a conversation about a topic that tends to be taboo and unspoken. In that way it's helped to raise awareness of the issue" said Sharron.
To take this further, and continue the conversation, the exhibition is returning with a difference. This June, Sharron launches the Age of Love cafes in Sheffield. "They're based on the highly popular Death Cafes" Sharron begins, referring to cafes that allow those who want to talk about death and dying to converse with each other on an informal basis over tea and cake. It's a concept that has also reached television screens, with Channel 4 adapting the idea for a dementia cafe programme. "So many people talk about not speaking to their partner about intimacy and relationships, and people might not even talk to friends. If they can come and talk to strangers, it can work in a supportive way and improve their sense of wellbeing."
The cafes are informal places where visitors can chat openly and listen to those with similar experiences. But just like Fight Club, as Sharron references, there are ground rules. Visitors are under agreement that whatever is discussed in the cafe stays in the cafe and that outside of it, there's full anonymity. Hosted within Sheffield's Millennium Gallery, the artwork is back on show for anyone to view but visitors to the cafe will use the art as a starting point for their conversations. "Over the years I've interviewed hundreds of people" begins Sharron, "and many have said they feel better just from talking to me. I'm probably the first and possibly last person for them to open up to, but it's that sense of comfort and knowing you're not the only one."
And the work is not just for the over 50s. Lots of younger adults are interested. Sharron's research - along with McKee's flair - has got younger people talking about their own later years, as well as wondering about just what the over 50s get up to in their spare time.
The most recent output from Sharron's programme of work is the Sexual Rights Charter for Older Adults, which has been designed to help tackle the discrimination people can face regarding sexuality and relationships described above. 
The Sexual Rights Charter, the first of its kind in the UK, aims to help health and social care professionals, service providers and the community to develop inclusive practices and policies, and ensure that people are treated with the dignity and respect they deserve, whatever their age. It can be used in different environments, such as GP surgeries and community spaces to raise public awareness of this sensitive and much neglected issue. 
Designed by Dr Sharron Hinchliff, and developed with Dr Stephanie Ejegi-Memeh from The University of Sheffield and Gilli Cliff from Age-friendly Sheffield, the Charter was created as a result of extensive consultation with the public, professionals, and organisations in Sheffield. It is supported by a suite of materials including guidance notes, FAQs and a problem statement. 
The Sexual Rights Charter will help service providers and practitioners to develop inclusive and non-discriminatory practices and policies. We hope the Charter will make a real difference to the lives of everyone as they age by tackling prejudice and respecting sexual agency and diversity.

Dr Sharron Hinchliff

Reader in Psychology and Health at the Division of Nursing and Midwifery and Director of Equality, Diversity, and Inclusion (Health Sciences School) at the University of Sheffield
The Charter was supported by the Economic and Social Research Council's (ESRC) Impact Accelerator Award, Age-friendly Sheffield, and the Healthy Lifespan Institute.
For more information about how to use the Charter, and to access all the Charter documents, visit 
agesexandrights.com
---
Related information
Barrett C & Hinchliff S (Ed.) (2017) Addressing the Sexual Rights of Older People: Theory, Policy and Practice. UK: Routledge.
Heywood W, Lyons A, Fileborn B, Hinchliff S, Minichiello V, Malta S, Barrett C & Dow B (2018) Sexual Satisfaction Among Older Australian Heterosexual Men and Women: Findings from the Sex, Age & Me Study.  Journal of Sex & Marital Therapy, 44(3), 295-307
---
For further information contact: 
Amy Huxtable
Corporate Communications, Media and PR Officer
Flagship institutes
The University's four flagship institutes bring together our key strengths to tackle global issues, turning interdisciplinary and translational research into real-world solutions.