Sir Harry Kroto Resources
Following his Nobel Prize winning discovery, and keen to share his enthusiasm for science, Sir Harry Kroto developed these resources for school pupils and delivered them all around the world.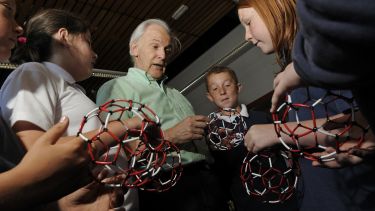 Order your Buckyball Kit
Teachers can apply for a set of 30 free Buckyball kits each year to support work with their Year 7's in the classroom.
The kits are available for state schools in the Sheffield City Region.
---
Buckyball Science series videos for the classroom
Sir Harry Kroto came to the University of Sheffield to study chemistry on the recommendation of his sixth form chemistry teacher in 1958. He then went on to complete a PhD, focussing on molecular spectroscopy - an area he continued to work on throughout his life.
In 1985, he was part of a team of scientists working in America who discovered a way that carbon atoms could be joined together to make a new kind of carbon molecule (alongside diamond and graphite) which he named 'Buckminsterfullerene'. This third type of molecule is shaped like a traditional football and made up of carbon atoms arranged in pentagons and hexagons. We now call it the 'Buckyball' for short.
This discovery was so important that in 1996, Sir Harry was awarded the Nobel Prize in Chemistry, and was knighted by the Queen.
So keen to share his enthusiasm for science, Sir Harry developed resources for school pupils that he delivered all around the world. Sadly, Sir Harry passed away in April 2016, at the age of 76, but we're sure he would have been delighted that the University of Sheffield is continuing his inspirational work in his memory.
Buckyballs in your classroom
Lady Margaret Kroto established the Kroto Family Education Foundation which has enabled the University to provide Buckyball kits FREE OF CHARGE to local state schools who meet specific 'Widening Access' criteria. Teachers can apply for a set of 30 Buckyball kits each year to support their work with pupils in the classroom.   
If you are a teacher in a state school in the Sheffield City Region and would like to be able to have a go at building 'Buckyballs' in your classroom, you can use our fantastic Buckyball Science Series Videos and request the special Buckyball kits by completing the order form below.    
You can print instructions to help your pupils build their Buckyballs, and there are other activities linked to this topic that you might also want to use.
---
Downloads
How to build your Buckyball (PDF, 113KB)
Find the pentagon activity (PDF, 145KB)
Connect with us
Be the first to know about activities at the university as well as support that we can provide to you and your students.