Law affects almost everything we do, whether buying a bus ticket, downloading something from the internet or talking on our mobile phones.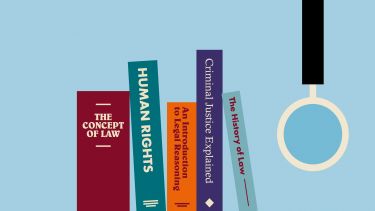 Law is the body of rules and regulations that is used to govern a society and the behaviour of its members. It protects our rights from abuse and punishes those who commit crime. If you are interested in making a contribution to a fair society and defending our rights, then a career in law can be very rewarding.
Discover Law is a two year programme designed for students who are interested in finding out more about studying and having a career in law.
Participants on the programme will have the opportunity to take part in on campus activities, external visits, and work experience placements which will give a first hand insight into a range of careers in law. Throughout the programme participants will also work with current undergraduate law students gaining an understanding of what studying a law degree here at Sheffield is really like.
Overall you'll be improving your knowledge, gaining and developing skills, enhancing your personal statement/CV and most of all making friends and having fun.
Pathway structure
Year 12

Welcome and introduction session - Meet the Discover Law students and find out more about the pathway.
Sheffield Combined Courts Visit - Find out about careers from a practising judge and watch live court cases from the public galleries.
Law Taster Day - Staff from the School of Law will hold interactive workshops to help you experience different areas of law. 
Residential Summer School - This three day residential summer school will give you a taste of life as a University of Sheffield student. During the week you will take part in a range of interactive sessions including taster sessions and an Alumni speed-networking session. You will also take part in social activities during the evenings with other Discover students. You will stay in our award winning student accommodation in your own en-suite room.
Work Experience - Apply for one of our fantastic work experience opportunities in the local area.

Year 13

UCAS Guidance and Personal Statement Support - We can help you prepare a strong UCAS application, with a focus on your personal statement.
Bar Careers Session - Explore careers at the Bar in this virtual session which consists of guest speakers from a number of career pathways.
Studying Law at Sheffield - Learn from current law students about what it's really like to study law at Sheffield and what exciting opportunities are available to our law undergraduates.
Celebration Evening - Students who have successfully completed the Discover Law programme will be invited to a Celebration Evening, along with their parents and supporters, to celebrate their involvement and success with other Discover students from across all five pathways. There will also be tailored sessions for parents/supporters to engage with.
Programme outcomes
Adjusted offer
Students who successfully complete the pathway will be eligible for a conditional offer for degrees at The University of Sheffield, subject to meeting pre-requisits, with the exception of degrees in Medicine, Dentistry and Health.
To qualify for an adjusted offer for Medicine you must have completed the Discover Medicine pathway and to qualify for an adjusted offer in Dental Surgery you must have completed Discover Dental Professions.
If you wanted to take a 1 x year gap break before applying to The University of Sheffield, or need to resit A Levels to achieve a higher grade, the adjusted offer would be made available in the following year only.
---
Eligibility requirements
Academic criteria
A Level (or equivalent) requirements:
No specific subject requirements but should be studying at least 3 A Levels or relevant equivalent and at least 2 should be on the University's acceptable subject list
GCSE requirements:
Min. 5 A*-B (or 9-6), plus a minimum of C (4) in English if not already included
Widening Access Criteria
Essential:
Meet academic criteria as per pathway
Meet at least one of the following:
Live in an area of Low Participation in Higher Education (measured by POLAR4 data)
Live in an area of high deprivation signalled by IMD Q1 & Q2
Looked After Child / Young Adult Carers
Have a declared a disability
In receipt of free school meals
Is experiencing estrangement
Other criteria considered where capacity permits or considered in combination with above criteria:
Students from ethnic/gender/socio-economic groups which are currently under-represented within HE*
Each application will be considered on a case-by-case basis. Any exceptional circumstances stated by the student and/or the school, such as family upheaval or disrupted schooling, will provide additional context to applications.
---
Contact us
Email: discoverlaw@sheffield.ac.uk
Phone: 0114 222 1027 
Follow us on Instagram for an insight into our Post-16 Discover Programmes, our campus, and what it is like to be a Sheffield student.
Connect with us
Be the first to know about activities at the university as well as support that we can provide to you and your students.