Law affects almost everything we do, whether buying a bus ticket, downloading something from the internet or talking on our mobile phones.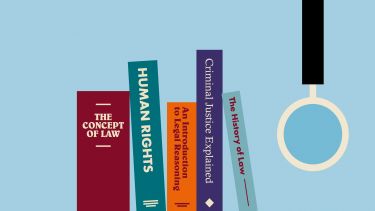 Law is the body of rules and regulations that is used to govern a society and the behaviour of its members. It protects our rights from abuse and punishes those who commit crime. If you are interested in making a contribution to a fair society and defending our rights, then a career in law can be very rewarding.
Discover Law is a two year programme designed for students who are interested in finding out more about studying and having a career in law.
Participants on the programme will have the opportunity to take part in on campus activities, external visits, and work experience placements which will give a first hand insight into a range of careers in law. Throughout the programme participants will also work with current undergraduate law students gaining an understanding of what studying a law degree here at Sheffield is really like.
Overall you'll be improving your knowledge, gaining and developing skills, enhancing your personal statement/CV and most of all making friends and having fun.
Pathway structure
Year 12

Join us for a welcome event where we'll tell you all about the pathway
Experience real life cases in a Sheffield law court and meet a judge
Get careers information from legal professionals at our Discovering Law Conference
Experience a three day residential summer school to give you a taste of life as a Law Student
Discover all the law degree courses on offer and decide which could suit you best
Apply for a law work placement
Participate in revision and academic study skills workshops to help with the transition to university

Year 13

Get expert guidance on applying to university and student finance at our UCAS workshop
Visit a major European Law firm in London and examine how ex-offenders are rehabilitated into society through a research workshop
Continue developing revision and academic study skills
Join us for a celebration event to recognise your success
Programme outcomes
Adjusted offer
Students who successfully complete the pathway will be eligible for a conditional offer for degrees at The University of Sheffield, subject to meeting pre-requisits, with the exception of degrees in Medicine, Dentistry and Health.
To qualify for an adjusted offer for Medicine you must have completed the Discover Medicine pathway and to qualify for an adjusted offer in Dental Surgery you must have completed Discover Dental Professions.
If you wanted to take a 1 x year gap break before applying to The University of Sheffield, or need to resit A Levels to achieve a higher grade, the adjusted offer would be made available in the following year only.
---
Eligibility requirements
Academic criteria
A Level (or equivalent) requirements:
No specific subject requirements but should be studying at least 3 A Levels or relevant equivalent and at least 2 should be on the University's acceptable subject list
GCSE requirements:
Min. 5 A*-B (or 9-6), plus a minimum of C (4) in English if not already included
Widening participation criteria (essential)
Widening participation Criteria (additional - between one and all of the following)
Are from a low progression to HE area and the lowest socio-economic groups
Are a Looked After Child/Young Adult Carer/Estranged student
Are a student with a declared disability
Have individual circumstances that mean they will need to overcome other barriers to learning/progression. (We will assess this element on an individual basis, based on the information provided by the school)
Are in the first generation of their family to enter Higher Education (HE) (other than siblings, or parents who attended HE as a mature student)
---
Contact us
Email: discoverlaw@sheffield.ac.uk
We are currently working remotely so our usual landline phone lines are not in use. To arrange a call back please email us as listed above. 
Follow us on Instagram for an insight into our Post-16 Discover Programmes, our campus, and what it is like to be a Sheffield student.
Connect with us
Be the first to know about activities at the university as well as support that we can provide to you and your students.