The School of East Asian Studies is a truly international department with staff and students from across the East Asia, Australasia and Europe coming together to study East Asia.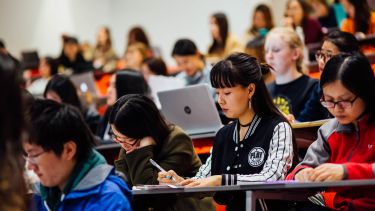 Off
All of our staff members speak at least two languages and publish work of an international nature and standard. International research within the school focuses on international relations, history, culture, politics and societies.
Our courses attract a diverse range of students – many graduates suggest that this was of great benefit to their study as not only did they expand knowledge of their subject, but also world-wide cultures and views of the world The international perspective a qualification from us offers is an invaluable asset and we are proud of the school's global community.
---
I really enjoy the international culture of Sheffield. There are so many people from all over the world and you can learn about different cultures and make life-long friends.

Mateusz Kołodziejczyk

East Asian Business MSc
---
Your support
Departmental language programme
The SEAS department in collaboration with the Departmental Language Programme (from the English Language Teaching Centre) offers language and academic literacy skills development opportunities for undergraduate, postgraduate taught or postgraduate research students. These can be courses, tutorials or workshops.
The ELTC tutor assigned to your department can help you further improve your language and writing skills within your subject area. For more information, visit the DLP website.
Global campus
The University's Global Campus programme provides students with help settling into life in Sheffield and the UK. Through Global Campus there are various opportunities to meet other students from around the world, find out more about British culture and help improve your English language skills and confidence.
---
Life in Sheffield
A world-class university – a unique student experience
Sheffield is a research university with a global reputation for excellence. We're a member of the Russell Group: one of the 24 leading UK universities for research and teaching.