At Sheffield, we recognise that sustainable development cannot be adequately addressed by a single individual or team working in isolation. These complex problems span many areas of our operations and require a holistic approach to overcome.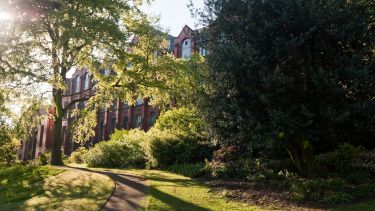 Sustainability at Sheffield brings together our strengths as an institution. Our academics are researching the solutions to our social and environmental challenges, our professional services staff are delivering sustainability projects across campus and our dedicated and passionate students ensure student priorities are represented. Sustainability governance structures reflect these strengths to make sure that our work is informed by the latest research and students are involved in shaping our agenda.   
The University's sustainability work is managed and implemented by two groups.  
Sustainability Steering Group
Comprised of one senior representative from academic services, professional services and the Students' Union alongside University Executive Board supervision, the Steering Group oversees the University's sustainability performance, its strategic direction and policies.
Membership of the Sustainability Steering Group

Chair and University Executive Board Sustainability Sponsor
Professor Susan Hartley, Vice-President for Research

University Executive Board Member
Heidi Fraser-Krauss, Executive Director of Corporate Services

University Executive Board Member
Professor Mary Vincent, Interim Vice-President for Education

University Executive Board Member
Joanne Jones, Chief Financial Officer 

Professional Services Lead for Sustainability
Tracy Wray, Director of Corporate Communications & External Relations

Academic Lead for Sustainability
Dr Rachael Rothman, Co-Director of the Grantham Centre for Sustainable Futures

Student Lead for Sustainability
Jordan Weir, Students' Union Development Officer
Sustainability Delivery Group
The Sustainability Delivery Group brings together senior University and Students' Union staff and student representatives from across the University. Each member of the group is responsible for organising, resourcing and delivering cross-cutting sustainability projects and embedding sustainable values throughout the institution. It is co-chaired by the academic and professional services members of the Sustainability Steering Group. The breadth of departments represented in the Delivery Group allows us to ensure that we have a joined-up approach to embedding good sustainable practice across the University. This group meets on a monthly basis. 
Membership of the Sustainability Delivery Group

Co-Chairs    

Tracy Wray, Professional Services Lead for Sustainability 

Dr Rachael Rothman, Academic Lead for Sustainability 

Academic Members

Professor Duncan Cameron, Co-director, Institute for Sustainable Food

Professor Lenny Koh, Head, Energy Institute

Professor Vanessa Toulmin, Director of City and Culture

Dr Matt Watson, Senior Lecturer, Department of Geography

Student Representatives

Jordan Weir, Sheffield Students' Union Development Officer

Tim Allen, Sustainability Coordinator, Sheffield Students' Union

Evie Croxford, Chair of Student Sustainability Committee

Professional Services Staff

Caryn Masters, Director of Accommodation and Commercial Services

Peter Anstess, General Manager Retail Operations

Keith Lilley, Director of Infrastructure

Andrew Massey, Principal Engineer (Energy)

Phil Riley, Energy Manager

Charlotte Winnert, Environment and IMS Manager

Alice Potter, Sustainability Projects Assistant

Deborah Beck, Grantham Centre Manager

Dr Sarah Want, Director of Partnerships and Regional Engagement

Dr Rob Hardie, Sustainability Project Officer

James Merryclough, Sustainability and Communications Manager

Johann Beckford, Sustainability Coordinator

Elizabeth Tidswell, Head of Procurement
Our sustainability strategy
We have set the principles and direction for our sustainability strategy