You are viewing this course for 2021-22 entry.
Course description
Good journalists need traditional skills like spotting big stories and excellent newswriting and digital skills like video editing and social media. Our staff have decades of journalistic experience and teach all these techniques expertly.
As part of your course, you'll practise journalism for real, covering your own patch in the city. Every assignment will present a different challenge. You could be on location filming for a documentary. You may be reporting from a courtroom on the details of a criminal prosecution. Another day could find you interviewing a politician or a sports star. Your work experience will build up your portfolio of work and CV. Our many connections in the media industry help to open up a huge range of work experience opportunities.
They do this because the best journalists aren't just good at working a camera and note-taking in shorthand. The best journalists understand the difference between good and bad journalism. They grasp the responsibilities of their profession and its rich history. They know that journalism is about right and wrong, war and peace, liberty and democracy. It's about the life stories of people, societies, and entire continents.
And as a prestigious Russell Group university, where teaching is based on the highest-quality research, our staff are living, breathing and teaching these ideas.
Join us and follow recent graduates who are working for the BBC, Press Association, Bloomberg, The Guardian and media all over the world.
Our BA Journalism Studies course is currently accredited by the National Council for the Training of Journalists and the Professional Publishers Association.
Modules
The modules listed below are examples from the last academic year. There may be some changes before you start your course. For the very latest module information, check with the department directly.
Choose a year to see modules for a level of study:
Title: Journalism Studies BA course structure
UCAS code: P500
Years: 2021
Core modules:
Essential Journalism

This module develops news writing, news production and academic skills, combined with theoretical understanding of journalism in both a national and international context. It also provides an introduction to key future themes such as media law, ethics and analysing information. Students will learn how to write and structure news stories, develop interviewing skills, source and use quotes, and journalistic social media skills, amongst others. Themes include journalism and politics; media freedom; journalism and society; audiences; technology and innovation in Journalism; law and ethics, current debates in industry and analysing news agendas.

120 credits
Core modules:
Live News Production

This module will give students a range of multi-platform production skills to showcase their journalism and to enable them to operate as critically thinking professionals. The module will gradually build up students¿ real world experience and will enable them to operate as self-motivated individuals as well as within a team. Students will work as Journalists in a variety of ways - ranging from the fast paced Newsday environment to the production of features, documentaries, projects and portfolios over a longer period of time. Students will learn to work as professionals while adhering to industry guidelines and making connections with academic theory.

60 credits

Court Reporting

This module introduces journalism students to the skills required to write news reports from Crown, magistrates' and coroners' courts cases. Student will visit these courts to makes notes on real cases for these reports. Feedback is given to each student on their draft and finalised reports, and on their notes. Their accuracy in note-taking and speed in writing such a news report is assessed in a formal examination in which they write up a news report of a hypothetical `prosecution opening' of a trial.

20 credits

Media Law for Journalists

This module provides for those wishing to be journalists, or studying journalism, essential knowledge of media law applying in England and Wales, and of regulatory codes which UK journalists should comply with. This law includes that of defamation, privacy and contempt of court, and other law governing court reporting. The codes seek to uphold journalistic standards generally, including protection of people's privacy and of the identities of sources promised confidentiality. The module also demonstrates that UK journalists can assert `human rights' which in law and the codes uphold freedom of expression, including publication of material `in the public interest'.

20 credits
Optional modules:
Data Driven Storytelling

Data-driven approaches to reporting are gaining in popularity and importance in today¿s world. Established media institutions, such as The New York Times in the US or The Guardian and Press Association in the UK (and many more around the world) already have units that specialise in data journalism. Thus, it becomes essential for the next generation of journalists to be data-literate and to appreciate how data can be verified and used not only to find stories but to tell stories. This module is designed to make you confident and comfortable in working with data and, furthermore, to expand your journalistic toolkit for data-driven, analytic and investigative journalism.

20 credits

Introduction to Investigative Journalism

The module provides an introductory grounding in the skill sets, methodology and knowledge needed for investigative journalism, and includes practical assessment. It includes opportunity for students to further develop knowledge of how to use the Freedom of Information Act.

20 credits
Core modules:
Final Project

You will prepare and execute a substantial piece of work that either analyses an issue in journalism, or is a piece of journalism publishable on a platform of your choice. Under the guidance of a named supervisor you¿ll be able to choose your own topic, and in the process be able to see how almost any topic can be investigated and researched from a journalistic and academic perspective. You¿ll be able to make an informed choice about the nature of your project in relation to your own strengths, weaknesses and ambitions.

40 credits

Advanced Broadcast Journalism

This module introduces students to journalistically and technically complex formats common in contemporary broadcast production, such as features and programmes. Students will be expected to work easily in both radio and television formats and will be able to develop their creative use of both media. Project work will include news features for both radio and television, and the production of radio and television programmes in contemporary formats. Students will also have an opportunity to reflect critically on their work and broadcast news conventions.

20 credits

Magazine Journalism and Feature Writing

What comprises good writing? This module will require you to take to a new level the writing skills you have learned over the past two and a half years. You will explore a variety of story telling techniques and test your versatility, learning how to write well in a variety of styles for particular audiences. You will also learn to consider not just what you have written but how it is utilised on the page. And you will explore issues of magazine production and team work, culminating in the production of a new magazine.

20 credits

Visual Journalism

Do you want to work in television or be a social media journalist? This module will give you more insight into visual journalism in both areas and give you the skills to create your own video for either format.

20 credits
Optional modules:
Free Speech and Censorship

Free Speech and Censorship critically explores the historical and contemporary status of freedom of speech and expression and the limits and constraints on this liberty. The module covers topics as varied as the philosophies of free speech; the history and significance of free speech; debates about harm and offence; the political economy of censorship; privacy and surveillance; censorship during war and informal censorship. Students taking this module should be interested in examining these debates as they apply to contemporary media and political systems. Assessment is via a case study on a topic selected by the student and approved by the module leader.

20 credits

Gender, Feminism and the Media

This module critically examines the media through a feminist and gendered perspective. It considers how women, 'femininity' and women's issues are constructed in the media across a variety of cultural contexts. It introduces theories and approaches with which to analyse a variety of media including newspapers, magazines, and social media. Students will comparatively analyse traditional and social media from a feminist, intersectional, and postcolonial perspective. They will consider the role of the media in both perpetuating, but also challenging, normative ideas about gender. The module draws on a variety of case studies. Topics include LGBTQI+ identity, activism, and the body.

20 credits
The content of our courses is reviewed annually to make sure it's up-to-date and relevant. Individual modules are occasionally updated or withdrawn. This is in response to discoveries through our world-leading research; funding changes; professional accreditation requirements; student or employer feedback; outcomes of reviews; and variations in staff or student numbers. In the event of any change we'll consult and inform students in good time and take reasonable steps to minimise disruption. We are no longer offering unrestricted module choice. If your course included unrestricted modules, your department will provide a list of modules from their own and other subject areas that you can choose from.
Learning and assessment
Learning
You'll undertake practical journalism work, gathering news from around the city and preparing content using our professional-quality editing suite, newsrooms and broadcast studios. And you'll learn journalism ethics, law, history and critique through our lecture and seminar programmes.
Our staff include professional journalists with many years of experience in radio, TV, newspapers, magazines and digital media. They also include academic researchers with big reputations for their work on journalism safety, freedom of expression, media law and ethics, political communication, and much more.
Assessment
You'll be assessed in a number of ways, including both exams and coursework you produce in response to theory-based modules, and through the news stories and broadcasts you create as part of the practical elements of the degree. There'll also be the opportunity to sit exams for the NCTJ diploma qualification.
Programme specification
This tells you the aims and learning outcomes of this course and how these will be achieved and assessed.
Entry requirements
Standard offer
Access Sheffield offer
The A Level entry requirements for this course are:
ABB
The A Level entry requirements for this course are:
BBB
A Levels + additional qualifications | BBB + B in a relevant EPQ BBB + B in a relevant EPQ
International Baccalaureate | 33 32
BTEC | DDD in a relevant subject DDM in a relevant subject
Scottish Highers | AAABB AABBB
Welsh Baccalaureate + 2 A Levels | B + AB B + BB
Access to HE Diploma | 60 credits overall in a relevant subject with 45 at Level 3 with Distinctions in 30 Level 3 credits and Merits in 15 Level 3 credits 60 credits overall in a relevant subject with 45 at Level 3 with Distinctions in 24 Level 3 credits and Merits in 21 Level 3 credits
English language requirements |
You must demonstrate that your English is good enough for you to successfully complete your course. For this course we require: GCSE English Language at grade 4/C; IELTS grade of 7.5 with a minimum of 7.0 in each component; or an alternative acceptable English language qualification
Department of Journalism Studies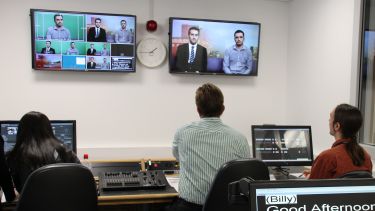 Study with us and you'll learn vital practical skills: how to spot big stories and write sparkling copy, video editing, shorthand and advanced social media.
Because of our research expertise as an elite Russell Group university, you'll also discover how journalism is part of an epic social narrative about right and wrong, liberty and democracy, war and peace: about the life stories of people, societies and entire continents. We don't just teach you how, we show you why.
Join us and you'll be taught by professional journalists with years of experience in TV, radio, newspapers and magazines; and by influential academic researchers with powerful international reputations, who write the textbooks that journalists learn from.
Journalism at Sheffield extends beyond the university. As well as seminars and lectures on campus and production work in the newsrooms and Broadcast Zone, you'll be assigned your own patch of the city to report from. This means building up local contacts to help you hunt down stories, and there's court reporting too.
We'll also help you find a work experience placement so you can sharpen up your skills in a real-life newsroom or other professional communications setting.
Facilities
We invested £3 million in a stunning refurbishment of the building at 9 Mappin Street, providing an excellent new home for the department.
Our students and staff have three storeys of state-of-the-art broadcast studios, multimedia newsrooms, breakout spaces, bright new offices, and a fabulous common room.
It's the perfect setting for our students to gather experience of a real working news environment.
Department of Journalism Studies
Why choose Sheffield?
The University of Sheffield
  A Top 100 university 2021
QS World University Rankings
  Top 10% of all UK universities
Research Excellence Framework 2014
  No 1 Students' Union in the UK
Whatuni Student Choice Awards 2019, 2018, 2017
---
Department of Journalism Studies
UK top five for journalism
The Guardian university league tables 2020, The Complete University Guide 2020, Times/Sunday Times University Guide league tables
93% overall student satisfaction - the best in the Russell Group for journalism
National Student Survey 2020
---
Graduate careers
Department of Journalism Studies
Our graduates are highly regarded by employers and work right across the media. Many begin on local newspapers and radio as junior reporters and the best move up to national or international level in roles such as editor or digital media editor. Some specialise in social media or video production.
Recent graduates are working for the BBC, Daily Mail, The Guardian, Press Association, Oxford University Press, magazines, radio and digital media all over the world. Some go into public relations, teaching and other areas where communication skills are at a premium.
Fees and funding
Fees
Additional costs
The annual fee for your course includes a number of items in addition to your tuition. If an item or activity is classed as a compulsory element for your course, it will normally be included in your tuition fee. There are also other costs which you may need to consider.
Visit us
University open days
There are four open days every year, usually in June, July, September and October. You can talk to staff and students, tour the campus and see inside the accommodation.
Taster days
At various times in the year we run online taster sessions to help Year 12 students experience what it is like to study at the University of Sheffield.
Applicant days
If you've received an offer to study with us, we'll invite you to one of our applicant days, which take place between November and April. These applicant days have a strong department focus and give you the chance to really explore student life here, even if you've visited us before.
Campus tours
Campus tours run regularly throughout the year, at 1pm every Monday, Wednesday and Friday.
Apply for this course
Make sure you've done everything you need to do before you apply.
How to apply When you're ready to apply, see the UCAS website:
www.ucas.com
The awarding body for this course is the University of Sheffield.