Electrical and Electronic Engineering with a Year in Industry
MEng
Department of Electronic and Electrical Engineering
Apply for this course
You are viewing this course for 2022-23 entry.
Course description
Core topics include power systems, power electronics, electrical machines and drives and motion control systems.
All our first-year students take part in the faculty's Global Engineering Challenge, working with students from other engineering disciplines to solve a real-world problem. All second years get to work on a week-long project devised by one of our industry partners. You'll also get the chance to work with an engineering company through the Sheffield Industrial Project Scheme.
In your third year you'll carry out your own research project, supervised by an academic.
You'll have the chance to arrange a year in industry. This will put your academic studies into context, improve your skills and enhance your employment prospects.
In your final year, you will work as part of a multidisciplinary team on a research project led by an academic with industry input.
Accredited by the Institution of Engineering and Technology on behalf of the Engineering Council for the purposes of fully meeting the academic requirement for registration as a Chartered Engineer.
Modules
A selection of modules are available each year - some examples are below. There may be changes before you start your course. From May of the year of entry, formal programme regulations will be available in our Programme Regulations Finder.
Choose a year to see modules for a level of study:
Title: Electrical and Electronic Engineering with a Year in Industry MEng course structure 2022
UCAS code: H634
Years: 2022
Core modules:
Digital System Engineering

This module introduces the basic principles underlying the design of electronic systems. The ideas are discussed mainly in the context of digital design which cannot be undertaken realistically without some level of system thinking and planning. Other areas of system design will be used to illustrate and reinforce the idea that system design ideas apply to many fields beside digital design. The module will also introduce some of the computer based tools used by system designers for simulation and verification.

20 credits

Electrical Circuits and Networks

This module introduces the basic principles underlying electric circuits. The idea of a circuit, and the concepts of voltage, current and power are introduced for both alternating and direct sources. The interaction between electrical circuits and magnetic circuits is discussed and the idea of mutual coupling and transformers is introduced. Formal analysis methods such as nodal, loop and superposition are introduced in the context of dc and ac circuits and the complex notation for ac quantities applied to the latter. The calculation of power in a range of contexts is discussed extensively.

20 credits

Electronic Devices and Circuits

This module introduces the physical principles that govern the properties and applications of the active and passive circuit components that comprise all electronic and electrical circuits. Issues affecting the practical behaviour of resistors, capacitors and especially diodes and transistors are discussed. The circuit environments in which diodes and transistors are used, and the models describing their internal behaviour and external interactions, are introduced. It is shown how transistors and diodes can be used in both switching circuits and amplifier circuits and the important concept of small signal modelling is introduced in the context of the latter.

20 credits

Mathematics (Electrical)

This module aims to reinforce students' previous knowledge and to develop new basic mathematical techniques needed to support the engineering subjects taken at levels 1 and 2. It also provides a foundation for the level 2 mathematics courses in the appropriate engineering department.

20 credits

General Skills

This is a general skills module which encompasses a range of professional development activities that will be useful throughout the remainder of your degree and career. These include practical skills in the laboratory, simulation skills for analysing circuits, communication skills and career development.

You will learn to use the full range of industry standard laboratory equipment such as oscilloscopes, waveform generators and soldering workstations. A series of engaging exercises, both in the lab and using advanced simulation tools, are designed to build up your proficiency in practical engineering. You will use measurements to determine the mystery components in hidden boxes, practice soldering and fault-finding on printed circuit boards, and combine programming with circuits using microcontrollers to solve real world challenges. Many activities have short written tasks aligned to them, allowing focused practice at technical communications with rapid feedback from staff.

In the personal tutorials programme, you will work through personal development activities in small groups, such as effective CV writing and communication skills. You will receive regular feedback on your personal development through skills audits aligned to the Sheffield Graduate Attributes. Some activities will be individual, such as researching your own employability strategy to get your dream engineering job, while others will be in teams, such as giving peer feedback on presentations and an exciting team-based robotics challenge.

The module culminates in an independent construction project that will require all of your skills together - past projects have included creating audio speaker circuits (handling digital input signals right through to audible sound outputs) and infra-red remote controls.

The combination of the two strands to the module will prepare you to work as a professional engineer throughout your degree programme and beyond.

10 credits

Introduction to Energy

This module introduces the concepts of electricity and energy in the home. It is aimed at a wide audience and answers those questions that many people have about energy, electricity and renewables but don't know who or how to ask. The module will use only basic arithmetic maths - multiplication, division, addition and subtraction. Renewable energy sources such as solar PV panels, small wind turbines and heat pumps will be described. What savings can you really make? Petrol vs diesel cars, how does electric fit into the picture?

10 credits

Programming

This unit deals with practical programming. Students will study and practise programming in C andMatlab to provide underpinning skills for their development as engineers.

10 credits

System Design Analysis

This module gives you a hands-on appreciation of the design, manufacture and operation of electrical and electronic products. It will consist of lectures plus up to six laboratories.

There will be two types of laboratories:
(a) Deconstruction, and
(bi Construction.

In (a) you will be guided through the deconstruction of defunct commonplace electrical products. You will discover how the products are made and how the various sub-components interact.

In (b) you will build some simple electrical/electronic systems. The lectures will be used to facilitate the labs and will include discussions of the material characteristics of the products alongside issues of recycling and sustainability.

10 credits

Global Engineering Challenge Week

The Faculty-wide Global Engineering Challenge Week is a compulsory part of the first-year programme. The project has been designed to develop student academic, transferable and employability skills as well as widen their horizons as global citizens. Working in multi-disciplinary groups of 5-6, for a full week, all students in the Faculty choose from a number of projects arranged under a range of themes including Water, Waste Management, Energy and Digital with scenarios set in an overseas location facing economic challenge. Some projects are based on the Engineers Without Borders Engineering for people design challenge*.

*The EWB challenge provides students with the opportunity to learn about design, teamwork and communication through real, inspiring, sustainable and cross-cultural development projects identified by EWB with its community-based partner organisations.
Core modules:
Electrical Energy and Conversion

An outline of the electrical supply infrastructure, including the plurality of electrical energy generation modalities currently in use, is followed by elementary ideas behind protection, safety and tariff structures. The characteristics of electrical machines are discussed together with the circuit strategies that can be used to control of machine performance. Circuits for more general high efficiency power management are also described. Circuits dealing with power will dissipate energy and that energy must be removed if overheating is to be avoided - elements of thermal management are discussed in the context of audio power amplifiers.

30 credits

Analogue and Digital Electronics

This module brings together the underlying physical principles of BJT, JFET and MOSFET devices to show how structural decisions in device design affect performance as a circuit element. Basic circuit topologies such as long - tailed pairs, Darlington transistors and current mirrors are described as a precursor to exploring the internal design of a typical op-amp. Common applications of op-amps are discussed. The relationship between device structure and performance in simple CMOS circuits is explored and applied to real digital circuit applications. Digital system design strategies are introduced with examples drawn from everyday embedded digital systems.

20 credits

Communication Electronics

This module introduces the basic structure of a communication system and examines the various circuits and signal engineering strategies that are necessary to make a system work. The fundamental building blocks of a communications system are introduced and analysed in terms of the critical design metrics. Following on from the system approach, a range of circuit components are introduced and analysed such as filters and oscillators. This approach will provide you with a range of levels of system and component understanding such that you can apply these to designs.

20 credits

Design Project

You will undertake an extended design project (chosen from a list of possible projects covering a range of topics relevant to the various degree programmes for which this is a core element). The design projects will encompass modelling, design, implementation and test. The list of available projects will change from time-to-time but will encompass antennas, radio circuits, embedded processors, digital systems, semiconductors, generators and switching power converters.

10 credits

Engineering Software Design

This module builds on the C programming learned in year 1 by exploring both the higher level issues of programming, modelling, and skills that an Electronic Engineer should possess. Three mini projects using C and MATLAB and drawn from across the department. The aim is to develop in you the habits of object orientation (e.g. modularity, data hiding, etc.) using C and MATLAB, both commonly used industry standard tools, and writing software for embedded systems.

10 credits

Industrial Project

This module combines a two-day intensive workshop with a lecture series and an industrially inspired group project task under the SHIPS banner, SHIPS standing for SHeffield Industrial Projects Scheme. The intensive workshop aims to introduce such topics as employability, team working and project planning.

The group industrial project aims to allow you to develop skills in such areas as engineering problem solving, effective communication (both oral and written) and group project management; all by tackling a complex technical problem with difficult realistic constraints within a restricted time-scale.

10 credits

Managing Engineering Projects and Teams

The module is designed to introduce you to one of the key skills needed in your study and work. You will learn why projects are a key feature of engineering environments. You will also be introduced to the fundamentals of project management concepts and its terminologies. In addition, you will learn how to plan a project and deliver it for its successful completion.
It will introduce project management topics such as planning, scoping, scheduling, resources, cost and constraints. Additionally, you will develop an awareness of the importance of people for successful project delivery in practice, including stakeholders and team dynamics.

10 credits

Mathematics II (Electrical)

This module is part of a series of Level Two modules designed for the particular group of engineers shown in brackets in the module title. Each module consolidates previous mathematical knowledge and develops new mathematical techniques relevant to the particular engineering discipline.

10 credits

Engineering - You're Hired

The Faculty-wide Engineering - You're Hired Week is a compulsory part of the second year programme, and the week has been designed to develop student academic, transferable and employability skills. Working in multi-disciplinary groups of about six, students will work in interdisciplinary teams on a real world problem over an intensive week-long project. The projects are based on problems provided by industrial partners, and students will come up with ideas to solve them and proposals for a project to develop these ideas further.
Core modules:
Individual Investigative Project

To provide a structured individual design project to enable you to carry out practical and/or theoretical work which underpins your academic studies and allows for the acquisition and demonstration of a wide range of practical skills applied to engineering designs.

40 credits

Feedback Systems Design

The module provides an introduction to the modelling, analysis and design of feedback control systems using classical control theory. The focus is linear time-invariant (LTI) systems in the continuous-time domain, although a brief introduction is also provided to digital controllers.

10 credits

Finance and Law for Engineers

​​The module is designed to introduce engineering students to​ ​key areas of financial and legal risk​ ​that engineers should be aware of in​ ​their working environment. The module will draw directly on practical issues of budgeting, raising finance, assessing financial risks and making financial decisions in the context of engineering projects and/or product development. At the same time the module will develop students​'s​ understanding of the legal aspects of entering into contracts for the development and delivery of engineering projects and products and an awareness of environmental regulation, liability for negligence,​ ​intellectual property rights and the importance of data protection. Through a series of parallel running lectures in the two disciplines, the module will provide a working knowledge of the two areas and how they impinge on engineering practice. There will be a heavy emphasis on group working, report writing and presentation as part of the assessment supplemented by online exercises and an individual portfolio.

10 credits

Mathematics III (Electrical)

This module consolidates previous mathematical knowledge and develops new mathematical techniques relevant to electrical engineering at levels 3 and 4.

10 credits

Power Electronics

To introduce and develop an understanding of power electronic devices and circuits; to develop circuit analysis techniques, circuit understanding and design capabilities for use in ac and dc power converters.

10 credits
Optional modules:
Digital Engineering

This module provides an introduction to digital processor organisation, architecture, instruction set architectures and system organisation/design. It also provides elements on the underlying computer arithmetic and approaches to design (including Verilog Hardware Description Language). The module is underpinned by practical examples. The module then considers an important application area, looking at the fundamental concepts, underlying mathematics, design methodologies and techniques.

20 credits

Electromagnetic Fields and Devices

This module will introduce students static electric and magnetic fields, Maxwell's equations and the application of these equations to electro- and magento-static field problems. This will be extended to consider low frequency time-varying fields and the magnetic field calculations necessary to analyse rotating electrical machines. There will also be a consideration of the numerical methods used to solve magnetic field problems. These ideas will then underpin the second half of the module that will concentrate on the design of electrical machines, considering rating, windings and magnets.

20 credits

Electronics and Devices

This module aims to describe the generic circuit elements, analogue and digital and their associated properties which are typically used within IC circuits. Additionally, this module aims to bring you a level of understanding of VLSI design, such that you can design basic circuits.

Having considered integrated electronics at a circuit level, this module will then look at the fundamental properties of semiconductor materials and devices. It will introduce properties of semiconductor materials such as Si, GaAs and GaN. The semiconductor material properties will be used to design a range of devices including solar cell, photodetector, LEDs, Lasers and microwave devices. Heterojunctions and nanostructures (such as quantum wells) will be introduced to improve semiconductor device performance. The module also aims to provide the knowledge to exploit semiconductor properties, material selection and approaches in device designs.

20 credits

Power Engineering

This module will consider the design and performance of large power systems supply network. The module wil concentrate on models and techniques used to analyse the behaviour of such systems and the specification of major equipment used in such systems. The module will then build on this to consider the stability and fault analysis of such systems, identifying basic techniques for protection.

20 credits
Core modules:
Year In Industry

The course enables students to spend, typically, their third year of a BEng or fourth year of an MEng working in a 'course relevant' role in industry. This provides them with wide ranging experiences and opportunities that put their academic studies into context and improve their skills and employability. Students will also benefit from experiencing the culture in industry, making contacts, and the placement will support them in their preparation for subsequent employment.

120 credits
Core modules:
Group Project

The project, performed under the supervision of either two academic supervisors, or one academic supervisor and one second external marker from an industrial partner, takes the form of a multidisciplinary investigative or design project usually with a significant industrial input. Students are divided into multidisciplinary teams and presened with the project brief by the industrialists involved. Project activities are based in the research labs of the supervisor(s) although students may also have to make use of the facilities, normally within the Department. Students hold regular minuted progress management meetings with group members rotating their group management responsibilities.

45 credits
Optional modules:
AC Machines

This unit will introduce students to AC, Synchronous, Induction, and Synchronous/Switched Reluctance machines. It will consider operation, performance, characteristics and modelling.

15 credits

Advanced Computer Systems

This module looks at modern computer systems from operating systems down to the underlying computer architectures to provide a coherent view of how such systems work and how their performance can be improved, looking, in particular, at parallelism.

15 credits

Advanced Control of Electric Drives

This module explores advanced modelling and modern control strategies of electric drive systems with a focus on induction (IM) and permanent magnet synchronous machines (PMSM).

15 credits

Advanced Integrated Electronics

This module will advance your understanding of analogue and digital VLSI design. It concentrates on issues such as power consumption, the effect of interconnect, non-CMOS logic, circuit layout, analog amplifiers, data converters, and using Spice.

15 credits

Advanced Signal Processing

This module focuses on introducing advanced signal processing methods and technologies and their applications. Topics include multi-rate filtering and filter banks; signal transforms; random signals; adaptive filtering and array signal processing.

15 credits

Antennas, Propagation and Satellite Systems

Review and application of electromagnetic theory for antenna analysis. Radiation pattern, gain, input impedance. Half wave, full wave dipole antennas, monopole antennas. Image theory. Antenna arrays. Polarization: linear, elliptical, axial ratio. Aperture theory: Fourier analysis, Huygens-Kirchhoff formula, rectangular and circular aperture, effective aperture. Microstrip antennas. Propagation in a plasma: critical frequency, refractive index. Ionospheric/tropospheric propagation of HF/VHF radio waves: MUF, ionosonde. Satellite communications systems. Earth stations - types and performance. Satellite transponders - amplifiers, redundancy, transmitters, frequency translation. Multiple access systems. 

15 credits

Broadband Wireless Techniques

This module will give an understanding of the most up-to-date communication techniques used in the design and operation of broadband wireless systems based on OFDM technology such as WiFi, WiMAX and LTE. The module will explore the physical (PHY) layer, medium access control (MAC) and radio resource management functionalities of broadband wireless systems. It will also include an introduction to broadband wireless systems; the principles of OFDM, OFDMA and TDD/FDD multiple access; bit interleaved convolutional and turbo channel coding/decoding for OFDM systems; adaptive coding and modulation; frequency selective fading, channel estimation and equalisation; MIMO techniques; and network architectures.

15 credits

Data Coding Techniques for Communication and Storage

Processing techniques to enable transmission and storage of data, in a reliable and secure fashion, are a key element in nearly all modern communication systems. This module deals with data-coding techniques required for reliable and secure data transmission and storage. It covers various aspects of digital communication combining elementary communication theory with practical solutions to problems encountered.

15 credits

Electronic Communication Technologies

This module aims to provide you with a range of skills that are required when designing circuits and systems at high frequencies. Topics covered will include: electromagnetic interference mechanisms, circuit design techniques, filtering, screening, transmission lines, S-parameters, Smith charts, equivalent circuits for passive and active devices, radio frequency (RF) amplifier design, noise performance and nonlinearities of RF circuits and systems.

15 credits

Energy Efficient Semiconductor Devices

The efficient use of energy is of critical importance to future growth and well-being, providing a mechanism to reduce global emissions and to offset the impact of increasing fuel costs. Semiconductor devices can play can crucial role in this key global challenge, providing options which can both improve energy efficiency and also means for renewable energy generation. The course describes four key sectors where semiconductor devices are making considerable impact on energy efficiency.

15 credits

Energy Storage Management

This module looks at the storage and management of energy in electrical systems. It will consider:

(a) Fuel cells: the basic principles of hydrogen fuel cells, reaction
rate, cell interconnection, the bipolar plate, fuel cell types, ancillary components of a fuel cell system, advantages and disadvantages of fuel cell technologies.

(b) Batteries and supercapacitors: battery chemistries, energy/power densities of different batteries. Differences between electrochemical energy storage and electrical energy storage in supercapacitors, performance characteristics, charging, modelling, thermal effects, and measurement.

(c) Mechanical: Principles of mechanical energy storage, flywheels / compressed air. Mechanics of energy storage, precession torques and counter-rotating systems for vehicles. Energy management will include the ancillaries required to connect energy storage to the grid, including dc-dc and dc-ac inverters in addition to battery modelling approaches commonly used for state of charge and state of health monitoring.

15 credits

Engineering Commercial Success: And making the world a better place!

Students work in interdisciplinary teams to create solutions to a real problem provided by a real customer. Typically the customer will be a member or members of the community e.g. children with disabilities, terminally ill people, etc. Student teams learn how to solicit needs from user interviews and go on to create (and where possible prototype) solutions that meet functional, commercial and social requirements. Students are supported by a variety of external experts including investors, marketeers, business advisors and manufacturers. Teams pitch their proposals to an invited audience and expert judges. Prizes are then awarded to the best presentations.

15 credits

Managing Innovation and Change in Engineering Contexts

This module introduces you to the importance of innovation in manufacturing and service organisations whose primary business activity is engineering and/or technology. Innovation management is introduced as the thoughtful combination of new product/process development and change management. Through case studies, theoretical frameworks, and tools you will come to understand innovation at multiple scales: international, national, regional, organisational and team, with particular emphasis on how organisations manage and exploit the commercial risks and opportunities inherent in innovation, and how project teams and engineers can respond to innovation challenges effectively. The module is aimed at engineering students of any discipline.

15 credits

Mobile Networks and Physical Layer Protocols

This module aims to provide an overview of how mobile communications networks operate and descriptions of the radio technology used over the air interface and the physical layer protocols used in GSM, 3G, 4G and 5G mobile networks. More specifically, the syllabus will cover: the description and demonstration of current UK cellular mobile networks with a historical perspective; antenna design for the radio-frequency interface, including handset, vehicle and base station antennas; multiple antenna arrays; health related issues of mobile handsets; radio propagation issues, diversity gain, Rake reception; link budgets; cellular network design and deployment strategies; modulation schemes; and GSM/3G/4G/5G physical layer protocols.

15 credits

Motion Control and Servo Drives

This module investigates, in detail, the performance and operational characteristic of both modern a.c. and d.c. variable speed drives and actuation systems, as well as their applications in electric/hybrid vehicle traction.

15 credits

Nanoscale Electronic Devices

The course aims to provide students with an understanding of the science and technology which underpins modern electronic device technology, with an emphasis on integrated electronic devices at the nanoscale.

15 credits

Optical Communication Devices and Systems

The course examines the behaviour of the components in a communications system and the way in which their design and individual performance is determined by that of the system requirements.

15 credits

Permanent Magnet Machines and Actuators

This module looks at the topologies for, design of, and characteristics of permanent magnet electrical machines. It will look at these machines from the types of magnets employed, electromagnetic torque, thermal behaviour and modelling through the winding of such machines to the design of a range of machines; for example brushless AC/DC, fractional slot, switched/transverse flux.

15 credits

Power Electronics Converters

This module introduces power conversion principles, defines the terminology and analyses operational principles, modulation methods and control of selected power converters topologies for industrial applications.

15 credits

Power Semiconductor Devices

This module will look at power semiconductor devices: physics, technology, characteristics, packaging and application.

15 credits

Principles of Communications

This course considers the mathematical foundations and the derived theories and techniques used by a wide range of communication systems, particularly the more recent digital systems. The aim is to provide the very mathematical foundation for understanding modern communication systems, present the structure of modern communication systems and the basic issues at each stage in the system, and create a theoretical background that applies to all communication systems and is not affected by any particular technology.


15 credits

Principles of Semiconductor Device Technology

The unit describes the basic structure of materials and their relationship to the requirements of semiconductor devices for future applications, leading to methods of crystal growth, fabrication, modelling and characterization. The focus is on devices that underpin CMOS and its future evolution in AI: starting with the MOSFET, and leading on to future devices such as TunnelFET, Negative Capacitance FET and the Resistive Random Access Memory (RERAM).

15 credits

Semiconductor Materials

This module describes the basic physical properties (structural, optical, electrical) of semiconductor materials used in the electronic and opto-electronic industries, and in semiconductor based research. The aim is to equip you with a comprehensive background understanding of the physical, structural, optical, electronic properties of semiconductor materials used in modern electronic and opto-electronic devices. There is a laboratory assignment where characterisation of epitaxially-grown material will be performed.

15 credits

System Design

This module is concerned with the management of complexity in system design. To learn the basics of structured approach to design of complex systems, you will undertake a design project that requires the application of state of the art design tools that help to achieve appropriate error free design structures.

15 credits

Wireless Packet Data Networks and Protocols

The aim of this module is to give an understanding of the functionality of packet switching protocols at different layers of a wireless system and to appreciate how these protocols achieve reliable data delivery in wireless communication systems. The module also includes an introduction to packet switching in wireless networks; radio link protocols, CRC, ARQ and hybrid-ARQ; MAC protocols; packet scheduling and differentiated quality of service; routing, IP protocol, mobile IP, wireless TCP and end-to-end quality of service; radio resource management, network planning and optimisation; network examples - WiFi, HSPA or LTE.

15 credits
The content of our courses is reviewed annually to make sure it's up-to-date and relevant. Individual modules are occasionally updated or withdrawn. This is in response to discoveries through our world-leading research; funding changes; professional accreditation requirements; student or employer feedback; outcomes of reviews; and variations in staff or student numbers. In the event of any change we'll consult and inform students in good time and take reasonable steps to minimise disruption. We are no longer offering unrestricted module choice. If your course included unrestricted modules, your department will provide a list of modules from their own and other subject areas that you can choose from.
Learning and assessment
Learning
Learning will be delivered through a combination of lectures, practical labs and tutorials as well as independent study that is supported by problem classes.
In your first and second year all your labs will be held in the Diamond where you will use industry grade equipment and have lab sessions in the dedicated teaching clean room.
You will spend your third year working full-time for an engineering company. This will put your study into context and enhance your career prospects.
Our teaching is informed by the research that our department is involved with. This results in learning by a combination of theory and hands on practical lab sessions in our state of the art facilities with courses that are accredited by the Institute of Engineering and Technology (IET).
Assessment
You will be assessed using a mixture of exams/tests, coursework and practical sessions.
Programme specification
This tells you the aims and learning outcomes of this course and how these will be achieved and assessed.
Entry requirements
The A Level entry requirements for this course are:
AAA
including Maths and either Physics, Chemistry or Electronics
The A Level entry requirements for this course are:
AAB
including Maths and either Physics, Chemistry or Electronics
A Levels + additional qualifications | AAB, including Maths and either Physics, Chemistry or Electronics + A in a relevant EPQ; AAB, including Maths and either Physics, Chemistry or Electronics + A in AS or B in A Level Further Maths AAB, including Maths and either Physics, Chemistry or Electronics + A in a relevant EPQ; AAB, including Maths and either Physics, Chemistry or Electronics + A in AS or B in A Level Further Maths
International Baccalaureate | 36, with 6 in Higher Level Maths and either Physics, Chemistry or Electronics 34, with 6, 5 in Higher Level Maths and either Physics, Chemistry or Electronics
BTEC | DD in Engineering or Applied Science + A in A Level Maths DD in Engineering or Applied Science + B in A Level Maths
Scottish Highers + 2 Advanced Highers | AAAAB + AA in Maths and either Physics, Chemistry or Electronics AAABB + AB in Maths and either Physics, Chemistry or Electronics
Welsh Baccalaureate + 2 A Levels | A + AA in Maths and either Physics, Chemistry or Electronics B + AA in Maths and either Physics, Chemistry or Electronics
Access to HE Diploma | 60 credits overall in a relevant subject, with 45 credits at Level 3, including 39 credits at Distinction (to include Maths and Physics) and 6 credits at Merit. A Maths test may also be required 60 credits overall in a relevant subject, with 45 credits at Level 3, including 36 credits at Distinction (to include Maths and Physics) and 9 credits at Merit. A Maths test may also be required
English language requirements |
You must demonstrate that your English is good enough for you to successfully complete your course. For this course we require: GCSE English Language at grade 4/C; IELTS grade of 6.0 with a minimum of 5.5 in each component; or an alternative acceptable English language qualification
Department of Electronic and Electrical Engineering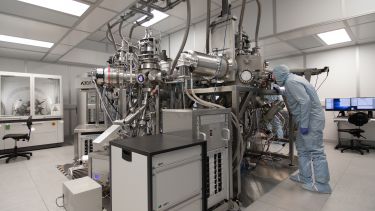 We have been at the forefront of research and teaching within the field of electronic and electrical engineering for over a century. In that time the use of electronics has become mainstream requiring challenges to be overcome to provide solutions for everyday needs.
Our students learn from academic experts who have strong links with partners in industry. Our state-of-the-art laboratories allow you to get hands on with equipment used in industry as preparation for your career.
Our wide range of MEng and BEng undergraduate degree programmes provide you with a robust understanding of the principles of electronic and electrical engineering. We offer a common start to all our degrees which offers you the flexibility to change courses at the end of your first year if you wish to focus on certain areas of interest.
All of first year students take part in the faculty's Global Engineering Challenge, working with students from other engineering disciplines to solve a real-world problem. In your third year, you will work on your own research project supervised by an academic.
All our courses are accredited by the Institution of Engineering and Technology. A four-year MEng meets all the academic standards for Chartered Engineer (CEng) status. If you take our three-year BEng, you'll need to complete some further learning to satisfy the requirements.
Department of Electronic and Electrical Engineering
Why choose Sheffield?
The University of Sheffield
  A top 100 university 2022
QS World University Rankings
  Top 10% of all UK universities
Research Excellence Framework 2014
  No 1 Students' Union in the UK
Whatuni Student Choice Awards 2020, 2019, 2018, 2017
---
Department of Electronic and Electrical Engineering
Top 10 in the UK for Electronic and Electrical Engineering
World University Rankings 2019
---
Graduate careers
Department of Electronic and Electrical Engineering
Typical graduate job titles include cybersecurity consultant, design engineer, energy engineering consultant, system engineer, electrical engineer, technology analyst, nuclear controls engineer, software engineer and electronics field engineer.
Employers of graduates include ARM, ARUP, BAE Systems, Barclays, Deloitte, Jaguar, Nissan, National Grid, National Instruments, Renault, Rolls Royce, Shell, Siemens, Unilever and Volvo.
Fees and funding
Fees
Additional costs
The annual fee for your course includes a number of items in addition to your tuition. If an item or activity is classed as a compulsory element for your course, it will normally be included in your tuition fee. There are also other costs which you may need to consider.
Visit us
University open days
There are four open days every year, usually in June, July, September and October. You can talk to staff and students, tour the campus and see inside the accommodation.
Taster days
At various times in the year we run online taster sessions to help Year 12 students experience what it is like to study at the University of Sheffield.
Applicant days
If you've received an offer to study with us, we'll invite you to one of our applicant days, which take place between November and April. These applicant days have a strong department focus and give you the chance to really explore student life here, even if you've visited us before.
Campus tours
Campus tours run regularly throughout the year, at 1pm every Monday, Wednesday and Friday.
Apply for this course
Make sure you've done everything you need to do before you apply.
How to apply When you're ready to apply, see the UCAS website:
www.ucas.com
The awarding body for this course is the University of Sheffield.
Recognition of professional qualifications: from 1 January 2021, in order to have any UK professional qualifications recognised for work in an EU country across a number of regulated and other professions you need to apply to the host country for recognition. Read information from the UK government and the EU Regulated Professions Database.