You are viewing this course for 2022-23 entry. 2021-22 entry is also available.
Course description
This course is for graduates with an appropriate life sciences degree who come from a widening participation background. You'll bypass phase 1 (the first year) of the A100 Medicine degree and start in phase 2 with an introductory module instead of a research project.
Based on a patient-centred approach, the course is designed around common and important clinical conditions. It relates clinical medicine to the underlying medical sciences. You'll have the opportunity to develop your clinical competencies from the very start.
The course includes clinical teaching on wards in hospitals, clinics (both in general practice and in hospitals), lectures, seminars, tutorials, small group work, dissection and personal development supported by experienced teachers and personal academic tutors. We aim to ensure you're well prepared for a career in medicine.
The medical course at Sheffield offers a broadly-based but extensive education and training incorporating the recommendations of the General Medical Council's report Outcomes for Graduates. The course leads to the professional qualification of Bachelor of Medicine and Bachelor of Surgery (MBChB).
Our MBChB programme has been designed to educate and train you so that you will become a doctor equipped with the clinical abilities, knowledge, attitudes and professional behaviours needed to become a junior hospital doctor. This preparation will also prepare you for your continued professional development after graduation.
This course is only open to home students from widening participation backgrounds. There are no international places available for this degree.
Course aims and philosophy
Course aims

Our medical course aims:

to equip students with the essential personal and professional skills required throughout the rest of their course and in their future careers
to integrate the basic and clinical sciences throughout the course
to cultivate in students an attitude of curiosity and a desire for intellectual exploration and critical evaluation.

A patient-centred approach

The underlying philosophy of the curriculum is that all learning and teaching should be thought of from the perspective of the patient. A medical curriculum should include what a student needs to know, understand and be able to do in response to the problems presented by patients in a range of health care settings. To achieve this the Sheffield medical course is designed around answering the following questions:

How should I talk to this patient?
What affects and guides our relationship?
Why do they think they're ill?
Why is the patient ill?
Is the illness part of a pattern?
How do I know my advice is the best?

To answer these successfully, students must develop skills and understanding in:

Communication and interpersonal relationships
Patients' perceptions
Biology of disease
Epidemiology and Public Health
Evidence-based medicine
Developing clinical skills 
Clinically led learning

The medical course in Sheffield is clinically-led and gives students opportunities to start developing their clinical skills from the very start. It is designed around the common and important clinical conditions and uses an integrated learning and teaching approach that relates clinical medicine to the underlying medical sciences.

Course themes

The two main themes that run throughout the course, Clinical Competencies and Medical Sciences are linked together by Integrated Learning Activities where students work in teams, and later in the course by themselves, to solve clinical problems. A combination of teaching approaches, including clinical teaching on the wards in hospitals, in clinics both in general practice and hospitals, lectures, seminars, tutorials, small group work, dissection, together with professionalism and patient safety training supported by experienced tutors and personal mentors helps ensure that graduates are well prepared for work in the National Health Service.
Accreditation and obtaining your license
Primary medical qualification (PMQ)

At the end of the undergraduate programme you'll receive your degree. The General Medical Council (GMC) approves your university's degree as a primary medical qualification (PMQ). This is important because, provided there are no concerns about your fitness to practise, a PMQ entitles you to provisional registration with the GMC for a licence to practise medicine in the UK.

Medical licensing assessment (MLA)

The GMC is introducing a Medical Licensing Assessment. The MLA will create a demonstration that anyone obtaining registration with a licence to practice medicine in the UK has met a common threshold for safe practice.  To obtain a PMQ, graduates from 2024 onwards will need to have a degree that includes a pass in both parts of the MLA. One part will be a test of applied knowledge (the AKT), set by the GMC and held at your medical school.  The other will be an assessment of your clinical and professional skills delivered by your medical school (the CPSA). Each School's CPSA must meet GMC-set quality assurance requirements. The MLA will test what doctors are likely to encounter in early practice and what's essential for safe practice. It intentionally will not cover the whole of a medical school curriculum. So, you will also need to meet your university's degree requirements. You can find out more about the MLA for UK students at www.gmc-uk.org/mla.

Foundation year one

Provisional registration is time limited to a maximum of three years and 30 days (1125 days in total).  After this time period your provisional registration will normally expire. Provisionally registered doctors can only practise in approved Foundation Year One posts: the law does not allow provisionally registered doctors to undertake any other type of work.  To obtain a Foundation Year One post you will need to apply during the final year of your undergraduate programme through the UK Foundation Programme Office selection scheme, which allocates these posts to graduates on a competitive bases. All suitably qualified UK graduates have found a place on the Foundation Year One programme, but this cannot be guaranteed, for instance if there were to be an increased number of competitive applications from non-UK graduates.

Full registration

Successful completion of the Foundation Year One programme is normally achieved within 12 months and is marked by the award of a Certificate of Experience. You will then be eligible to apply for full registration with the General Medical Council. You need full registration with a licence to practise for unsupervised medical practice in the NHS or private practice in the UK.

There is some discussion about whether to remove provisional registration for newly qualified doctors. If this happens then UK graduates will receive full registration as soon as they have successfully completed an MBChB (or equivalent) degree. It should be noted that it is very likely that UK graduates will still need to apply for a training programme similar to the current Foundation Programme and that places on this programme may not be guaranteed for every UK graduate.
Modules
The modules listed below are examples from the last academic year. There may be some changes before you start your course. For the very latest module information, check with the department directly.
Choose a year to see modules for a level of study:
Title: Graduate Entry Medicine MBChB course structure
UCAS code: A101
Years: 2021
(Sept Year 1 - June Year 1)
Students on this course bypass phase 1 (the first year) of the A100 Medicine degree.
September Year 2 to December Year 3
Basic clinical competencies
Introductory module
Early Years General Practice Placement
Clinical Attachments 
SSCs
Clinical Medical Sciences
Clinical Skills
Phase 2a of the course lasts for one academic year. Students joining Phase 2a from the A100 programme begin the phase with a six-week research project. Students joining Phase 2a from the A101 programme begin with a six-week introductory module that recaps some key elements of Phase 1 of the programme. This includes anatomy (using prosection specimens), histology, physiology, etc. 
Medical Sciences feature strongly in Phase 2a. Your knowledge and understanding will be developed through both lectures and clinical experience in ten half-day general practice placements. You will build on your basic medical sciences knowledge by learning about the clinical presentation of disease (symptoms and signs), pathology, microbiology, immunology, the investigations that are used in diagnosis and the way that specific diseases are treated (pharmacology and therapeutics). Medical sciences are assessed in written examinations (multiple choice and clinically-related scenario short answer questions) at the end of Phase 2a.
In Phase 2a, you will also receive training in a large number of procedural clinical skills in simulation (e.g. obtaining a 'blood' sample from a manikin arm).  Your ability to perform these procedures safely will be assessed in simulation during Phase 2a, so that you are ready to perform them under supervision in clinical practice for the remainder of the course.
Phase 2b commences in June of the second academic year and is the stage of the course where students really begin to feel like trainee doctors.  You will spend most of your time in hospital wards, operating theatres and outpatient clinics, learning the skills that you will need to join the medical profession.
At the start of Phase 2b, you will receive a three-week introduction to basic clinical skills.  You will receive training from specialists in history taking and physical examination of all of the major body systems.  This teaching is delivered to students in small groups, at the bedside, with the assistance of real patients who volunteer to assist with your training.  This introductory course will equip you with the basic skills that you need before you start your clinical attachments.
You will then undertake a 12* week longitudinal integrated clinical placement (LICP1) in one of the hospitals in or around Sheffield.  (*14 weeks duration with a 2 week holiday at the start of August).  LICP1 is designed to provide you with the opportunity to develop the skills that are fundamental to clinical practice (history and physical examination.  You will be encouraged to use the information that you have already gained to formulate diagnoses.  You will become part of the clinical team and will attend and participate in many of the everyday activities of the team, such as ward rounds, surgical operation, pathology meetings, and outpatient clinics.  In addition you will gain broader experience in other departments in the hospital and develop your knowledge and understanding of clinical medicine in regular classes in the medical education departments in the hospitals.
During this time, you will also continue to develop the professional attributes that are essential to becoming a successful practicing doctor.  You will also complete an SSC in medical ethics and law, based on a real case that you have seen in clinical practice and the ethical issues this case raised (e.g. end of life care).
Phase 2b will give you a firm foundation for all future clinical Phases of the course.  By the end of Phase 2b, you will have gained a knowledge and understanding of disease and a set of clinical skills (history-taking, physical examination, procedural skills in clinical practice) that you will continue to use throughout your career.  The assessment at the end of Phase 2b is an objective structured clinical examination (OSCE) in which you will demonstrate your clinical learning by taking histories and performing physical examinations on simulated and real patients.
Students who pass the Phase 2b OSCE at the first sitting will complete an SSC in social accountability in which they will complete some voluntary work with patient or community groups in Sheffield or the surrounding area and through this, will increase their understanding on health inequity and the role of medicine in society.
January Year 3 to August Year 4
Extended clinical competencies
Clinical Team Attachments
Child Health
Women's Health
Mental Health
SSCs (including Community-based and an Elective)
Medical Sciences
Acute Clinical Care
Continuing Clinical Care
Community and Public Health
Specialty Clinical Attachments
Further SSCs including Medical Audit
Phase 3 lasts just under two years and is clinically based. It is a period of study and clinical experience taking students into both primary and secondary care of the patient with an emphasis on 'hands-on' medicine.

The primary care element involves community placements centred on General Practice.

The secondary care of patients covers mainly hospital work in sub-speciality subjects including child health (Paediatrics), women's health (Obstetrics and Gynaecology), mental health (Psychiatry) and General Practice.  Students rotate in small groups through these disciplines and receive various forms of back up including small group work, seminars, tutorials and lectures.

The emphasis is on evidence-based learning and you are encouraged to learn by investigation and teamwork. The speciality teaching includes projects and team presentations. You also have an opportunity to study areas of particular interest to you in the Student Selected Components elements of the course.
Year 5
Final preparation for clinical practice
Final preparation for becoming a Junior Doctor
LICP2 and LICP3
Student assistantship
The final year of the course will provide you with the opportunity to prepare for clinical practice after graduation. The year begins with a series of lectures that will allow you to consolidate and further develop your knowledge over a wide area of clinical medicine.
You will then undertake the two longitudinal integrated placements (LICP2 and LICP3) which will be in a different hospital and clinical area from LICP1. The structure of LICP2 will be similar to LICP1 (attached to a clinical team, defined role and responsibilities, additional experiences in other departments and regular classes) but will reflect your increased experience and competence. After the Christmas break, you will continue to develop your competence in LICP3 in another hospital and clinical area.
Most graduates continue their medical training in postgraduate foundation programmes. The student assistantship will provide you with six weeks of experience in the post you will take up in August (this can only be guaranteed for students who will be staying in the local area).
The confidence of the University in you will be demonstrated when it awards you the degree of MBChB after you have been successful in the clinical examination in May. Phase 4 is an exhilarating, exacting and rewarding time and will prepare you well for your duties as a junior hospital doctor.
The content of our courses is reviewed annually to make sure it's up-to-date and relevant. Individual modules are occasionally updated or withdrawn. This is in response to discoveries through our world-leading research; funding changes; professional accreditation requirements; student or employer feedback; outcomes of reviews; and variations in staff or student numbers. In the event of any change we'll consult and inform students in good time and take reasonable steps to minimise disruption. We are no longer offering unrestricted module choice. If your course included unrestricted modules, your department will provide a list of modules from their own and other subject areas that you can choose from.
Learning and assessment
Learning
You will learn through clinical teaching on wards in hospitals, clinics (both in general practice and in hospitals), lectures, seminars, tutorials, small group work, dissection and personal development supported by experienced teachers and personal academic tutors. We aim to ensure you're well prepared for a career in medicine.
Assessment
You will be assessed by exams, coursework and practical tasks.
Programme specification
This tells you the aims and learning outcomes of this course and how these will be achieved and assessed.
Entry requirements
Summary of entry requirements
Please ensure you also read the more detailed entry requirements below.
The A Level entry requirements for this course are:
BBB
including Chemistry or Biology
International Baccalaureate | 32, with 5 in three Higher Level subjects to include Chemistry or Biology
BTEC | Not accepted
Welsh Baccalaureate + 2 A Levels | B + BB, including Chemistry or Biology
Access to HE Diploma | Not accepted
English language requirements |
You must demonstrate that your English is good enough for you to successfully complete your course. For this course we require: GCSE English Language at grade 4/C; IELTS grade of 7.5 with a minimum of 7.0 in each component; or an alternative acceptable English language qualification
Other requirements
2:1 or 1st Class Bachelor's degree in an appropriate life sciences subject (for example, Biomedical Science, Clinical Science, Dentistry)

UCAT attainment: applicants must meet the same UCAT minimum entry requirement set for the A100 5-year MBChB programme. This is calculated annually and the minimum threshold will be published on the Medical School's admissions web pages. Applicants will be ranked on their UCAT score

Applicants must meet our minimum academic, UCAT and widening participation entry criteria
More detailed entry requirements
We have fifteen places available to Home applicants from widening participation backgrounds for our four-year Graduate Entry Medicine - MBChB (A101) programme.
Applicants for this programme will be required to demonstrate that they come from a widening participation background and that they meet our minimum academic and UCAT requirements.
Meeting the minimum academic, UCAT and widening participation entry requirements does not guarantee an invitation to interview or the offer of a place. If you wish to also be considered for the 5-year Medicine - MBChB A100 programme you will need to apply to that course via UCAS as a separate choice.
Widening Participation entry requirements

This degree programme is only open to Home students from Widening Participation backgrounds. The A101 Graduate Entry Medicine MBChB programme is not open to Home students who are not from a Widening Participation background.  There are no International places available for this programme.

We will consider applicants to meet our widening participation criteria if they met any two or more of the following criteria at the point they completed their A-Levels (or equivalent qualifications):

Lived in an area with a low progression to higher education;
Lived in a deprived area;
Received free school meals in years 10-13;
Received a 16-19 Bursary or similar grant;
Was a young carer;
Lived in local authority care during secondary education;
Was estranged from both of their parents or legal guardians during their secondary/further education;
Have parents who do not hold higher education qualifications;
Have parents who were unemployed or working in unskilled jobs;
Have a disability.

We will determine whether applicants meet our widening participation entry requirements by sending them a simple form to complete, which includes definitions for the criteria set out above.

Widening participation criteria form

You may download the form and submit it to n.l.harrison@sheffield.ac.uk.

Alternatively, we will send this to applicants to complete on receipt of their application. Applicants will be required to return the form to us by 5pm on Friday, 30 October 2020 at the latest. We will not be able to process the application if the completed form is not received. Applicants who receive offers will be required to provide supporting evidence at registration or a statement to indicate why such evidence cannot be provided.

Academic entry requirements

Applicants are required to meet both our minimum A Level and our minimum Degree academic entry requirements. (We do not consider GCSEs or AS Levels for this programme.) Applicants are also required to meet our minimum English Language requirements. We do not rank applicants on the basis of their academic attainment.

A Level qualifications

Applicants must have grades of at least BBB at A Level at the time of application, one of which must be Chemistry or Biology.

Please note:

The requirement for BBB at A Level means at least a B grade in each of the three A Levels;
All three A Levels must have been taken in the same first sitting;
We do accept A Level resits.  Any and all A Level resits must be taken in one sitting, and only one resit per A Level is permitted.  Only those A Levels that do not meet the above entry requirements need to be retaken;
A Levels in Further Mathematics, Critical Thinking and General studies are not accepted for the A101 programme; 
For applicants who took four A Levels in a two year period (typically years 12 and 13 at school) including Mathematics and Further Mathematics, we will accept the Mathematics A Level, even if it is taken in Year 12, and irrespective of whether the A Level is certificated in Year 12 or 13.  It is expected that Chemistry or Biology and another subject (that is not Critical Thinking, Further Mathematics or General Studies) will be taken in Year 13;
Where a graduate applicant has BBB or better at A Level but the pre-degree A Levels do not include Chemistry or Biology we will consider their application provided they have taken an A Level in either Chemistry or Biology during or after their Bachelor's degree and achieved (or are predicted to achieve) a Grade B or higher.

For applicants not holding A Levels, our usual requirement for other qualifications is:

Cambridge Pre-U Certificate - grades M2, M2, M2 including Chemistry or Biology;
Scottish Highers - Advanced Highers grades BB including Chemistry or Biology;
Welsh Baccalaureate Advanced Diploma - grade B, plus grades BB in two A Levels, subjects must include Chemistry or Biology;
Irish Leaving Certificate - H3,H3,H3,H3,H3,H3 with H3 in Chemistry or Biology;
International Baccalaureate - 32 points overall with 5's in Higher Level subjects (to include Chemistry or Biology) and no less than 4 in each of the Standard Level subjects.

We are not able to consider the following qualifications for entry to our Graduate Entry Medicine course:

Bedales Examinations
BTECs
HE Diplomas
International Certificate of Christian Education
Foundation courses
Access courses
Bachelor's degrees that are not in Life Sciences subjects
Masters degrees
PhDs

Degree qualification

Applicants for this programme will need to have attained, or be predicted to attain, an upper second class or first class Bachelor's degree in an appropriate life sciences subject. We are looking for applicants whose degrees will have given them an appropriate level of understanding of human anatomy and physiology.

Please note:

Appropriate life sciences degrees include, but are not limited to the following degrees (this is not an exhaustive list):

BMedSci
BSc Anatomy and Physiology
BSc Biomedical Science
BSc Clinical Science
BSc Healthcare Science
BSc Human Physiology
BSc Medical Science
BSc Pharmacology
BDS (Dentistry)
MPharm

We do not consider the following degrees to be appropriate life sciences degrees and they do not meet our entry requirements:

BSc Biology
BSc Botany
BSc Chemistry
BSc Marine Biology
BSc Orthoptics

We do not consider postgraduate Masters degrees (i.e. when taken as a second degree) or PhDs when determining whether you meet our academic entry requirements.

University Clinical Aptitude Test (UCAT) requirements

Everyone applying to study Medicine at the University of Sheffield will need to undertake the University Clinical Aptitude Test for Medicine and Dentistry (UCAT) in order to be eligible for admission.  The test must be taken prior to your application in the year of application.  Details of test dates and how to register can be found on the UCAT website which can be accessed from the link on the right.  Please note that test results are only valid for the current admissions cycle: if you re-apply to this Medical School you will need to sit the test again.  In addition to the academic requirements, candidates must have achieved a score of 2420/3600 or above to be given further consideration.  Candidates must meet the UCAT entry requirements AND the academic entry requirements AND the widening participation criteria.  The Situational Judgement Test (SJT) component is only considered for those applicants who are invited to attend a Multiple Mini-Interview. UCAT have produced a guidance video to help you prepare for the test:

We will aim to invite approximately 60 A101 applicants for interview. In the event that we receive more applications than we have interview spaces for, applicants who meet or exceed the minimum academic requirements, the minimum UCAT requirement and the widening participation criteria will be ranked based on their UCAT score after the application deadline to determine which of these applicants are invited to attend a Multiple Mini Interview.

Disclosure and Barring Service check

All medical students are required to undergo a Disclosure and Barring Service (DBS) check before starting the course. Admission to the courses offered by the University of Sheffield Medical School is subject to the Rehabilitation of Offenders Act (1974) Section 4(2) (Exemption) Order 1975 and the Department of Health Circular HC (88)9 guidelines regarding child protection and police checks. All offers will therefore include a condition relating to a satisfactory DBS check.

On the UCAS form, you will need to tell us about any criminal convictions, including spent sentences, cautions (including verbal cautions), reprimands and bind-over orders.

If you have any queries regarding the DBS check please contact the Medical Admissions Office on +44 114 222 5531.

Health requirements

All medical students are required to show that they are not infectious carriers of hepatitis B and will be required to complete a course of hepatitis immunisation after enrolment. Students undergo occupational health screening and vaccination as appropriate on arrival.

So that we can provide effective support, disabled applicants, applicants with serious health problems, or applicants who know that they are infected with hepatitis C or HIV must disclose this on their UCAS form. All potential students with significant support needs will be individually assessed to ensure that the University is able to support them on their chosen course of study.

If you have a disability, medical condition or learning difficulty, including dyslexia, please indicate this on your UCAS form. Contact the Medical Admissions Office for details of our admissions policy or visit our department website for more information.

All the above procedures must be followed precisely to avoid prejudicing your entry to the course.

Disrupted Studies policy

If you have experienced issues of a personal, social or domestic nature that have affected either your post-16 studies, or any GCSE Qualifications that are cited in our course entry requirements, you can let us know by completing our Disrupted Studies form. Read the Medical School's Admissions Policy on Disrupted Studies carefully before submitting a Disrupted Studies form.

Admissions policy download
The Medical School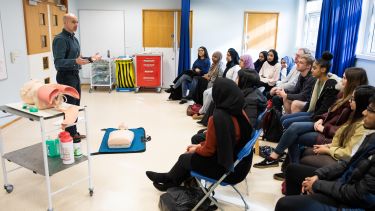 The Medical School at Sheffield integrates teaching, research and the practice of medicine. Our teaching is supported by internationally recognised research.
You'll go out to primary and secondary care providers in the region, learning about best current practice. You will be part of an academic, clinical and scientific community.
Our Clinical Skills Centre is based at the Northern General Hospital, one of the largest hospitals in the country. The centre contains mock clinical wards, resuscitation suites, simulated theatres and teaching rooms – a perfect facility for training the healthcare professionals of tomorrow.
Facilities
Our Clinical Skills Centre is based at the Northern General Hospital, one of the largest hospitals in the country. The centre contains mock clinical wards, resuscitation suites, simulated theatres and teaching rooms – a perfect facility for training the healthcare professionals of tomorrow.
The Medical School
Why choose Sheffield?
The University of Sheffield
  A Top 100 university 2021
QS World University Rankings
  Top 10% of all UK universities
Research Excellence Framework 2014
  No 1 Students' Union in the UK
Whatuni Student Choice Awards 2019, 2018, 2017
---
The Medical School
92% overall satisfaction
National Student Survey 2019
University of Sheffield is within the top 100 in the world for clinical and health subjects
Times Higher Education (THE) World Subject Rankings 2021
---
Graduate careers
The Medical School
After graduating, you may become a Foundation Year 1 doctor, working primarily in hospitals to consolidate your knowledge. This is followed by a further Foundation Year. These two years give a structured and comprehensive continuation of undergraduate studies and lead on to speciality training.
You might choose to become a GP or train to become a hospital consultant. Some graduates become academic teachers of medicine or go into research. Others join the pharmaceutical industry or become managers in the health service. Whatever route you follow, the undergraduate course prepares you for the lifelong learning needed in medicine.
Graduates can provisionally register with the GMC. This gives you a licence to practise, providing you meet all of the GMC's Fitness to Practise guidelines.
Fees and funding
Fees
Students entering the A101 Graduate Entry Medicine programme all come from widening participation backgrounds. While you can apply for a loan to part-cover your tuition fee, you must pay the first £3,500 of your first year fees yourself.
Additional costs
The annual fee for your course includes a number of items in addition to your tuition. If an item or activity is classed as a compulsory element for your course, it will normally be included in your tuition fee. There are also other costs which you may need to consider.
Additional funding
Thanks to generous donations from our alumni, all fifteen students entering the four-year Graduate Entry Medicine (A101) programme in September 2021 will receive a scholarship worth £3,500 to cover this funding gap.
This has been made possible as a result of fifteen Toby Moses Postgraduate Scholarships. These scholarships will allow our Graduate Entry Medicine (A101) students to commence their medicine studies without worries about paying any fees upfront.
We cannot at this time state whether such bursaries will be available for students entering the Graduate Entry Medicine (A101) programme in 2022.
Those who have spent two or more years in Higher Education prior to the start of the MBChB programme may not be eligible for full funding support from Student Finance England. Such applicants are strongly advised to check their eligibility for funding with Student Finance England before submitting an application.
Visit us
University open days
There are four open days every year, usually in June, July, September and October. You can talk to staff and students, tour the campus and see inside the accommodation.
Taster days
At various times in the year we run online taster sessions to help Year 12 students experience what it is like to study at the University of Sheffield.
Applicant days
If you've made an application to study with us, we may invite you for an interview. If you are then successful in receiving an offer, we'll invite you to one of our applicant days. These applicant days have a strong department focus and give you the chance to really explore student life here, even if you've visited us before.
Campus tours
Campus tours run regularly throughout the year, at 1pm every Monday, Wednesday and Friday.
The awarding body for this course is the University of Sheffield.
Recognition of professional qualifications: from 1 January 2021, in order to have any UK professional qualifications recognised for work in an EU country across a number of regulated and other professions you need to apply to the host country for recognition. Read information from the UK government and the EU Regulated Professions Database.