Health and Human Sciences
BMedSci
Division of Nursing and Midwifery, Health Sciences School
Apply for this course
You are viewing this course for 2022-23 entry.
Key details
A Levels

BBB


Other entry requirements
UCAS code

B991

3 years

/

Full-time

September start
Industry placement
Study abroad
Course description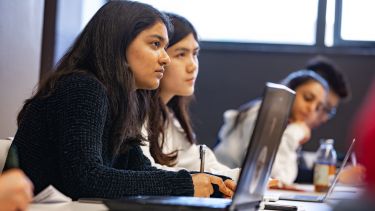 By studying Health and Human Sciences you'll develop expertise in a range of fields related to some of the most pressing, important and challenging public health issues of our time.
You'll be challenged to explore questions such as:
Why do richer people live longer, healthier lives?
Why do some public health initiatives worsen health inequalities?
How can we use research evidence to inform health policy?
How can psychology help us understand people's behaviours?
How is a social model of health different to a medical model?
During your three years of study, you'll focus on five core themes: health systems, organisation and delivery; determinants of health and wellbeing; understanding and promoting relationships; information skills and digital literacy; biology and the body.
You'll be taught and supported throughout the course by a team of dedicated academics. Our teaching team includes experts in the fields of public health, health care delivery, leadership and management, health psychology, sociology, social policy, biology and biosciences.
In your third year, you'll have the opportunity to gain vital work experience in an area that reflects your career aspirations, by undertaking a professional work placement. This placement could be in a clinical health care setting or an organisation related to public health, health policy, health management or social care. Alternatively, you could work on a real-life research project in a partnership with an academic or as part of a research group
Whichever placement option you choose, we'll help you develop the professional skills you need for your chosen career.
Modules
A selection of modules are available each year - some examples are below. There may be changes before you start your course. From May of the year of entry, formal programme regulations will be available in our Programme Regulations Finder.
Choose a year to see modules for a level of study:
Title: Health and Human Sciences BMedSci course structure
UCAS code: B991
Years: 2021
Core modules:
Health Inequalities

There are significant inequalities in health outcomes and experiences between different social groups and communities in the UK today. This unit seeks to explore some of the key axes through which inequality is patterned in the UK (gender, ethnicity, disability and socioeconomic position) and different explanations for this patterning (behavioural, material, biological and psychosocial).

20 credits

Introduction to Epidemiology

Epidemiology is the basic science underpinning effective public health practice. Epidemiology considers the frequency, patterns and causes of disease in populations and applies this knowledge to address public health issues through public health surveillance, investigation, measurement, evaluation and health policy development. A knowledge and understanding of epidemiological concepts and methods is a basic requirement for effective public health practice and for a complete understanding of the nature of health in society. This module offers an introduction to epidemiology covering key concepts such as measures of disease; comparison, association and causation; research and population health measures such as screening. 

20 credits

Information skills and Digital Literacy

Making appropriate use of a range of information sources is a skill which is pivotal to positive undergraduate outcomes. This year one undergraduate unit runs across two semesters. Semester one facilitates the transition to University study and introduces students to University resources and information retrieval. The second semester provides students with the knowledge and skills necessary in the retrieval, understanding and critical appraisal of evidence in the health sciences literature. Taking a broad perspective of the term 'research skills' the module will incorporate critical awareness of the distinction between scientific and other types of knowledge and the analysis of the quality of each of these sources.

10 credits

Organisation of Modern Health Care

This unit will explore the range of professional health care roles within the NHS. It will examine how these individuals with different roles and responsibilities work together and deliver care to patients. The changing demands made on those professionals by both the government and patients are challenging traditional roles and responsibilities. The module will introduce the background and theory of how organisations work, and enable students to develop an understanding of the modern NHS in a wider context. Students will discuss the current debates and the prospects for NHS health and social care, and reflect in implications for future professional developments. 

10 credits

The Body in Health 1

The course will provide a concise overview of human physiology and anatomy, relating function to structure as well as to underlying biological principals and processes. The initial sessions will cover the basics of anatomy and homeostasis before examining the body's organisation on chemical, cellular and tissue levels. Specific bodily systems such as the musculo-skeletal and nervous systems will then be considered in more detail. The 'Body in Health 2' unit is designed to follow on from this to complete the overview. Detailed prior knowledge of the subject matter is not expected but some knowledge of the biological sciences would be beneficial. 

10 credits

The Body in Health 2

The course builds on the content of the Body in Health 1 unit to provide a more comprehensive overview of human physiology and anatomy, relating structure and function. A number of bodily systems will be covered in detail including the respiratory, cardio-vascular, immune, digestive and endocrine systems. A consideration of reproduction and development leads into a final discussion of inheritance and human evolution. 

10 credits
Optional modules:
Health Promotion

Health promotion is the process of enabling people to take control of, and improve, their own health (WHO, 2014). Effective health promotion has the potential to help address the burden of chronic disease and widening health inequalities across the globe.

This year one undergraduate unit will introduce students to a range of contemporary issues in health promotion including the politics and policy of health promotion, community engagement and power, health inequality, health literacy and ethical dilemmas in health promotion.

Students will mobilise their learning to design and create a health promotion resource (e.g. poster, infographic, leaflet, game) which tackles a pressing health issue of their choice. They will accompany their resource with a rationale which describes the importance of the health issue, the specific aim and target audience of their resource, a rationale for the content and design and an exploration of how the resource is informed by attention to the contemporary issues outlined above.

20 credits

Participation and Society

This module aims to introduce students to issues related to understanding persons as individuals, and as members of society. Content includes: theoretical models of disability; psychosocial impact of disability across the lifespan; concepts of self and identity; concepts of attitudes and their measurement; health beliefs and behaviours and the role of gender, socioeconomic and cultural factors in healthcare and education. Students will be encouraged to reflect on their own experiences, attitudes and interpersonal skills in the context of their impact on interactions with clients, their families and other professionals.

20 credits
Core modules:
Communication For Health

This unit aims to explore the importance of effective communication within interpersonal relationships, person centred care and in the delivery of health and social care. Communication is at the very heart of health and social care and impacts upon every element of care. We will be examining prevailing theories of communication in current health and social care delivery and organisation. We will also explore the importance of effective communication within interpersonal relationships. Students will have the opportunity to reflect upon and develop their own skills in communication through a variety of interactive sessions.

20 credits

Research Methods and Paradigms

The unit will introduce the students to various qualitative and quantitative research methods and underlying paradigms relevant to health sciences literature. An ability to understand research methods is important for information skills and underpins the skills of critical thinking and analysis which are desirable undergraduate core skills. Students will be able to articulate the epistemological underpinnings of different approaches to studying the social world and with regard to various research methods and paradigms. The meaning of research terminology will be explored and students will be able to critically explore the research process using a critical appraisal tool.

20 credits

Health Care Management

This unit will explore the development of management and leadership theory and consider its application within the current NHS and within social care organisations. Topics covered will include: classical management theory and bureaucracies; human relations theory and workplace motivation; team development and team effectiveness; leadership; the application of theory and research to the NHS and health care organisations (recognising the unique nature of management of the NHS); economic principles underpinning the NHS; organisational behaviour and the management of change and the management of clinical risk. 

10 credits

Health Psychology

The unit will introduce students to key psychological concepts of the individual and their health. In particular, subjective experiences of health and illness and adjustment to challenging life events will be considered. The influence of social context and interpersonal factors in the experience of health and illness will also be covered. Students will explore three inter-related areas: 1. The psychology of health-related behaviour e.g. why individuals do things that are bad for their health such as binge drink or smoke cigarettes; 2. The psychology of illness and disease e.g. what it is like to live with a chronic condition; and 3. Psychological health and well-being e.g. how do individuals cope with potentially traumatic life events. 

10 credits

Making Sense of Health Policy

Making Sense of Health Policy aims to introduce students to the policy process - from the origins of policy through to implementation and methods of evaluation. Health policy affects everyone - but what is it? Where does it come from? How is it developed and implemented - and how is its success measured? Using lectures, seminars, tutorials and on-line learning, this unit aims to make health policy accessible and is essential for anyone anticipating a career in the health sector. 

10 credits

Sociological Approaches to Health and Illness

This module examines the inter-relationship between health, illness, disease and society. The topics covered in the module include: introducing and critiquing the medical model of illness, exploring concepts of health and illness across the life cycle, introducing key theories in the sociology of health and illness and considering debates about the role of medicine and medical professionals in contemporary societies.

10 credits

The Body in Illness

The course will examine the medical approach to pathology, illness, and diagnosis. A systematic knowledge of all diseases, or a detailed knowledge of regional pathology is not the aim. Rather, the course will use some common conditions like diabetes and lung cancer to illustrate principals. Taught sessions will focus in detail on one condition per week and examine the aetiology, pathology and presentation of: infection; degenerative disorders; endocrine and metabolic diseases; malignancy; cardiovascular disease; congenital and genetic disorders; trauma. Examples of the more common manifestations of these disorders will be used to illustrate the relationships between pathology, clinical features and diagnosis. 

10 credits
Optional modules:
Physiology of Pregnancy and Childbirth

This module offers students an overview of the key anatomical structures and physiological processes constituting normal pregnancy, childbirth and in the postnatal period. It also details the routinely used pharmacological interventions in UK maternity care and introduces students to the basic principles of their effects and, therefore, their strengths and limitations and the evidence base for their use. Through this, students will develop an understanding of the meaning of 'normality' in pregnancy, childbirth and postnatally and what, by implication, is a deviation from normality. The learning structure will mirror the chronology of pregnancy and childbirth, beginning with conception and moving through the antenatal, intrapartum and postpartum phases. 

20 credits

Ageing, Health and Wellbeing

In this module we will critically explore theories of ageing in relation to the lived experience of older people as well as critically examine the role of health and social care policy and how this may impact of lives and wellbeing of older people. In this module we will explore the factors which impact on the contemporary experience of ageing, apply theoretical models of ageing in order to understand the meaning of health and well-being for older people, critically examine the challenges that people face as they grow older such as frailty, and explore how individuals can live positive lives despite potential limitations. We will examine the role of policy and the provision of health and social care on the lives and well-being of older people.

10 credits

Biography and narrative in palliative, supportive and end of life care

Biography and narrative tell us what is important to people affected by life-limiting illness. Narrative methods offer a broad approach to experience, whilst biographical methods, including oral history, life story, autobiography and reminiscence, focus on specific issues and personal identity. Stories told at the end of life give insight into illness experience, they are frequently used in qualitative research and have potential to inform policy and practice. First-hand accounts communicate personal truths and understandings of illness and care and the extent to which medical and societal forces influence how individuals view themselves, and how they are viewed by others. 

10 credits
Core modules:
Dissertation

The dissertation module builds on the skills and knowledge that students have developed during the first and second years of the Health and Human Sciences programme. Specifically, the dissertation follows on from the first year "Information Skills and Digital Literacy" module and the second year "Research Methods" module and enables students to utilise and extend the academic skills they have developed. The module is largely student-led with signposting to key resources, a small number of review sessions on key aspects and the support of an academic supervisor. Students will select a topic area of their choice, relevant to health and wellbeing, and formulate a research question which they will explore through the academic literature.

40 credits
Optional modules:
Global Health Challenges

The module builds on the study undertaken in year one and two of the programme (NURU 146) and will explore the challenges facing health in the 21st century in greater depth. Topics covered will include: commissioning and the potential risks to service delivery, the personalisation and self directed support agenda, persisting health inequalities, economic pressures, management of scarce resources, demographic challenges, health promotion strategy in hard to reach groups, the need for evidence based interventions and their cost implications, consumerism and the market in health care.

20 credits

Ethics in Practice

Ethics in Practice builds on the students basic understanding of ethics in health care. It will offer a deeper consideration of the philosophical underpinnings of ethics and demonstrate the value of these to resolving ethical issues in health care through consideration of applied examples. Key topics, such as end of life care (inc. euthanasia), the allocation of scarce resources (organ transplantation), practice issues (mental health and mental capacity), professional issues (whistle blowing) and diversity in healthcare research will be used to develop students' understanding of the issues involved in these areas and their ability to reason ethically and rationally.

20 credits

Health and Human Sciences Placement

This module provides a safe learning experience enabling students to shadow staff within a health or social care placement area of their choice. The student works in the placement area 3 days and has study time 2 days a week. Students negotiate with their host supervisor and academic supervisor to undertake a small project related directly to placement which forms the basis of their module assessment. This is an ideal opportunity to experience, observe, and reflect upon an area of health or social care that the student feels will be directly relevant to their future area of interest. 

20 credits

Maastricht University Study Placement

The Maastricht University Study Placement allows students to study modules, up to the value of 20 credits (or European equivalent), relevant to the BMed Sci Health and Human Science at Maastricht University. All the modules are taught in English and will complement those delivered on the degree programme. Maastricht University provides a range of modules and details will be made available to you should you choose this option. 

20 credits

The Biomedical Basis of Disease Management

This unit is designed to follow on from the biomedical units included within years one and two of the BMedSci Health and Human Sciences programme. It will explore the clinical management of a range of health problems, including cardiovascular disease, diabetes, cancer and ageing, focusing on the biomedical basis of diagnosis and treatment. It will consider the relationship between the underpinning pathology and the treatment options for these conditions, exploring screening and diagnostic techniques, pharmacological and non-pharmacological interventions. The epidemiology of the conditions will be addressed and the available evidence base explored.

20 credits
The content of our courses is reviewed annually to make sure it's up-to-date and relevant. Individual modules are occasionally updated or withdrawn. This is in response to discoveries through our world-leading research; funding changes; professional accreditation requirements; student or employer feedback; outcomes of reviews; and variations in staff or student numbers. In the event of any change we'll consult and inform students in good time and take reasonable steps to minimise disruption. We are no longer offering unrestricted module choice. If your course included unrestricted modules, your department will provide a list of modules from their own and other subject areas that you can choose from.
Learning and assessment
Learning
You'll learn through lectures, independent study and placements
Assessment
You'll be assessed by exams, coursework and practical tasks.
Programme specification
This tells you the aims and learning outcomes of this course and how these will be achieved and assessed.
Entry requirements
The A Level entry requirements for this course are:
BBB
A Levels + additional qualifications BBC + B in a relevant EPQ; BBC + B in Core Maths
International Baccalaureate 32
BTEC Extended Diploma DDM in a relevant subject
Scottish Highers AABBB
Welsh Baccalaureate + 2 A Levels B + BB
Access to HE Diploma 60 credits overall in a relevant subject, with 45 credits at Level 3, including 24 credits at Distinction and 21 credits at Merit
Other requirements
The A Level entry requirements for this course are:
BBC
A Levels + additional qualifications BBC + B in a relevant EPQ; BBC + B in Core Maths
International Baccalaureate 31
BTEC Extended Diploma DMM in a relevant subject
Scottish Highers ABBBB
Welsh Baccalaureate + 2 A Levels B + BC
Access to HE Diploma 60 credits overall in a relevant subject, with 45 credits at Level 3, including 15 credits at Distinction and 30 credits at Merit
Other requirements
Division of Nursing and Midwifery, Health Sciences School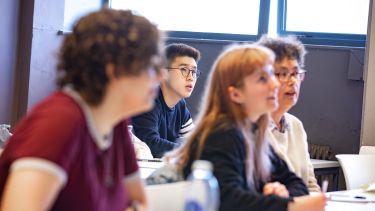 We're leaders in health professions education and training. You'll join a broad and supportive community, led by passionate teachers, clinicians and researchers who help individuals to fulfil their ambitions.
Our courses are delivered by a mixture of academic staff and clinical staff, who all bring a wealth of knowledge and experience to help develop excellent healthcare practitioners.
We're part of the University's Heath Sciences School in the Faculty of Medicine, Dentistry and Health. We're based on Glossop Road, just outside the city centre, close to the Medical School and the Hallamshire Hospital, five minutes' walk from the main campus.
We work closely with the Royal College of Nursing to explore how education meets the needs of the NHS workforce. This means that we're ideally placed to offer you high-quality courses, informed by the latest research in the field.
Facilities
We provide an excellent study environment for health professionals across our main campus. If you study a health professions course with us, you'll be based close to the Royal Hallamshire Hospital. The hospital is home to the Sheffield Medical School, and is where you'll find our dedicated Health Sciences Library.
Health Sciences School
Why choose Sheffield?
The University of Sheffield
  A top 100 university 2022
QS World University Rankings
  92 per cent of our research is rated in the highest two categories
Research Excellence Framework 2021
  No 1 Students' Union in the UK
Whatuni Student Choice Awards 2020, 2019, 2018, 2017
Division of Nursing and Midwifery, Health Sciences School
97% overall student satisfaction
National Student Survey 2019
University of Sheffield is within the top 100 in the world for clinical and health subjects
Times Higher Education (THE) World Subject Rankings 2021
---
Graduate careers
When you graduate from this course, you'll be passionate about improving people's lives and the health of the population. You might pursue a career in public health, healthcare management, health research, health policy or in a range of other areas.
You might also do postgraduate training in a specific health profession, such as occupational therapy, physiotherapy, speech therapy, nursing and other frontline roles.
Why study a degree in health and human sciences?
Study abroad
During the third year of your course, you'll have the opportunity to apply to spend a semester at Maastricht University in the Netherlands.
Studying abroad is an opportunity to further broaden your horizons, experience another culture, and study health and social care related issues in a different setting, alongside other European students.
Fees and funding
Fees
Additional costs
The annual fee for your course includes a number of items in addition to your tuition. If an item or activity is classed as a compulsory element for your course, it will normally be included in your tuition fee. There are also other costs which you may need to consider.
Visit us
University open days
There are four open days every year, usually in June, July, September and October. You can talk to staff and students, tour the campus and see inside the accommodation.
Taster days
At various times in the year we run online taster sessions to help Year 12 students experience what it is like to study at the University of Sheffield.
Applicant days
If you've made an application to study with us, we may invite you for an interview. If you are then successful in receiving an offer, we'll invite you to one of our applicant days. These applicant days have a strong department focus and give you the chance to really explore student life here, even if you've visited us before.
Campus tours
Campus tours run regularly throughout the year, at 1pm every Monday, Wednesday and Friday.
The awarding body for this course is the University of Sheffield.
Recognition of professional qualifications: from 1 January 2021, in order to have any UK professional qualifications recognised for work in an EU country across a number of regulated and other professions you need to apply to the host country for recognition. Read information from the UK government and the EU Regulated Professions Database.