Get answers to your questions about the University campus tours.
Off
What time should I arrive for the campus tour and where do I need to go?

You should aim to arrive at our Students Union building 10 minutes before your tour start time. You can find details and directions to the Students' Union using our interactive campus map. Our campus tour stand will be located inside the main entrance foyer, opposite the welcome desk.

Who can I bring with me?

You can bring a maximum of two guests from the same household to accompany you on your visit, as detailed on the booking form.

Will I get to see my academic department?

Our tour will focus on showcasing some of our multi-use buildings which host lectures, seminars and labs for students from a wide range of departments. We are unfortunately unable to take visitors inside specific department buildings, but opportunities for this may be available at some of our Open day and Offer holder events.

Can I see the accommodation?

We are currently offering a stop at one of our award winning accommodation sites.  You will have the opportunity to look around one of our standard en-suite flats, but there are also other options available to view online. The accommodation tour will extend your campus tour by approximately 45 minutes.

Who should I contact if I think I'm going to arrive late?

If you're running late, please contact the Campus Tour team on 0114 222 9872. We're unable to guarantee latecomers a campus tour but the earlier you let us know, the sooner we can try to make alternative arrangements and provide you with a self guided campus tour leaflet if required.

Who else will be on the visit?

You may be joined by other prospective students and their guests on your tour. 

Are welfare facilities available?

Toilet facilities will be available at the start and end of the campus tour in the Students' Union building. 

Will refreshments be available?

A number of catering outlets are available in our Students' Union. Our tour guides and staff can provide you with further information on the day of your visit.

How do I get to Sheffield?

Find out more on our maps and travel information web page.

If you're travelling by public transport, the Students' Union is a 5 minute walk from the University's stop on the Supertram which serves the city centre, Sheffield train station, and several park and ride sites.

Where can I park?

We recommend that visitors use the Q Park at Durham Road. The Students' Union building is visible to your right as you exit the car park. Explore details of other car parking options.

What should I wear?

The campus tour is a walking tour so please wear comfortable footwear and bring suitable clothing including waterproofs in case of rain, as much of the tour will be outside. 

I am a blue badge holder and will be travelling to the University by car. Where can I park?

We recommend using one of the 32 blue-badge parking spaces available in the Q Park at Durham Road.

Is the visit accessible for wheelchair-users?

The campus tour covers our central campus - an area approximately one mile across. The route makes use of lowered curbs and pedestrian crossings as much as possible. Welfare facilities in the Students Union are available on the Ground Floor and include accessible toilets. If you wish to discuss any additional requirements, you can contact the Campus Tour team by telephone 0114 222 9872 or email myday@sheffield.ac.uk

Is the accommodation tour accessible for wheelchair users?

The accommodation tour features a first floor flat with no lift access. If you have any additional requirements, you can contact our Campus Tour team by telephone 0114 222 9872 or email myday@sheffield.ac.uk

What is the University doing to keep the community safe from Covid-19?

You can read more information about this on our webpages here.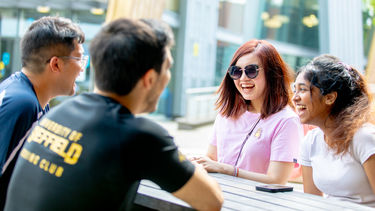 International Merit Scholarships
We offer a generous package of financial support for international students including 75 undergraduate scholarships worth £10,000 towards the annual tuition fee and 125 postgraduate taught scholarships worth £5,000 towards the tuition fee. Applications are now open for existing offer holders.