Are you interested in hunting down elusive particles such as the Z or Higgs Boson using real data analysis at ATLAS? Join us for a particle physics taster day and gain experience of this incredible subject. Collaborate with researchers from across the globe including those working at CERN.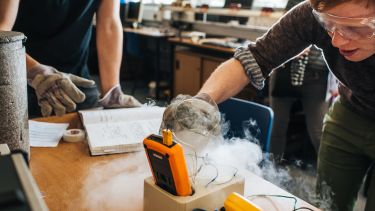 Particle Physics Taster Day: Find a particle at the LHC
The University of Sheffield Department of Physics and Astronomy is offering a Particle Physics taster day for year 12 and 13 students studying physics and maths.
Spend a day experiencing life as a particle physicist and engaging with hands on data analysis at ATLAS. Not only will you learn more about this fascinating subject, you'll get to take part in a particle hunt for the Z Boson and the Higgs Boson. You will share your findings across the globe with researchers who work at CERN as well as other contributors from the UK, Netherlands and Germany.
On top of sampling life as a student studying physics at the University of Sheffield, you will have the opportunity to develop transferable skills, learn more about career pathways and speak with our student ambassadors who are currently studying with us.   
---
When: Tuesday 28th March 2023, 9am - 4.15pm
Age group: Year 12 and Year 13
Suitable for: This taster is suitable for students interested in a degree in physics, who are studying A Level (or equivalent) Physics and Mathematics and are anticipating a grade B or above in these subjects.
---
Schedule
Please note, this is an approximate schedule and is subject to change.
| Time | Activity |
| --- | --- |
| 9.00am | Arrivals and registration |
| 9.15am | Welcome and introduction to the University |
| 11.45am | Introduction to Particle Physics |
| 12.15pm | Studying physics and Q&A |
| 1.00pm | Lunch |
| 3.00pm | Introduction to data analysis (45 min) + Particle Hunt (1.15 h) |
| 4.00pm | Video conference and Interpretation of results |
| 4.15pm | Closing and depart  |
---
Apply now
Applications for this taster session are now closed.
For informal enquiries please email tasterdays@sheffield.ac.uk
---
What is a Taster day?

Taster days provide students with a fantastic opportunity to come and visit the University of Sheffield and participate in a full day's subject specific activity delivered by current academic staff and students.

Who are Taster days aimed at?

The project is open to applications from all Y12 & Y13 students from all areas of the UK. We welcome applications from any interested students. It should be noted that as most of our courses have A Level entry requirements of no lower than BBB (or equivalent) we will be targeting students who have the potential to achieve these grades, or higher - based on predicted/expected grades.

 Any pupil from any region of the UK is considered suitable based on their academic profile.

What is the application process?

For each Taster day we require students to complete our application form which asks for (amongst other details):

Year group
School name
Level of study and which subjects are being studied
Predicted grades
Chosen (or likely) subject choice at university
Statement of no more than 250 words about why you would like to attend the Taster day

We do not accept group bookings as each place is decided on merit and desire to attend the Taster day (based on their 250 word statement).

The University of Sheffield will contact each student, usually 3 weeks before the event, to let them know if they have been successful in their application and then again with further details of the event (meeting point, itinerary, etc).

Are pupils guaranteed a place if they apply early enough?

Unfortunately, we cannot guarantee places for all applicants as each pupil must meet the minimum academic criteria in order to be eligible to participate in the day.

What happens if there are more applications than there are places available on the Taster day?

In the event that there are more applications than there are available places, the Taster day team will assess all application forms and make decisions on the most suitable candidates based on pre-determined scoring criteria.

Will you contact the pupil's school/teacher to let them know who will be attending the Taster day?

We will not contact schools with details of any students who have been successful in gaining a place on the Taster day. This would be the responsibility of the individual attending.

Schools and school teachers may be aware of the Taster days as we regularly send details of upcoming events (including Taster days) for them to disseminate to their pupils.

How long is a Taster day?

Taster days duration can vary depending on which department is delivering them. However, timings usually mirror a school day - with a slightly later start to allow pupils from further afield to get to Sheffield in good time. A good example of an itinerary is below:

| | |
| --- | --- |
| 10:00 – 10:30 | Arrivals and registration |
| 10.30 – 10.45 | Welcome and Introduction to Geography at Sheffield |
| 10:45 – 12:00 | Changing Places workshop: Kelham Island – whose regeneration? |
| 12:00 – 13:00 | Lunch with Sheffield Geography students |
| 13:00 – 14:00 | Our living laboratory: Sheffield and the Peak District tour |
| 14:00 – 15:00 | Laboratory practical: water from where? |
| 15:00 – 15:30 | Conclusions, Q&A and departure |

What happens if a Taster day is cancelled on the day (bad weather etc)?

When your place is confirmed we will ask you to confirm your attendance and to also provide further details, for example (mobile number, emergency contact details, dietary requirements etc). If an event is cancelled we will contact students directly to let them know - either by email, or if an event is cancelled within 48 hours contact will be by phone.

Will lunch be provided?

Some departments may provide lunch, others may ask you to bring something with you, or purchase something whilst you are on campus. Either way, you will be given all the appropriate details in your confirmation and follow emails prior to the event.

Can pupils book onto more than one Taster day?

Yes. Pupils can register for as many Taster days as they want to. However, in order to be selected they must meet minimum academic criteria. We would also expect that pupils would have a genuine interest in studying (or potentially studying) the subject at University. For example, we would not prioritise applications from pupils applying to come on a Chemistry Taster day who wish to study Medicine at university. In this instance the stronger applications would be from those who state their subject choice at university to be Chemistry, or a Chemistry related subject.

What if I don't know what I want to study at university?

We fully appreciate that not all students will know exactly what they want to study yet. However, pupils should be able to demonstrate fully in the 250 word statement why they are interested in attending a specific Taster day. Which will then help us understand their reasoning for wanting to attend.

Can school groups book on to Taster days?

We take bookings from individuals as opposed to school groups and we would expect that each application form is completed by the pupil and not their teacher. It is often the case that there may be several pupils from the same school on the same Taster day, but each would have completed the application form separately.

Can I contact anybody to find out more about Taster days generally?

Of course. Please feel free to contact the team via email tasterdays@sheffield.ac.uk or by phone 0114 2222 9872.

What do I need to bring on the day?

We will contact you by email closer to the time, to let you know what you need to bring on the day for your particular session.

How do I get to Sheffield?

Maps and travel information can be found here. Sheffield and the University have excellent public transport links, and we encourage visitors to take advantage of these wherever possible. The University has a tram stop, is a twenty-minute walk from Sheffield train station, and is well served by the local bus network.

Where can I park?

We recommend that visitors use the Q Park at Durham Road. The Students' Union building is visible to your right as you exit the car park. Explore details of other car parking options.

I am a blue badge holder and will be travelling to the university by car. Where can I park?

We recommend using one of the 32 blue-badge parking spaces available in the Q Park at Durham Road. An additional 20 blue-badge parking spaces are available in the Q park at Rockingham Street. Alternatively, you can park in any of the blue badge bays available on campus.

Do you have disabled access?

All our venues have disabled access. If you have any accessibility or additional support requirements to facilitate your full participation in the event, please detail these on the booking form. If you require any assistance on the day, our staff and student ambassadors are there to help. Our Disability and Dyslexia Support Service can also offer further advice on the support that will be available during your studies at Sheffield. 

I am travelling to Sheffield by train. How do I get to the University from the station?

Sheffield Railway Station is situated approximately a mile and a half away from the University of Sheffield. It is advisable to catch either a tram or a bus to the campus. 

Trams run directly from the station to the University every 12 minutes. You need to catch the blue line heading towards Malin Bridge and get off at the University of Sheffield tram stop. The journey time is approximately nine minutes. 

The main University of Sheffield campus is easily accessible by public transport. From the transport Interchange (opposite the station), a range of buses go to and from this area, including the 30, 120, 123, 51 and 52 and all pass by the University. 

Alternatively, a taxi from the station will cost around £5. 

What Covid mitigations are in place?

In line with government guidance, many of the controls that were previously required have now been removed, enabling us to return to a much more familiar campus environment. However, the safety and wellbeing of our community remains our utmost priority.

We are therefore continuing to encourage all campus-users to continue washing or sanitising hands regularly, and to stay at home if they feel unwell (see question below re covid symptoms). Ventilation systems are still supplying the maximum amount of fresh air possible to buildings, and our heightened cleaning regime and touchpoint cleaning will continue, in line with government guidance.

Do I need to wear a face covering?

Face coverings are no longer legally required anywhere on campus. However, please respect others' choices to wear face coverings.

What if I start to experience Covid symptoms?

While you're no longer required to self-isolate if you have Covid-19, the government advises that you should try to stay at home and away from others if you have tested positive for coronavirus (COVID-19), or have symptoms of COVID-19. If you begin to experience any of these symptoms during your visit, please self-isolate in line with these government guidelines, and leave campus immediately.

What is the University doing to keep the community safe from Covid-19?

You can read more information about this on our webpages here.
Explore the University
Discover why Sheffield is the right choice for you at one of our open days or events.