Urban inequalities and social justice
Suggested PhD projects to undertake within this research area.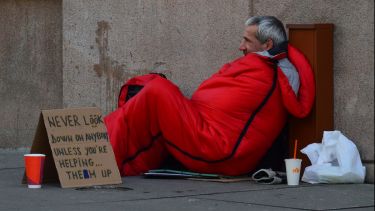 Supervisor: Michele Lancione
Recent developments in urban studies are pointing toward a description of urban processes and dynamics as a matter of human and non-human entanglements, which encompasses clear-cut distinctions between subject and object; structure and agency; consciousness and vitality.
The potential brought forward by this analysis is to reconfigure what we know about the city from the ground-up, paying attention at nuanced post-human articulations, affections, bio powers and atmospheres.
In this context, there is scope to re-approach urban marginality and social exclusion from a processual, dynamic and vitalist point of view. The aim is to cast a new light around everyday processes and makeshifts of life at the margins that are neither taken for granted nor fully explored in their capacities to generated alternative urban futures.
This PhD project explores such possibilities both theoretically and empirically, in cities of the Global North and South.
---
Supervisor: Rowland Atkinson
Criminological and urban studies have often focused on various forms of violence in city life. A remarked feature in many empirical studies has been the links between absolute poverty but also the relative gaps between rich and poor.
Work by Blau and Blau, Gurr, Wilkinson and Pickett among others find that violence is higher in metropolitan/city areas where inequality, traditions of masculine violence and labour market exclusion are present.
Yet the question arises – why do cities with high levels of material inequality generate higher levels of social and interpersonal violence? This is an opportunity to undertake a study that will devise and enrich criminological theory while also working with qualitative and quantitative data.
Work will commence using large-scale datasets, police records and victim studies in a number of urban locations (the work may be pitched at an international or national level).
This will be supplemented with in-depth interviews with key actors with roles linked to policing, urban management, social services and related functions as well as others with relevant views on the links between inequality and violence.
The work will be used to devise sophisticated accounts of urban change, inequality and violent crime that offer new insights into the 'unequal societies do worse' findings of recent years.
---
Supervisor: Paula Meth
This PhD will examine the gendered, political and economic outcomes of state housing policy which targets particular beneficiaries over others.
In particular it is interested in those citizens who do not make the beneficiary lists because they fail to meet the eligibility criteria (e.g. lacking dependents, lacking marriage / relationships, earning just a little too much, lacking evidence of rights to particular housing etc).
The thesis will explore how these processes unfold in a social, political and economic sense, asking questions about impacts on gender relations, livelihoods, spatial strategies, ideas of citizenship, and choices about where to live and how to meet complex housing needs.
The thesis could target residents in South Africa, but similarly could work in other contexts where subsidised state housing provision occurs.
---
Supervisor: Ryan Powell
This research will seek to develop an historically informed understanding of governance and securitization responses to Roma mobility in the contemporary, post-Brexit era.
Roma are the most stigmatised and marginalised minority group across Europe, with their representations reflecting long held stereotypes and perceptions of inferiority reinforced by material conditions.
Yet there are fundamental differences in the experiences of Roma in Central and Eastern Europe (CEE) and the West shaped by differing historical trajectories, as well as aspects of convergence.
Recent years have seen a growth in Roma migration as a result of the EU accession of CEE nations with some commentators arguing that EU expansion has bolstered and reawakened old nationalist agendas.
This PhD will explore the migration movements and experiences of Roma households migrating (both ways) between Europe and the UK post-2007. It will focus on Roma practices, strategies and understandings of their own mobilities, alongside their differential positioning, framing and dynamic experiences of stigmatisation across different nation-states.
---
Supervisor: Tom Goodfellow
The humanitarian sector is increasingly attentive to the impact of both 'natural' and 'man-made' disasters on urban areas.
The phenomenon of 'hard-to-reach' urban refugee communities has been on the increase, to the extent that now 60% of the world's refugees are now based in towns and cities rather than camps.
Although the European migrant crisis has gained a lot of attention, by far the majority of refugees and internally displaced people are in urban areas in the global South.
This project will take a comparative case study approach explore how local authorities, NGOs and international organisations are engaging with urban refugee communities in specific settings. The parameters of comparison will be decided in the early stages of the project, but could range from a global North/South comparison to a comparison of different neighbourhoods in the same city or region.
The project will examine how specific approaches to helping refugee communities improve their lives, find a livelihood and integrate into communities have fared in different settings, and what can be learned from comparing these experiences.
Find a PhD
Search for PhD opportunities at Sheffield and be part of our world-leading research.