Our multidisciplinary work at the frontiers of knowledge continues to improve lives, working across South Yorkshire and our wider community. We are driving change in the culture sector using transformative research to work through challenges.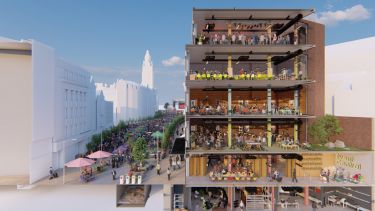 A project led by Professor Vanessa Toulmin, Director of City and Culture and Chair in Early Film and Popular Entertainment, with colleagues from the Music, English and Urban Studies and Planning departments, has played a key role in helping the cultural sector in South Yorkshire reopen and recover from the impact of Covid-19. In partnership with key cultural organisations in Sheffield, the one-year project funded by the Arts and Humanities Research Council (AHRC) collected crucial data on audiences, venues and freelancers to identify gaps in support and understand the challenges faced, in order to shape recovery plans.
Subsequently, 83 freelance arts and culture workers based in Sheffield are benefiting from cash support to develop their creative and business practice, thanks to funding from Sheffield City Council and Sheffield Culture Consortium members, which include the University.
The fund was developed in response to the survey that highlighted the huge impact of the Covid-19 pandemic on those working independently in the cultural industries.
---
With the support of the University, Sheffield City Council was successful in its bid for £15.8 million from the Future High Streets Fund to rejuvenate and reinvent Fargate and High Street as social hubs in the city. Based on research led by Professor Toulmin, including a series of planning workshops with over 120 stakeholders to gain insights on flood defence, urban space and other issues, students from our Department of Urban Studies and Planning, and School of Architecture helped to visualise a high street that is as much for the young generation as it is for long-term residents and reflects all the elements of the feedback we received from partners and businesses in the city.
---
New gene therapy innovation centre
A pioneering gene therapy innovation centre is set to advance scientific discoveries into promising treatment options for millions of patients with life-threatening diseases. The Gene Therapy Innovation and Manufacturing Centre (GTIMC), led by Professor Mimoun Azzouz, is one of three pioneering hubs in a new £18 million network funded by LifeArc and the Medical Research Council (MRC), with support from the Biotechnology and Biological Sciences Research Council (BBSRC), and a £3 million donation from The Law Family Charitable Foundation, established by University of Sheffield alumnus Andrew Law and his wife Zoë. Gene therapy is a promising treatment option for more than 7,000 rare diseases that currently have no cure. It aims to treat these conditions by engineering another gene to replace, silence or manipulate the faulty one.
---
We are part of a new skills partnership in the Sheffield City Region, which aims to tackle current and future skills shortages in the wake of the pandemic. The Regional Post-18 Education Partnership, believed to be the first of its kind in the country, is a forum for building a post-18 education and skills system. It is focussing on issues such as skills shortages, education progression routes, apprenticeship opportunities, outreach work with hard- to-reach communities and delivering lifelong learning. As well as the region's further and higher education providers, the partnership includes the Sheffield City Region Local Enterprise Partnership, the Confederation of British Industry (CBI), and the Higher Education Progression Partnership.
A total of 140 of our arts, humanities and social sciences students from underrepresented backgrounds have benefited from paid work placement opportunities as part of the Transforming and Activating Places project funded by Research England and the Office for Students. Businesses from a variety of sectors have taken part in the initiative, which aims to help organisations build a more diverse future workforce by enhancing equality, diversity and inclusion in the planning, design and reinvention of the public spaces at the heart of every community. The students bring knowledge and experience from their University studies to help reimagine spaces that can promote people's health, happiness, and well-being. The initiative will lead to follow-on projects for the students with their host partner and will also enable the University to develop graduate opportunities and entrepreneurship in areas where there is currently an evidenced deficit.
---
The ability for SMEs to access the world-class facilities and design and manufacturing expertise at the University's Advanced Manufacturing Research Centre (AMRC) has enabled improvements to the viability and usability of products, the transformation of businesses and the expansion into different markets.
A small Sheffield business has developed a potentially 'world-beating' handheld laser marking machine with support from engineers at the AMRC. Bel-Marking and the AMRC worked together to create a failsafe enclosure so there is less danger from the laser beam – an issue that has held back the widespread adoption of the technology. Engineers produced designs for the guard idea for a handheld laser marking machine, showing that there is real potential for this to be a world-beating product.
With Zen, a South Yorkshire SME, the AMRC has helped to revolutionise how professional golfers practice and how we watch the game on TV with the world's first fully adjustable, computer-controlled playing surface. AMRC engineers designed a more accurate, quicker to produce, and future-proofed system, using existing technology, to supercede a design stage that had to be calibrated manually with a hand-held digital level and that used ultrasonic beams which could be compromised by the smallest spider web. Zen's Green Stage accurately simulates the real-world playing conditions found on an undulating golf course and has been used by the Sky Sports Golf presenting team since The Masters in November 2020.
---
The AMRC and Nuclear AMRC are supporting the Zero Carbon Humber (ZCH) Partnership, in a major new £75 million project to help the Humber region achieve net zero emissions by 2040. The Humber industrial cluster is the largest emitter of carbon dioxide in the UK. The partnership comprises Associated British Ports, British Steel, Centrica Storage, Drax Group, Equinor, Mitsubishi Power, National Grid Ventures, px Group, SSE Thermal, Saltend Cogeneration Company, Uniper, alongside the AMRC. Its initial focus is H2H Saltend, one of the world's first full-scale low-carbon hydrogen production plants, to support the construction of a pipeline network connecting to industrial sites and gas and biomass power stations throughout the Humber, enabling them to capture their carbon dioxide emissions and switch to low-carbon hydrogen power.