Innovating a new model of international cooperation: Shenzhen China and Sheffield UK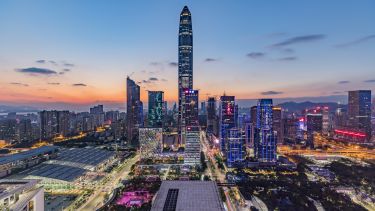 This delegation includes Shenzhen Electronic Chamber of Commerce and 21 entrepreneurial elites of business and industry including Shenzhen government departments.
The aim of the visit was to comprehensively strengthen cooperation between Shenzhen and the UK, especially with The University of Sheffield in the fields of technological innovation and international trade, and to continuously expand cooperation in the fields of higher education and talent introduction.
Memorandum of Understanding (MOU) between CEC I-Valley and The University of Sheffield, and MOU between Shenzhen Electronic Chamber of Commerce and the Sheffield Chamber of Commerce and Industry were signed. The delegation toured The University of Sheffield's AMRC and Factory 2050.
The visit culminated with a drinks reception hosted by Vice President for Research and Innovation Professor Dave Petley at the Rotunda in Firth Court at The University of Sheffield. On behalf of the University, Professor Petley expressed good wishes and sincere welcome to the Shenzhen leaders and entrepreneurs. This visit was an excellent platform for opportunity and collaboration between the University of Sheffield and Shenzhen.
During the morning of 10th May 2019, the Vice Director of the Shenzhen Education Bureau Dr Wang Shui Fa hosted a roundtable meeting at China-Britain Business Council (CBBC) London Office coordinated by Nathalie Cachet-Gaujard, attended by various universities in the UK.
Professor Koh represented The University of Sheffield in this roundtable meeting focussing on establishing a new type of PhD programme in Science and Technology Entrepreneurship between UK and China.
During the afternoon of 10th May, the Shenzhen Municipal People's Government led by the Mayor of Shenzhen Chen Rugui hosted the "Shenzhen & Hong Kong - London Economic and Trade Cooperation, Greater Bay Area, Build a Winning Future (London)" Conference at the Four Seasons hotel in London.
More than 200 people attended this highly prestigious conference including speeches from leaders of both UK and China governments and industry.
Events at the University
Browse upcoming public lectures, exhibitions, family events, concerts, shows and festivals across the University.