AREC UK hosted strategic partners from China – CECC/CCIEE and DRTTA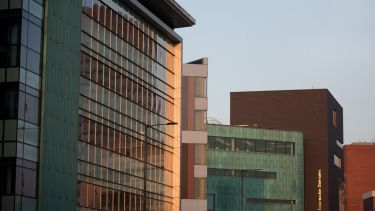 Ken Pan (DRTTA Director of international collaboration, Head of AREC China Hub in Beijing) together with Angela Lu (CECC/CCIEE in Beijing) travelled to Sheffield to deepen their partnership with AREC through a series of workshops and meetings.
Four days of meetings commenced with the AREC Research meeting. Mutual areas of interest such as each AREC Hubs, LC3M and SCEnAT 4.0, Circular Economy, Economic and Management PhD research were discussed. Professor Neil Hyatt joined the group to discuss URI Energy including civil nuclear followed by N8 Agrifood including URI Food with Professor Peter Jackson, Dr Seyed Ebrahimi and Dr Harry Langford.
A tour of Energy 2050 / URI Energy at the Ella Armitage building and Lab hosted by Professor Lin Ma was followed by a tour of the PACT Facility at Beighton hosted by Dr Kris Milkowski. This was then followed by a cultural visit and stay in Matlock in Derbyshire to see the start of the industrial revolution (sponsored by Teresa Hitchcock, Senior Partner, DLA Piper).
On Thursday 17th January, our partners attended a breakfast and networking event with key stakeholders from local/regional government (Sheffield City Council and Sheffield City Region), business and academic hosted by DLA Piper. The breakfast and networking event was attended by Cllr Jack Scott (Cabinet Member for Transport and Development, Sheffield City Council), and board members of Sheffield City Region Sustainability Partnership, Sheffield Green City Partnership, representative from Sheffield City Region Local Enterprise Partnership, business/industry leaders and University representatives.
This was an excellent opportunity to build on the Sino-British strategic platform for key areas of collaborations, and mutual appreciation and high level dialogues were conducted.
Following this, the AREC Executive Board met: Professor Lenny Koh (Director of AREC and Head of AREC Global and UK), Professor Ian Reaney (Head of AREC USA), Professor Panos Ketikidis – Vice President of Research and Innovation at CITY College (Head of AREC Europe), Ken Pan (Head of AREC China) and Angela Lu (CECC/CCIEE).
This meeting provided the opportunity to review and forward plan for the AREC Hubs; and discuss potential collaboration opportunities. Discussion of topics of mutual interest resulted in agreement of win-win strategies. Afterwards our partners visited the New Era Development including CUBI hosted by Jerry Cheung (Sheffield Leading Businessman) and Richard Caborn (Former MP for Sheffield Central, and Former Minister of Sport).
On the final day, Professor Lenny Koh introduced our partners to the Vice President (Research) Professor David Petley at Firth Court, VP (Research) Office. Mutual strategic appreciation and high level dialogue took place between our China partners (CECC/CCIEE and DRTTA) and the Vice President, with warm interest in deepening our partnership between UK and China.
This was followed by a tour of Factory 2050 hosted by Phil Yates and a tour of the AMRC Factory of the Future and AMRC Composites Centre hosted by Elijah Sargent. The AMRC Knowledge Transfer Centre was the venue for a Blockchain and Transport workshop hosted by Dr Victor Shi and a Research proposal was presented by Dr Michel Le Lerre.
The visit closed with a Partnership, knowledge exchange and technology transfer, research and innovation, commercialisation (IP) meeting with our China partners hosted by Chris Baker and Ruth Hambleton at the University Research Office.
Events at the University
Browse upcoming public lectures, exhibitions, family events, concerts, shows and festivals across the University.