AREC Global: Policy and industry benefits in China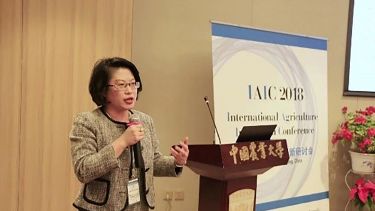 Professor Lenny Koh's speech outlined AREC's vision to re-engineer future supply chains by integrating efficiency and sustainability into strategic decision making with the aim of improved competitiveness internationally. Professor Lenny Koh went on to explain AREC's mission of creating a world-leading supply chain with resource efficiency and sustainability at the heart of its infrastructure.
Professor Lenny Koh explained that AREC's cross-disciplinary research and collaboration with partners in government and industry is resulting in major impacts on policy, industry and society internationally.
Professor Lenny Koh said, "We are very honoured to have established such a strong partnership in China with the DRTTA leading to major policy, industry, economic, environmental and societal impact."
AREC's partnership with DRTTA provides the platform for sharing of learning and exchange to advance the impact and collaboration in mutual areas of interest and priorities between the UK and China. Under AREC China, two major achievements include:
Global Intelligent Supply Chain Big Data Research Centre in China in collaboration with DRTTA, Any Trust, Tsinghua University, Macquarie University and the University of Auckland.
Founding member of the Industrial Blockchain Alliance led by Tsinghua University in collaboration with leading industry such as JD, CIIC and Supoin.
AREC methodologies and tools such as Supply Chain Environmental Analysis Tool (SCEnAT) have been adopted by world industrial leaders as well as innovative SMEs and varying level of government organisations. They have demonstrated major global impact on resource efficiency, regulatory compliance, improved industrial supply chain competitiveness and increased productivity.
Professor Lenny Koh also shared her work on Blockchain technologies for transport with Transport Systems Catapult. She commented aligning Bockchain's potential integration with Internet of Things (IoT) and Artificial Intelligence (AI) on the Cloud will open up enormous opportunities to advance how we design, operate and deliver public and private services globally. This includes:
For the One Belt One Road Initiative, to adopt blockchain technology for multi-modal travels experience for passengers and freight handling across borders for businesses with seamless transaction.
For Made in China 2025, to create intelligent supply chains by upgrading to high-value manufacturing environments with smart sensors, 5G across supply networks.
For the economic and environmental resource efficient model for China's NDRC 13th five-year plan, to adopt environmental sustainability reporting and integration with international standards.
Events at the University
Browse upcoming public lectures, exhibitions, family events, concerts, shows and festivals across the University.