Professor Koh visits Shanxi AI and Big Data Research Institute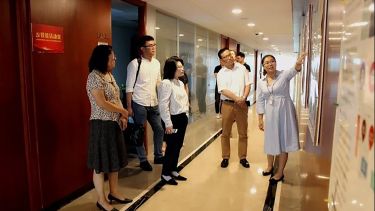 The two discussed collaborations related to AI, Big data technologies, next generation tech skills development.
In the afternoon, the director Runlan Cui of Shanxi AI and Big data research institute demonstrated to AREC and DRTTA about their work related to big data project in various fields, such as industrial applications, urban geography, ecological and environmental monitoring, medical, iNews smart news.
The theoretical and outcomes of these project were shared and they also showed Lenny the management model of the centre itself, such as skills development and management process of the centre.
After the demonstration, the Director Runlan Cui from Shanxi AI and Big Data Research Institute introduced the service tenet, work mission, development goals and operation mode of Shanxi Intelligent Big Data Research Institute, as well as the current research and development of big data key technologies, big data academic research, big data industry standard research, and solving big data industry.
They provide technical research support for innovation-driven development in the big data sector across the province and the country.
Professor Koh shared how AREC promotes understanding of complex supply chains and proposes solutions using cross-disciplinary research in cross-industry supply chain management and information systems, including the development of digital cloud-based software tools (SCEnAT Suite) to support the transformation of traditional supply chains to high performance and sustainable supply chains.
Through the use of the SCEnAT software into the digital supply chain life cycle thinking, it has been widely used in various organisations, technologies and systems.
The partnership of AREC and DRTTA will create a positive impact for transformational research on sustainable supply chains and global resource efficiency, specific activities focus on global resource security, advanced materials, new energy, agri-tech, water treatment, waste and circular economy and big data.
Key impact activities in the areas of providing high quality research resources, leading policy research model and industrial consulting, Big Data, AI and educational training for comprehensive service solutions for the partners.
A very successful visit where all parties have expressed a strong interest for future collaboration in areas that have mutual interests.
Events at the University
Browse upcoming public lectures, exhibitions, family events, concerts, shows and festivals across the University.