Professor Koh welcomes Dr Gate Pichawadee Kittipanya-ngam to Sheffield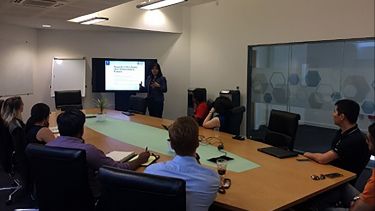 Dr Gate Pichawadee Kittipanya-ngam, Assistant Professor of Operations Management from Thammasat University Business School in Thailand, visited Sheffield University Management School where she gave a talk as part of the SCEnATi training.
Her talk - 'Investigating food supply chain sustainability in Thailand: A comprehensive study of different rice supply chains' - was particularly relevant as this collaborative project will incorporate the use of the SCEnATi. The project will investigate the environmental impact of various rice supply chains using Life Cycle Assessment (LCA) method.
The SCEnATi on Microsoft Azure Cloud was run on the Microsoft Surface Hub. The SCEnATi training was run by Dr Adrian Solomon and Lucy Smith from the Advanced Resource Efficiency Centre (AREC). They showed the mapping process from data input (e.g. with integration with Office 365 Excel), process mapping of supply chains/selection of similar supply chains through to computation of the environmental impact of supply chains.
The environmental impact was shown not just as estimation of carbon emissions but also taking into account a wide range of environmental indicators. Example output was presented:
A carbon map together with a results dashboard providing an overview of the data.
Business Intelligence (integrated with Microsoft Power BI) such as customised reporting.
A world top-100 university
We're a world top-100 university renowned for the excellence, impact and distinctiveness of our research-led learning and teaching.