Preparing for your course
So you've decided that you want to study Civil & Structural Engineering at the University of Sheffield - we can't wait to see you! Before you arrive, we thought we'd provide you with some information that will help you prepare for your time studying in Sheffield.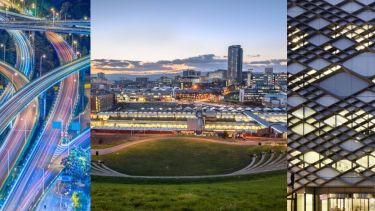 Preparing to start at university
Part of the excitement of starting university is the chance to discover things for yourself and the freedom to explore a new city. However, we want to make your transition to uni life as easy as possible. On this page, we're giving you some resources to help you prepare to start studying with us in the new academic year. There's some academic work for you to have a go at, a chance to look around the department, and even a bit of fun. You can also take another look at some of the videos we shared with you when you were considering your options.
---
Hear from our students 
---
Get a feel for how you'll learn
Access a mini lecture about how engineers can use engineering theories to explain complicated natural phenomena
An introductory mini lecture about the wonderful world of concrete - a material fundamental to structural engineering 
Making the transition:
The University of Sheffield's Academic Skills Centre (known as '301' as its address is '301 Glossop Road') is a fantastic place for students to develop new and existing study skills. 301 has created a series of open websites for student training and we recommend that you look at their 'New to Sheffield' and 'Academic Skills for New Undergraduate Students' advice pages to help you start to think more about how you will approach your studies. 

It might also be worthwhile spending time brushing up on your Maths skills! These Maths to Prepare for Engineering pages provide an excellent revision opportunity available to you before you start officially as a University student. 
---
Teaching:
General:
---
Advice from students - how to prepare
Read Nikita's advice to new students
Here are Dinura's top tips!
---
Reading List 
Below is a list of books that previous students have found to give a useful introduction and background to civil engineering (and engineering in general), prior to starting at University.  We suggest selecting one or two titles that take your interest (but we do emphasise that these books are NOT required reading for the course – you don't have to buy any books before you come to Sheffield, and you will find copies of these in our library when you do).
---
Laptop advice
You'll be able to participate in all the online activities using a regular desktop or laptop connected to the internet. You will need a microphone and camera to contribute fully in virtual discussions. The inbuilt ones in laptops are usually fine for this purpose.
In terms of equipment, we would recommend a laptop of a higher specification as most engineering types of programs require a higher specification.  Ideally, an i5 processor with 8GB of RAM should be enough but for future proofing and to be on the safe side, if budgets allow, we would recommend an i7 processor with at least 8GB of RAM.  Many engineering type software is limited to Windows operating systems.  Some do run with MAC OS but to avoid any compatibility issues in the future we would advise a Windows laptop of a medium to high specification.  An alternative option would be to run MAC OS and Windows as a dual boot system but this would need configuring and doesn't always run reliably. 
Software
The University offers great support to students, making available free of charge a wide range of software, including Microsoft Office, various programming suites, statistics and plotting packages, and referencing software for use on their own computers (click here for a full list).  You'll be able access all of these once you have registered with the University.
---
CIVSOC - civil engineering student society
CivSoc is the society for students studying any variation of Civil Engineering at Sheffield. It is run by students on the course to ensure that you have a great time with your new course mates.
Activities range from sports, socials, student balls, trips to Europe, guest speakers and visits to places of engineering interest.
Student reps will introduce themselves at the start of your studies or you can contact them below.
Instagram: civsocsheffield
Twitter: @CivSocSheffield
Facebook: The University of Sheffield CivSoc
If you're planning to study one of our Architecture focused courses, there is also an Architeers student society.  Contact details below.
Instagram: architeers
Twitter: @Architeers
Facebook: University of Sheffield Architeers Society
---
Support
You will be well supported by the University during your time with us:
---
If you have any more questions then please ask.
Social media
Our league table rankings
Top 50 in the world and 7th in the UK according to the QS World University rankings by subject (2022).
8th in the UK according to the Complete University Guide (2023).
10th in the UK according to the Times University League Table (2023).
Explore the University
Discover why Sheffield is the right choice for you at one of our open days or events.