The University of Sheffield has been at the forefront of dental implantology and implant-based research for over 30 years. Our strong legacy in implantology is founded on the work of Emeritus Professor Ian Brook, who pioneered our UK-renowned 'one-to-one' course in partnership with Nobel Biocare.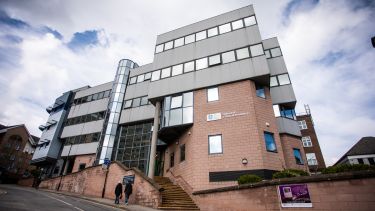 The University of Sheffield continues to deliver world-leading research in implantology and implant-related biomaterials science.
Implantology courses
Two-day foundation course
Location: Ringwood Hall Hotel, Chesterfield
Upcoming course dates: 27th-28th March 2020 / 9th-10th October 2020
This weekend foundation course offers an ideal opportunity to start your learning journey in implantology. The course assumes no postgraduate knowledge of implantology, although it also provides an introduction to the Replace Tapered and Active implant systems for more seasoned practitioners looking to gain familiarity with Nobel Biocare implants.
The course runs biannually, and is a primer for delegates enrolling on the University of Sheffield's 'one-to-one' program.
The course programme for GDPs can be downloaded here and the parallel nurse programme here.
Information about Ringwood Hall Hotel can be found here and directions can be found here.
One-to-one course
Location: School of Clinical Dentistry, University of Sheffield
This is an 18-month comprehensive program in the treatment planning, placement and restoration of implants using the Nobel Active and NobelReplace Tapered systems.
Module 1: Treatment Planning and Implant Theory

(7 days including introductory lecture day)

In this module, delegates will attend 6 Multidisciplinary Team (MDT) implantology clinics and gain over 20 hours of direct clinical experience in assessing patients referred for implants under the dual supervision of both Restorative and Surgical Specialists. The MDT clinic gives delegates the opportunity to hone assessment, diagnostic and planning skills for both straight-forward implantology cases as well as offering exposure to complex case planning undertaken by Restorative and Surgical experts-in-the-field. The structure of the clinic allows candidates to gain an appreciation of both the surgical and restorative challenges that face a dentist undertaking implant care, and provides an approach that promotes joined-up thinking when progressing to independent practice.

On each clinical day, delegates will attend one MDT assessment clinic and also attend one clinical skills laboratory session in order to fully prepare for the subsequent surgery and restorative modules. Clinical skills sessions are a blend of lectures and practical skills work, with a heavy emphasis on hands-on training. Sessions will cover:

NobelReplace Tapered system; theory and placement
Nobel Active system; theory and placement
Open and closed tray impression techniques
Overdentures: theory, placement and impression techniques
Immediate implant placement post-extraction
Cone Beam CT interpretation and case planning
Guided Bone Regeneration techniques
Soft tissue techniques
Peri-implantitis and managing problems

In addition to the 6 clinical days, the module commences with a full day of introductory lectures, covering:

Planning
Assessment of aesthetic risk
Preoperative written information; what and how
Consent
Introduction to the MDT clinic
Setting up in general dental practice

Module 2: Surgery

(6 days full clinical)

In this module, delegates attend the School of Clinical Dentistry's dedicated implant suite for full-day sessions of implant surgery. Delegates are paired for each full day session, and either rotate between performing and assisting each other whilst under the guidance of a Surgical Specialist, or for cases requiring bilateral surgery each candidate undertakes unilateral implant placement. Delegates can expect to gain a minimum of 35 hours' experience of implant surgery.

In addition to undertaking multiple implant placements over the course of the module, delegates may also gain exposure to pre-prosthetic surgery, guided bone regeneration techniques, soft tissue surgery and the surgical management of failing implants. All candidates will gain experience of direct implant placement and guided bone regeneration surgery over the course of the module; case-mix cannot be fully guaranteed and therefore exposure to more exotic techniques will vary, although the module provides candidates with an experience that often extends into areas of advanced implantology. We hope this will ignite our delegates' interests in progressing towards further competencies in more complex implant treatment, through further postgraduate training with ourselves and further afield.

Module 3: Restorative

(5 full days clinical and theory)

Delegates will be fed into an NHS-based restorative program, and will gain hands-on experience of restoring implants over 6 full-day clinical sessions. These sessions have a large emphasis on the hands-on restoration of implants, although also deliver final consolidating knowledge on preoperative assessment. The clinical case-mix that delegates will restore is reflective of those situations common to everyday practice, with an emphasis placed on user-friendly, efficient restorative techniques to ensure predictable outcomes.
Teaching team
Course Director
Surgical Lead
Grafting
Other course tutors
Dr Issam Bakri
Miss Elena Kyriakidou
Miss S Nolan
Nursing team
Ms G Temprell
Ms L Mills
Ms Warren
Mrs L Bradley
Mrs G Stonehouse
Research team
Research facilities
The School of Clinical Dentistry provides a high quality research environment with well-equipped, state-of-the-art research facilities that have been continuously improved to accommodate our increasing activity. The School has a research wing incorporating over 660m2 of research laboratories for research staff and postgraduate students.
The laboratories include resources for materials science, cell culture (including a fully-staffed Tissue Culture & Tissue Engineering facility), cell and molecular biology, and advanced microscopy. Please explore our facilities below and get in touch if you would like to collaborate or investigate commercial facing projects- such as testing facilities.
Contact us
For more information, please contact Dr Robert Bolt
A global reputation
Sheffield is a research university with a global reputation for excellence. We're a member of the Russell Group: one of the 24 leading UK universities for research and teaching.