Blog: Making patient's voices heard – what is the Patients as Educators Programme?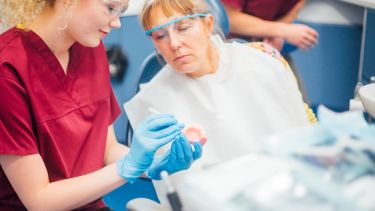 The programme is internationally recognised as the largest of its kind and with more than 800 patients from across South Yorkshire, the scheme involves both patients and volunteers who dedicate their time to help students develop their clinical skills and, importantly, the human side of being a health professional.
Thanks to the generosity of our patients in the local community, the Patients as Educators Programme has grown from strength to strength.
How are patients involved?
Patients can be involved in many ways, including:
History Taking Sessions – during these sessions, patients speak to students about their condition and their experiences. This could include their journey through the health service and how their illness has affected them physically, socially and emotionally.
Basic Physical Examination – here students undertake a simple, physical examination based on the patient's condition, whilst under the full supervision of a clinical tutor.
Clinical Assessment – patients also help whilst students are taking their exams. These exams can include a mixture of physical examinations and history taking.
Volunteers who don't have any medical or health conditions can also get involved, helping the development of students' communication and consultation skills and can participate in all of the teaching sessions.
How does the programme benefit students?
Dr Julian Burton, Senior Teaching Fellow and Admissions Tutor for MBChB Medicine at University of Sheffield, explains why Patients as Educators is such a huge benefit for training students, as well as a unique opportunity for learning from volunteers and real-life patients.
He says, "Our fantastic Patients as Educators programme supports our students throughout their time with us, from admissions selection to finals examinations.  They allow our students to develop their clinical skills in a safe controlled environment before they have to put these skills into practice in a live clinical setting."
How to get involved and general enquiries
If you are interested in joining the Patients as Educators Programme, or would like to contact a member of the Patients as Educators team, please get in touch on:
+44 114 222 8194
A world-class university – a unique student experience
Sheffield is a research university with a global reputation for excellence. We're a member of the Russell Group: one of the 24 leading UK universities for research and teaching.