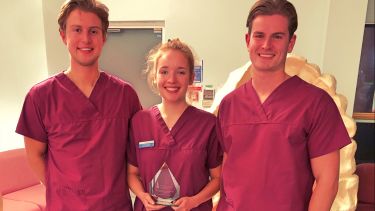 On the evening of Thursday 17th October 2019, our final year students pitted their skills against one another for a place in the UK Grand Final. After nearly an hour of high speed action, Miss Helena Usher was crowned the victor, with Conor Donnelly and Thompson Taylor being awarded second and third place respectively.  
The Royal College of Surgeons of Edinburgh (RCSEd)'s Faculty of Dental Surgery, together with sponsors Dentsply Sirona, are visiting dental schools across the UK in the quest to discover the UK and Ireland's best undergraduate dentist. Complementing the basic dental skills delivered at undergraduate level, the competition gives final year dental students the opportunity to showcase their clinical dental skills with the best student from each heat winning a travel and accommodation package to compete in the Grand Final of the competition taking place at The Royal College of Surgeons of Edinburgh on 5th March 2020.
The Grand Final of the competition will be followed by a dinner in the 500-year-old Edinburgh College at which presentations will be made to the winner and two runners-up. All participants in the competition will receive a certificate of participation and two year's affiliation with The Royal College of Surgeons of Edinburgh. The Grand Final prizes include an all-expense paid, 'money can't buy' trip to attend the Chicago Dental Midwinter meeting, and the Dentsply Sirona Restorative Forum in Konstanz Germany, for a hands on experience with leading Global Restorative Dentists and new product developments at the University of Zurich.
Explaining more about the competition, the college's external assessor, Dr James Field, said "The Dental Clinical Skills Competition is a unique opportunity for dental students to showcase their practical skills in a supportive and friendly environment. For those who make it through to the final, it facilitates early access to the ambiance of the Royal College and its distinctive surroundings in Edinburgh, and a chance to partake in a college celebratory dinner."
Mr Jonathan Dixon, Academic Clinical Fellow in Restorative Dentistry and Regional Heat Lead for the competition, said  "The evening was a great success and we were very impressed with the high standard of clinical work produced by the students. The competition enabled the students to showcase their work but also to receive further detailed feedback on a key operative procedure within their curriculum. Congratulations to Helena on winning the Sheffield Heat and we wish her the best of luck for the Grand Final in Edinburgh."
A world top-100 university
We're a world top-100 university renowned for the excellence, impact and distinctiveness of our research-led learning and teaching.