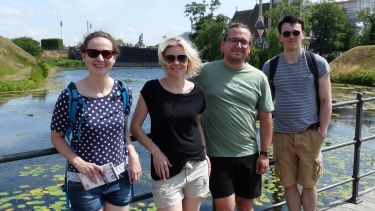 Conferences
This year's British Society for Oral and Dental Research (BSODR) conference in Leeds was well attended by many in the dental school. Talks were delivered by Esra Amoura, Cher Farrugia, Keyvan Moharamzadeh and Craig Murdoch while competitive talks were given by Jake Edmans, Sven Niklander Ebensperger, Areeg Elmustrai, Rachel Furmidge and Alice Rigby. Posters were presented by Bethany Ollington, and Rawan Alshalan.
Aside from BSODR, Sven Niklander Ebensperger gave another talk at Leeds pathology in Harrogate in July and Ali Khurram gave an invited lecture on "'Artificial Intelligence- Application to Digital and Oral Pathology" at the Eastern Society of Teachers of Oral Pathology (ESTOP) in Clearwater, Florida in October.
---
Dental school wins again! 
For their presentations at BSODR, Areeg Elmusrati and Alice Rigby won the Senior and Junior Colgate prizes respectively. These very prestigious awards qualify them to compete at the International Association for Dental Research (IADR) conference in Washington, USA, next year. We are all very happy for you (not jealous at all!). This year marks our 5th win in a row in the Junior category and 2nd in a row for Senior, so no pressure for next year's entrants...
---
 Viva successes!
Since our last newsletter we have lost two excellent students to the post-doctoral life. Kathy Clitherow passed her PhD entitled "The Development of Electrospun Polymer Devices for Drug Delivery to the Oral Mucosa", supervised by Paul Hatton, and co-supervised by Craig Murdoch and Seb Spain.
Marianne Satur passed her PhD entitled "Engineering improved specificity and activity into oral bacterial sialidases for glycan biotechnology applications", supervised by Graham Stafford. They are very much missed in the department, but have moved on to bigger and better things – congratulations!
---
PGR entrepreneurs?
In September Alice Seleiro attended the BioProNet (http://biopronetuk.org/) Bioprocessing Skills School and was part of a team that won the business plan pitch to develop a new manufacturing process, winning an Amazon voucher in the process!
In November a group of students – David Rodriguez, Klaudia Slowik, Jake Edmans, Inmaculada Barragan, and Danilo Villanueva Navarrete - entered the BioTech Yes competition (http://www.yescompetitions.co.uk/). They had to create and present a viable business model to judges in a Dragons Den style setup, producing a business model for bruise-healing patches. Although they didn't win, had a great three days in Stevenage learning about finance, IP, and other skills necessary for translating research into industry.  
---
Bacteriophage paper makes front cover!
This month saw the long-awaited publication of the department's first bacteriophage paper. It was a team effort lead by Graham Stafford, and former student Mohammed Al-Zubidi, with a cross-university (MBB, CBE, Dental School) team as well as international collaborators- Magda Widziolek from Krakow. In this paper the team isolate and characterise a range of bacteriophages isolated from local waste water streams (sewage) that infect the Enterococcus faecalis. Finally, to top off the work an image from the study of a phage bursting an Enteroccoccus cell adorns the cover of the Infection and Immunity Journal this month. The team is currently extending their phage portfolio through work done by Alhassan Alrafiae in collaboration with Joey Shepherd and David Partridge.
---
 Dental student society raise funds for a summer studentship to study oral cancer
The Sheffield University Dental Student Society (SUDSS) donated funds raised from their Revue night to fund an undergraduate summer studentship at the School of Clinical Dentistry. Rosie Willis, a student in the Department of Molecular Biology and Biotechnology was awarded this studentship to spend time researching here, gaining experience of cell culture and molecular biology techniques to measure gene expression. Another studentship is planned for summer 2020 along with a short period of research open to current dental students.
---
 Danish visit
Craig Murdoch, Helen Colley, Kathy Clitherow and Jake Edmans all travelled out to Afxy Therapeutics and University of Copenhagen for a collaborative meeting for Jake's project and caught up with a familiar face - Martin Romero who works for Afyx (as does Kathy now!).
---
 Teaching recognition
Congratulations to both Esra Amoura and Asma El Howati who received recognitions as a Fellow and Associate Fellow of the Higher Educational Academy (HEA) respectively, for their experience in teaching.
---
Represent!
Esra Amoura and Naeima Hendawi have joined the faculty representative committee in the MDH society as the chair and treasurer. They will be responsible for making sure dental voices are heard in the faculty and co-organise the faculty-wide PGR day.
Areeg Elmusrati, who previously represented research students at university level, is continuing to represent in her new role as postdoctoral researcher as a 'Departmental Champion' for the MDH research staff association (MDHRSA).
---
Grants and awards
In a continuing collaboration with Zilico Ltd (https://zilico.co.uk/) to use electrical impedance spectroscopy in the mouth, Keith Hunter, Craig Murdoch and Dawn Walker in Computer Science have been successful in gaining funding under SBRI phase 2 to take the project forward (around £1M).  There is also a new ABHI documentary (in which Keith and the dental school makes an appearance) outlining Zilico's work which can be seen here (video 3): https://www.abhi.org.uk/membership/members-area/updates/2019/september/abhi-itn-productions-transforming-healthcare/
Dr Keyvan Moharamzadeh has secured an industrial research grant for the amount of £39,320 from Straumann-Switzerland for a research project entitled "An in vitro study on implant-soft tissue attachment".
Hanya Mahmood, an Academic Clinical Fellow in Oral Surgery, successfully obtained £10,000 from Sheffield Hospitals Charity to explore the feasibility of using Artificial Intelligence for grading of Oral Epithelial Dysplasia (supervised by Ali Khurram and Professor Nasir Rajpoot, University of Warwick).
Cher Farrugia, with her supervisor Craig Murdoch, was awarded an IBIN (Integrated Biological Imaging Network) Short Trip Grant to fund a networking visit from Dr Chas Nelson from the School of Physics and Astronomy, University of Glasgow on the 1st of October where they discussed technical developments of imaging zebrafish embryos.
Bethany Ollington was awarded MRC funding to attend the Second EPISKIN International Seminar in Lyon, France. It will be a great opportunity to network with industry and enjoy some French wine!
---
Publications
Al-Zubidi M, Widziolek M, Court E, Gains A, Smith R, Ansbro K, Alrafaie A, Evans C, Murdoch C, Mesnage S, Douglas CWI, Rawlinson A, Stafford GP. (2019) Identification of novel bacteriophages with therapeutic potential targeting Enterococcus faecalis. Infect Immun. 18;87(11) e00512-19.
Clitherow KH, Murdoch C, Spain SG, A. M. Handler AM, Colley HE, Stie MB, Nielsen HM, Janfelt C, Hatton PV, Jacobsen J (2019). Mucoadhesive electrospun patch delivery of lidocaine to the oral mucosa and spatial distribution in tissue using MALDI mass spectrometry imaging. Molecular Pharmaceutics. 16(9):3948-
Ferreira SBS, Braga EL, de Castro LV, Baesso ML, Cartano W, Murdoch C, Colley HE, Bruschi ML. (2019) Design of nanostructured mucoadhesive system containing curcumin for buccal application: from physicochemical to biological aspects. Beilstein Journal of Nanotechnology (in press)
Hendawi N, Niklander S, Allsobrook O, Khurram SA, Bolt R, Doorbar J, Speight PM, Hunter KD. HPV can establish productive infection in dysplastic oral mucosa, but HPV status is poorly predicted by histological features and p16 expression. Histopathology. 2019 Oct 16. doi: 10.1111/his.14019.
Hughes R, Chen X, Hunter KD, Hobbs JK, Holen I, Brown NJ. Bone marrow osteoprogenitors are depleted whereas osteoblasts are expanded independent of the osteogenic vasculature in response to zoledronic acid. FASEB J. 2019 Sep 6:fj201900553RR. doi: 10.1096/fj.201900553RR. [Epub ahead of print] PubMed PMID: 31490705.
Kyffin JA, Leedale J, Colley HE, Murdoch C, Mistry P, Webb SD, Sharma P. (2019) Preparation of primary rat hepatocyte spheroids utilizing the liquid-overlay technique. Current Protocols in Toxicology. 81(1):e87.
Leedale JA, Kyffin JA, Harding AL, Colley HE, Murdoch C, Sharma P, Williams DP, Webb SD, Bearon RN. (2019) Multiscale modelling of drug transport and metabolism in liver spheroids. Interface Focus (in press)
Martin LHC, Hankinson PM, Khurram SA. Beauty is only mucosa deep: a retrospective analysis of oral lumps and bumps caused by cosmetic fillers. Br Dent J. 2019 Aug;227(4):281-284. doi: 10.1038/s41415-019-0622-y.
Sah, P, Patel P, Chandrashekar C, Martena S, Ballal M, Hegde BM, Guddattu V, Murdoch C, Sharma M, Radhakrishnan R (2019) Oral candidal carriage correlates with CD4+ cell count but not with HIV and HAART status. J Invest Clin Dent. 00:e12438.
Shaban M, Khurram SA, Fraz MM, Alsubaie N, Masood I, Mushtaq S, Hassan M, Loya A, Rajpoot NM. A Novel Digital Score for Abundance of Tumour Infiltrating Lymphocytes Predicts Disease Free Survival in Oral Squamous Cell Carcinoma. Sci Rep. 2019 Sep 16;9(1):13341. doi: 10.1038/s41598-019-49710-z.