iBio newsletter March 2020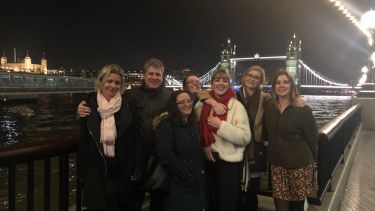 Conferences
The 3DBionet and IBIN meeting in London was well attended by the Murdoch and Colley group. Cher Farrugia, Klaudia Słowic and Beth Ollington all presented posters, with Beth winning the first place prize!
The UK Extracellular Vesicles meeting in London was also well attended, with a poster presented by Hatim Alqurashi.
Cher Farrugia attended the Northern Vascular Biology Forum in Sheffield, presenting a poster and flash talk: "Tiny but mighty: role of periodontal pathogen outer membrane vesicles in the initiation of cardiovascular disease."  
Dr Keyvan Moharamzadeh gave an invited lecture on "Biocompatibility of dental biomaterials and applications of tissue-engineering in dentistry" at MBRU University and attended the AEEDC 2020 conference and exhibition in Dubai. Beth Ollington and Inma Barragan were also able to attend the EPISKIN international seminar in Lyon, where, I am reliably informed, they had a very good time, met with many international industrial researchers, and enjoyed sightseeing in Lyon.
Viva Successes
After a few busy weeks leading up to Christmas, we have three viva successes to be excited about - Areeg Elmusrati (pictured with her supervisors and examiners), Amy Harding, and Sven Niklander Ebensperger all passed with flying colours. Sven in particular will be missed in the department as he shortly returns to Chile, but we won't be losing Areeg and Amy that easily as they both will be continuing here as postdoctoral researchers! 
Grants
Ali Khurram has been awarded a CRUK Project Grant worth £405K for a 3 year project titled 'ANTICIPATE- Artificial Intelligence to improve Classification and Predict Malignant Transformation of Oral Epithelial Dysplasia' in a collaborative study lead by Sheffield with University of Warwick and Birmingham. 
Vivian Petersen Wagner who previously worked with us here has been awarded a highly prestigious Marie Curie Fellowship to return for two more years with her supervisor Lynne Bingle, starting in August. It will be great to have her back! 
Adventures abroad 
Dan Lambert was awarded a CAPES Visiting Chair at FioCruz Bahia (in Salvador) and travelled out there to give a seminar and forge collaborations with his host Clarissa Gurgel and other researchers there and at other FioCruz sites. This area has a high incidence of oral cancers, so they are particularly keen to link with international researchers working in that area. From there Dan travelled to Sao Paulo to present at a head and neck cancer symposium at the AC Camargo Cancer Hospital, and then finished his trip by travelling with long-time collaborator Ricardo Coletta and Tuula Salo - after a weekend with them on the rainy Brazilian riviera - to give a talk at the University of Campinas (UniCamp) at its Piracicaba campus, where Ricardo is based.
Slightly closer to home, but still as exciting, Inma Barragan, along with her supervisors Craig Murdoch and Simon Danby visited her industrial collaborator Almirall, in Barcelona, Spain (also pictured are Maribel Crespo and Vicente Gonzalez of Almirall). 
Experimental trial?
In February, Areeg Elmusrati was nominated to participate in the Experimental Cancer Medicine Centres (ECMC), Junior Investors Network Group (JING) in Southampton, where she presented a clinical trial she designed to repurpose FDA approved drug metformin as an adjuvant therapy to target senescent cancer associated fibroblast in the tumour microenvironment of oral cancer.
A new arrival
Ali Khurram and his wife had a baby girl on the 28th of January who they have named Aleizeh Amna Khurram. She arrived 3 weeks before the expected date weighing 7lbs 3oz and is a very happy baby. Many congratulations to you both! 
Publications
Binaljadm T, Moorehead R, Almela T, Franklin K, Tayebi L, Moharamzadeh K (2019). Biomodification of a Class-V Restorative Material by Incorporation of Bioactive Agents. Dentistry Journal, 7(4), 110; https://doi.org/10.3390/dj7040110.
Camilleri J, Arias Moliz T, Bettencourt A, Costa J, Martins F, Rabadijeva D, Rodriguez D, Visai L, Combes C, Farrugia C, Koidis P, Neves C (2020). Standardization of antimicrobial testing of dental devices. Dent Mater, pii: S0109-5641(19)30946-7. doi: 
10.1016/j.dental.2019.12.006. [Epub ahead of print]
Kamdar S, Hutchinson R, Laing A, Stacey F, Ansbro K, Millar MR, Costeloe K, Wade WG, Fleming P, Gibbons DL (2020). Perinatal inflammation influences but does not arrest rapid immune development in preterm babies. Nature Communications, 11(1), 1284, doi: 10.1038/s41467-020-14923-8
McRae MP, Modak SS, Simmons GW, Trochesset DDS, Kerr AR, Thornhill MH, Redding SW, Vigneswaran N, Christoulides NJ, Murdoch C, Dietl SJ, McDevitt JT (2020). Point-of-care oral cytology for the screening and assessment of potentially malignant oral lesions. Cancer Cytopathology, 128(3), 207-220, doi: 10.1002/cncy.22236
Shaikh Z, Alqahtani A, Almela T, Franklin K, Tayebi L, Moharamzadeh K (2019). Effects of electronic cigarette liquid on monolayer and 3D tissue-engineered models of human gingival mucosa. Journal of Advanced Periodontology & Implant Dentistry, 11(2):54-62 http://dx.doi.org/10.15171/japid.2019.010