Sheffield Dental Student Society (SUDSS) awarded Educational Establishment Award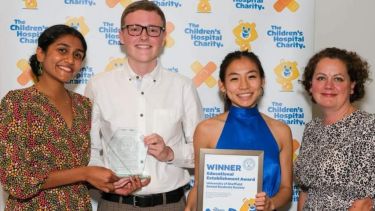 The awards evening, held on Friday 1st October at the Millennium Gallery, was attended by James Smith (2020/21 President), Nicole Hasoon (2020/21 Secretary) and Ruhaani Mahadeva (2020/21 Treasurer). 
James said "it was amazing to be able to attend an event like this given the past year we had with the pandemic. The three of us were blown away by the inspirational stories of fundraising efforts made by others who are just as proud as we are to support such an amazing charity. It was so lovely for our efforts during the past year to be recognised in this way and it is a testament to the amazing, supportive community we have at Sheffield Dental School that we managed to raise over £3,000 last year".
SUDSS was recognised for their wide range of charity efforts during the 2020/21 academic year, for example with their August 2020 Charity Month and also their Annual Revue and Charity Awards. In total, £3,112 was raised through various entirely virtual events during the year.
It was also announced at the awards evening that the charity had raised enough money to fund the new cancer and leukaemia ward at the hospital, which will make the hospital a more friendly and hospitable environment for children who unfortunately have to receive these life saving treatments. Their next project will be to fund a new helipad on the hospital roof so that the air ambulances do not have to land in Weston Park.
Professor Chris Deery, School of Clinical Dentistry Dean, says, "I and the whole School are delighted that SUDDS commitment to social accountability and helping others has been recognised by this award".
A world-class university – a unique student experience
Sheffield is a research university with a global reputation for excellence. We're a member of the Russell Group: one of the 24 leading UK universities for research and teaching.