Sheffield Dental Students lead National Wellbeing Consultation Effort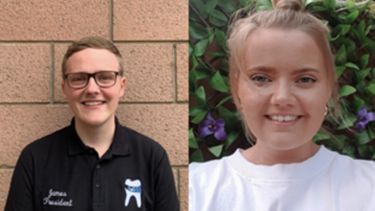 COVID-19 has piled pressure on students and staff and has heightened mental stresses and taken its toll on people's wellbeing. It also has highlighted inadequacies that exist in the national dental school support system. So, recognising this was a national and not a local problem, James Smith (4th BDS & SUDSS President) and Emily Moore (4th BDS), got together a group of representatives from UK dental schools to lead a UK-wide student consultation. This was an initiative that was held over 3-4 months and resulted in a national recommendations document, that highlights what could be done to improve the systems across the UK. This document was endorsed by the majority of UK dental societies and by the European Dental Students' Association (EDSA).
Sheffield's responses were extremely helpful and it was really valuable to hear of people's experiences and how systems could be better. This document has now been delivered to the Dental Schools' Council who are actioning this in their own individual dental schools and James and Emily are also working with Sheffield individually to implement this. James said "Mrs Martin and Professor Gibson have been extremely supportive and helpful and I am really grateful for their backing. The response to this from students and staff has been amazing to see". In Sheffield, this has been taken to the Equality, Diversity, Inclusions and Wellbeing (EDI&W) committee for discussion and James and Emily will now work with the Dental School to formulate an action plan to implement these findings.
Student and staff wellbeing is vitally important and the current covid pandemic has brought this into even greater focus. The School is very proud of the work Emily and James have started.

Professor Chris Deery

School of Clinical Dentistry Dean
James said, " It is our hope that this can lead to some long-lasting and very worthwhile change in the Dental School. Mental health is a hidden pandemic, but if we can encourage more meaningful conversations to take place, we can begin to battle the stigmas that have existed for far too long. Burnout and poor wellbeing is a big problem in Dentistry and if we can equip people with the tools to address this earlier, hopefully, we can begin to really tackle this and help people to have a more rewarding and long-lasting career". 
Emily said, " Dental students have higher rates of psychological distress (36-44%) compared to that of the general population (17.8%) (Collin et al, 2020 BDJ). This emphasises the importance of discussion and prioritisation around student mental health, especially considering the impacts the pandemic has had on education, social interaction and general wellbeing. My vision would be to see more consistency across UK schools with regards to support access/provision and implementation of preventative well being measures. I also believe a charity partnership, piloted and possibly rolled out across all schools, could be extremely beneficial to ensure sustainability, prevention, monitoring of current services/demand and training where necessary. As a Dental School, we are committed to improve student and staff support, as demonstrated through our EDI&W committee. I feel honoured to have been part of the process so far, and I'm excited to see future improvements throughout the school".
Professor Barry Gibson, Director of Equality, Diversity, Inclusion and Wellbeing at the School of Clinical Dentistry said "We are extremely grateful for all of the energy and commitment our students have brought to the EDI&W committee over the last year. James and Emily have become outstanding partners in our work to drive continual improvement in the School. The mental health and general wellbeing of our students is of central concern to all of our staff and the Dean has made this a key priority. Our goal now is to develop an action plan that will bring meaningful change and for this I am hugely grateful to Emily and James." 
Professor Koen Lamberts, President and Vice-Chancellor of the University of Sheffield, said "The mental health and wellbeing of our students is extremely important to us, and I know that the last year has been particularly challenging for medicine and dentistry students. The University offers a wide range of support services, but we are always keen to hear feedback about how we can improve our provision to ensure that it is effective and addresses the needs of students. It is fantastic that James and Emily have led this UK-wide consultation of dental students and that their recommendations are being implemented nationally, as well as here in Sheffield. Their insights will be incredibly valuable in ensuring that the University and our Faculty of Medicine, Dentistry and Health are supporting students in the best way possible."